December 13, 2015
Posted by Tyler Cruz
I like receiving presents, and 95% of the time a company sends me branded bottled water, I end up posting about it – even if it's blatantly promotional on their part. I guess I do that to encourage the practice

.
A few weeks ago I was briefly chatting with LukePeerfly on Skype when he randomly asked me out of nowhere what shirt size I wore.
PeerFly had sent me numerous gifts in the past, including shirts, so I thought it was previous obvious that he was going to send me some new styled PeerFly shirts. That was more fine with me as I still wear the black one they sent me years ago (I still have the white one but prefer the black one).

So I told him I wasn't sure as I had regained some weight over the past year and so was either a L or XL (there are also some differences between Canadian and American sizes I believe). I then forgot about it until I received a package in the mail a couple of days ago. A package that felt like it contained… well… shirts.
So I opened it up to see what new style of shirt PeerFly has now and was instantly shocked. The Votesy logo stared me right in the face and I think I may have even said "WTF" out loud.
I stared at it in disbelief for a few moments. First off, I was simply confused. I didn't order any Votesy shirts, and the design was perfectly clean and crisp and looked as though somebody with the original logo source files had had them printed out.
I then took the shirt out to find 2 other shirts in the package. "Aha", I thought. "Very cute! The PeerFly shirts must be these other two…" – but the other shirts were 2 more Votesy shirts! LOL.
I guess Luke just decided to send me 3 Votesy shirts. There was a large clean logo on the placeholder site at one point, so he must have just Photoshopped one part out and then had them made.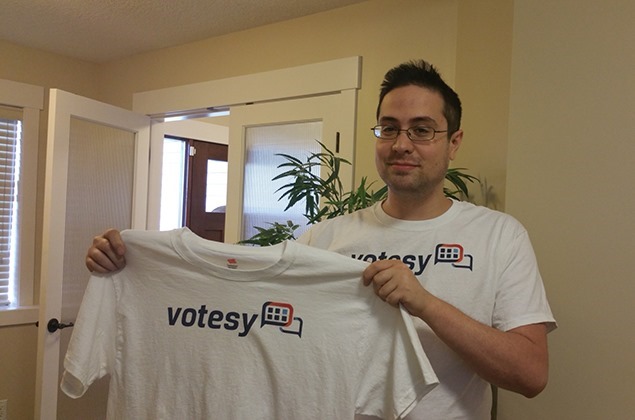 Thanks Luke! I'm surprised how well the design came out… I'll have to use Teespring outside of just affiliate campaigns in the future.
Here's a pic of Luke and I when we met in person. This was just over 4 years ago already… scary how time flies by.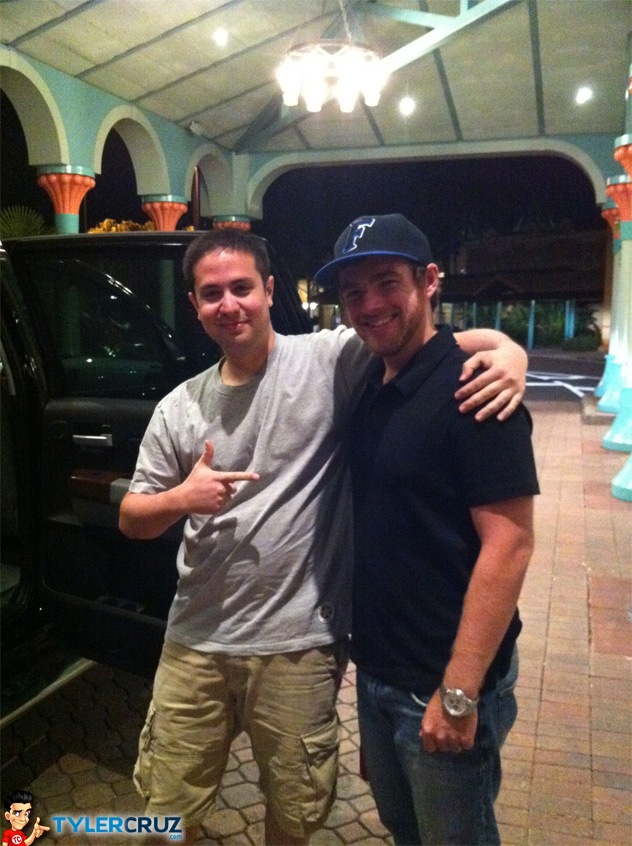 I actually knew Luke for 2-3 years before he even worked at PeerFly. Now he's synonymous with the company and is more recently a father as well!
Anyhow, thanks again Luke, I was really shocked when I opened the package and now I can spam Votesy whenever I go out