March 1, 2009
Posted by Tyler Cruz
Long before I had a blog or learned what PPC affiliate marketing was, I was a web publisher, domain flipper, and site flipper. I made the majority of my online income by building content websites and using CPM and CPC ad networks to monetize them. On the side, I also flipped some domains and sites for profit.
Since I started out as a web publisher, along the way I ended up with a network of several dozen sites, even though I sold a lot of them throughout the years.
My income is now split between mainly 4 sources: my blog, PokerForums.org, and PublisherChallenge.com, with the rest of my network of sites bringing in an extra thousand or two a month. Together, they're currently bringing in $14,000+ a month.
While this is a nice income, I've been feeling like I've been wasting my time lately. You see, I'm a one-man show, meaning that I basically run all of my sites myself. I do have a number of volunteer staff who act as moderators, news posters, or reviewers for some of my forums and sites, but in the end I'm still the one who has to handle any administrative functions such as software upgrades, advertisers, etc.
I seem to spend a lot of time working on content for older sites such as Movie-Vault.com which aren't even bringing that much money. I keep thinking lately how I'm essentially wasting my time doing such menial jobs.
Part of the problem is my incredible sense of perfectionism. While useful for a lot of things, it really can be an incredible hindrance. For example, I can spend up up to 8 hours writing a paid review on my blog or spent half a day trying to fix a tiny design glitch on a site that nobody probably even notices anyway.
I really need to reprioritize.
I spend too much time working on my smaller sites that are not going anywhere when what I really want to work on is PPC affiliate marketing.
I simply know too many people online who are making a killing with it, and I love how it's more a numbers and testing game than anything else. The numbers people are making is staggering, and I'm not just talking about the elite of the elite, but even just many regular full-time affiliate marketers.
I've been so preoccupied and focused on my blog, my sites, and my affiliate marketing challenges (now PublisherChallenge.com) that I haven't done ANY work on my PPC affiliate marketing campaigns since early September 2008.
I had only worked on one small campaign, and literally haven't touched it in about 6-months. Yet, with very little PPC affiliate marketing experience and only 1 small campaign going, in the past 2 weeks I made over $500 in profit from it.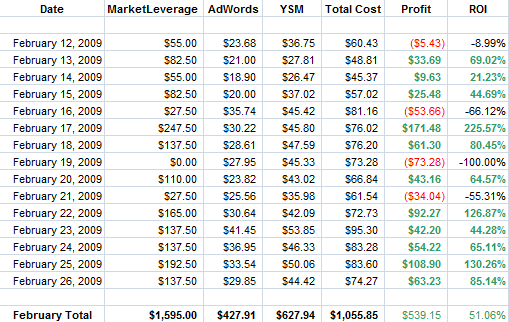 This works out to be only $33/profit a day, but again – this is just one small campaign that I've left on the backburner for half a year. If I made 10 more small campaigns like that one then we're talking about close to $400 a day, or $12,000 a month. Does that number look familiar? It's what I'm currently making with my existing sites.
While PPC affiliate marketing requires a lot of testing and adjusting, I believe that in many cases, once you have a profitable campaign going you can "set it and forget it". My small campaign I haven't touched for 6-months above proves that point.
I know it's easy to talk the talk, but I honestly think I could make $100,000 profit a month from PPC affiliate marketing if I only focused on it and applied myself. I understand that it probably sounds naive, especially when I'm doing just under $1,000 a month right now, but I honestly believe it.
Just look at my blog. I brought it from making $1,000 in January 2008 to nearly $9,000 in January 2009, so I'm not afraid of dreaming big.
Goodbye Network?
So, I've been thinking if I should sell off some of my existing sites. I'm just so hogged down with 'busy work' that I never have any time for PPC affiliate marketing.
I tried hiring forum administrators for some of my forums, but that didn't work out well.
The other option would be to simply forget about them for now and try to focus on affiliate marketing as much as I can. PublisherChallenge is pretty much complete now and doesn't need much attention other than some promoting, updating of new competitions, and adding the occasional new feature. If I can get something substantial going with PPC affiliate marketing, then I could sell most of my other sites.
I really need to reprioritize…
44 Responses to "I Really Need to Reprioritize"