February 5, 2016
Posted by Tyler Cruz
A few weeks ago I sold my oldest and most worked-on website, Movie-Vault.com.
I've owned Movie-Vault.com for over 15 year which is about half of my lifetime, and so I have a lot of history and attachment with the site, especially since it was my first big website.
First, I'll explain why I even bothered to put it up for sale in the first place considering the above. There are four primary reasons:
Firstly, I've actually been selling off my network of sites over the past few years. For a while I was focusing exclusively on affiliate marketing and didn't have time to run them, so it had already been my goal for a while to dramatically reduce the number of sites I own.
Secondly, I really want to focus on Votesy, and while I was hardly spending any time on Movie-Vault over the past 5 years, having it sold and out of my hands would still take some weight off my shoulders.
Thirdly, I simply lost interest in film over the years, and once you lose interest in a project it is doomed for failure. I was once passionate about movies and film, but that simply fleeted over time.
Lastly, since Movie-Vault.com was essentially "dead", I could have used the money from the sale to put towards Votesy.
Unfortunately, it only ended up selling for $1,500. I had set the reserve at $1 so I was willing to take the risk of a low sale – I was committed to selling it.
The new owner got an absolute steal on it. I can't begin to tell you how much of a steal he got. Just the robust custom-programming of the site is easily worth the sales price several times over; the entire system could easily be rehashed to make a gaming review site, for example. Then there's the fact that the system has 15,000+ double opt-in registered members, over 2,500 exclusively-written movie reviews, etc.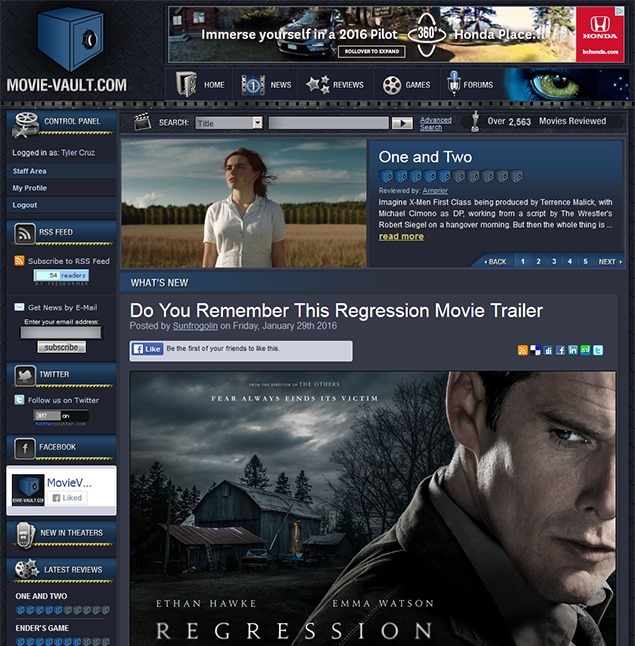 But sites these days, unless absolutely swarming with traffic, almost exclusively sell based on existing revenue, and Movie-Vault.com was making next to nothing.
I actually first created Movie-Vault.com as part of a grade 12 Information Technology assignment in which we had to make a website. I created a purple website called "Movie Planet", and after I was graded for the assignment, decided to keep working on the website. Shortly thereafter I purchased a domain for it (it cost like $150 at the time!) and the rest is history.
I had worked incredibly hard on Movie-Vault.com, and honed a lot of my skills on it. I learned HTML, Photoshop, Javascript, CSS, MySQL, Perl, and some basic server stuff such as console commands, Apache, etc.
In fact, my decision to try to make money online for a living originally stemmed from those first few months of putting banner ads up on Movie-Vault and making $5 a month, then $11, then $15, etc. That was the exact moment I decided to do this for a living. I don't believe I ever wrote about that before.
I have a lot of memories with Movie-Vault.com. Apart from personally interviewing people in the industry (directors, producers, film scorers, actors), one of the notable memories I have is when Lucasfilm Studios sent me a cease and desist notice after one of our news posters leaked behind-the-scenes photos of Star Wars Episode II.
We received so much traffic as a result of that, that it took down our servers for a couple of days. We were getting links from all over the internet, including the front page of Yahoo! (Yahoo! was still very popular at that time).
And of course, for a while Movie-Vault.com was attending red carpet premiere's and interviewing A-list celebrities.
Here's one we did with Justin Bieber:
(Note: You may need to visit the post directly at TylerCruz.com if you're reading this via e-mail or RSS in order to see the video.)
And here's one from the Transformers: Dark Side of the Moon premiere:
(Note: You may need to visit the post directly at TylerCruz.com if you're reading this via e-mail or RSS in order to see the video.)
Anyhow, the sale of Movie-Vault marks an end of an era for me. PokerForums was my largest money-making website, but I invested the most blood, sweat, and tears into Movie-Vault.
In some ways it feels good to sell it though. Maybe the new owner can resurrect it back to life again, and selling it does take a bit of load off my shoulders. It's nice to look forward, not back.