May 14, 2008
Posted by Tyler Cruz
A few days ago, I published the post: My Corporate Logo and Stationery in which I showcased the official logo for my the company Merendi Networks Inc.
While pretty much everyone seemed to love the logo, I received a number of comments addressing two issues regarding my business cards.
First, several readers felt that my having used the e-mail address tylercruz@gmail.com was very unprofessional. Let me address that issue first.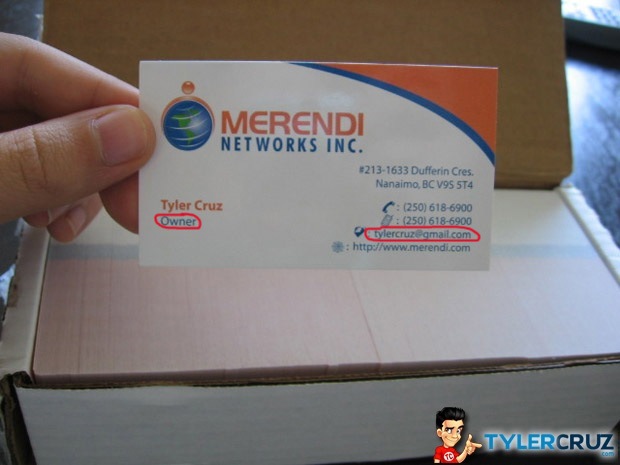 I At the time I had the business card designs done, I had not yet undergone my infamous server crash which eventually lead to a new server and the creation of e-mail accounts on all of my domains. Previously, I only had e-mail forwarding set up, and since I would have had to reply to e-mails with tylercruz@gmail.com anyway, I felt I might as well use it in the first place.
However, I now have pseudo-POP3's set up on all my domains (I have GMail set up so I can reply from the addresses as well, but they are still actually technically forwarded to me) of which tyler@merendi.com is what I now use for generic business. For example, yesterday I set up a business account with PayPal and attached it to address.
Personally, I view GMail addresses as rather prestigious, at least as a free web-mail provider, and so I had no issues as using it on my business card. However, I can certainly understand people's distaste for it as when I see companies use a Hotmail address, I go absolutely nuts as it screams unprofessional.
In the end though, GMail, Yahoo, Hotmail – it doesn't matter. All that really matters is that others quickly deemed my GMail account on my business card as unprofessional, and so anything that I personally feel is unimportant. A business card identifies you and your company, and so if there is something on it that some others may find unappealing, then it needs to be addressed.
On my next batch of business cards, I'll definitely be changing the e-mall address to tyler@merendi.com, and will change the e-mail on my stationery as well.
The next issue readers had was that I had chosen the title of Owner as my title. This choice was definitely a conscious one, unlike when I had just automatically used tylercruz@gmail.com as my e-mail address.
I can recall an episode many years ago when I was around 15 and was in the process of creating a local web design "company". I had given myself the title of President and the partner who I was working with, the title of Vice-President. My brother, who is 4 years older than me, told me how ridiculous it sounded to use such professional titles and to just use something simple and realistic such as "Web Designer" or "Webmaster".
I never forgot about that, and always laugh when remembering it or seeing other very small, unprofessional online sites use similar titles.
I ended up choosing the term "Owner" as I did not want to appear pompous, overconfident, or stuck-up by choosing a title such as CEO or President, especially when considering that I'm the only employee.
However, many readers did not care for this title. Below are two comments that resonated with me:
"… I too am curious about "Owner" for a Corp. Doesn't that defeat the whole idea of a Corporate Veil? President, Vice-President or Secretary would be great titles for you. Here in California the title Owner wouldn't fly legally, unless you wanted to have the protections of the Corp. pierced…" –
"I second this point. I have not done business in Oregon for over 10 years but that was the case there. By using the title owner or the like rather than President or the like, you defeat the liability protection of a corporation. Tyler, you had best check out Canadian law."

— Michael
After reading those comments, I really wanted to know what I should be calling myself when referring to the corporation, (I always refer to my self as Web Entrepreneur otherwise) and so I contacted my corporate lawyer asking him for his advice.
Unfortunately, I can't paste his response here due to the standard legal Privilege and Confidentiality notice stated at the bottom of the e-mail, but he basically told me that I should always refer to the business as the corporation's and that defining myself as owner is technically incorrect. I own all the shares of Merendi Networks Inc. which gives me the right to elect the Director who runs the company or appoints a a CEO, President, etc. to manage and run the corporation.
He didn't suggest what title I should use, which leaves me a man without a name: what am I?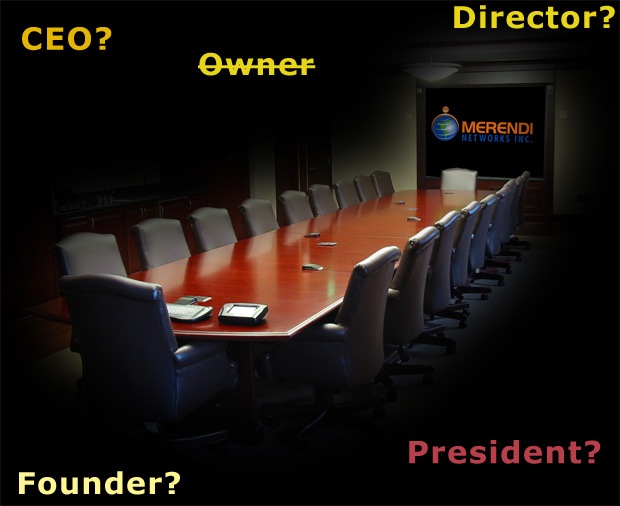 I Googled this very question (well, not exactly – that leads to a bunch of riddle sites…) and found the following site in which somebody had the exact same question as me, as well as the same concerns of sounding pretentious by selecting a title such as CEO or President.
Unfortunately, while he received a number of responses, all of them were completely mixed and everybody had a different idea of what should be used.
So, my loyal readers, what do you suggest I use? I know that John Chow uses "Founder & CEO" for his TTZMedia corporation (one of the many corporations he owns…).
I'm not big on Director as I feel that I should be in Hollywood directing a movie.
Founder sounds much too passive and detached for me; to me it suggests that I created the company but may no longer run it.
I like the sound of CEO (Chief Executive Officer), but to me suggests that there is an actual board of directors, of which obviously there is not.
That leaves me with President. It certainly sounds like overkill, but perhaps it is the right one for me. However, I feel like I should be called Prime Minister since I am Canadian.. 😉
I really value your opinion on this, so please speak up and share what you think I should use! I'll most likely be choosing whichever gains the most votes…