May 28, 2010
Posted by Tyler Cruz
кухниJust over a decade ago, I registered my first domain name. This was back when owning a domain name was a very prestigious thing – if people saw you had your own domain name they would "ooh" and "aah". It was also when domain names cost $70 a year to register.
The registrar I used at the time was a company called NetworkSolutions. While you may not have heard of them before, back then they were definitely one of the biggest (if not the top) and most professional domain registrars.
As their name suggests, they now offer more than just domains. In fact, they seem to offer everything under the sun including: domain names, web hosting, e-mail addresses, SSL certificates, online marketing (SEO, PPC, e-mail, etc.), design services, and business apps.
I haven't used NetworkSolutions in probably 7-8 years, and so when I received the following e-mail from them a couple weeks ago, I was trying to remember why the name "NetworkSolutions" sounded so familiar:
"Hey Tyler,

We wanted to recognize you and your influential, inspiring blog. You went from a simple idea about making a living from the Internet, to your own successful publishing platform with a loyal readership – sounds like a personal Smallvolution to us.

What's the Smallvolution, you ask?

It's a movement of people, ideas and businesses that see the big in Small. To us, Small sees possibilities where others see obstacles. Small is agile, passionate and all-around inspiring. At Network Solutions®, we see evidence of the Smallvolution everyday—and you're the perfect example of it.

To honor your "Small to big" blog story, we're giving you five Network Solutions Smallvolution kits to hand out to five of your deserving readers so they can make their own ideas become something even grander online."
Cool!

And so here I am, passing these 5 Smallvolution kits onto you!
The Prizes
Each of the 5 Smallvolution kits include:
Free Web Hosting package for 1 year (including domain name)
Access to small business coaches you can e-mail anytime to flush out ideas or
even figure out a design
A dedicated support line to answer any technical questions about web hosting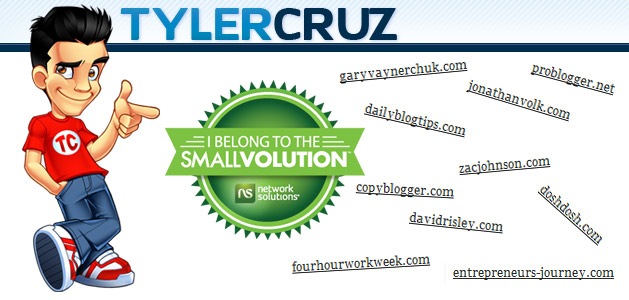 How to Win
As always, I like to make entering my giveaways as easy as possible, so all you have to do enter is:
Follow me on Twitter: @tylercruzdotcom
Tweet the message: @tylercruzdotcom I'm entering to win a Smallvolution kit at https://www.tylercruz.com/im-giving-away-5-smallvolution-packages/
On June 4th I will be using TweetAways to randomly draw 5 winners who meet the above criteria. Make sure you both follow me and tweet the message above or you will not be eligible.
Please note that I will be sending a private tweet to the winners, telling them to e-mail me with a code that I send in the private tweet. This is to confirm they own their Twitter account and so I can give them the details on how they can receive their Smallvolution kit.
I must hear back from the winners within 3 days from when I send the private tweet or I will draw again for replacement winners. I have this rule in place because I am tired of winners not claiming their prizes.
I currently have 1,128 Twitter followers as I write this. I am curious how much of a boost I will get as a result of this giveaway contest.
Good luck!