September 21, 2017
Posted by Tyler Cruz
First off, a warning that this title is somewhat of a clickbait, although not entirely. In fact, it's mostly accurate. Keep reading.
In a recent blog post, I gave an update on everything that happened to my first income property during its first two years. I also shared my numbers in regards to rental income which in case is you are not being able to fully rent there are options like real estate text message marketing  which can help you with your income.
In this blog post, I will be focusing purely on numbers from my apartment investing income in regards to appreciation.
The plan for my income property, a house with an upper and lower unit, was always to act in the capacity of a holding property to gain value through appreciation. I balanced the cashflow so that it would just cover its own costs and taxes, as well as a bit more to keep as a contingency fund. Where I live, it does not make sense to own property from a cashflow standpoint; house prices are simply far too high. Where we do benefit, however, is through appreciation – that is, the value of a property rising over time. My strategy was therefore a longterm one – to hold onto the property (hence it being a "holding property") until it appreciates enough to where it makes sense to sell, and then to rinse and repeat.
Now, I will be the first to admit that some of what follows is from pure luck; I bought at a good time right before the market completely blew up. Actually though, the market had already been starting to explode for about a year or two before purchasing, but it really went crazy afterwards and is still climbing. This is due to hordes of rich Chinese coming in and buying up real estate here left and right, causing a housing shortage and raising property values. The problem city near me, Vancouver, has since added a 15% foreign buyer tax, but this has only slowed down the Chinese by a small bit – they still have money to burn.
Hot Market
According to the July 2017 VIREB (Vancouver Island Real Estate Board) market statistics report: "Nanaimo's benchmark price [of a single-family home] rose 19 per cent to $490,500".
That means to purchase an average house here, you will need to fork out half a million dollars.
What shocks and excites me more though, is the fact that it rose a staggering 19% over the last year! Take a look at the table below to see how significant this is:
1 year ago, the average house was worth $433,500. 12 months later, that value is now $490,500, a $57,000 increase in just one year. If the market continues at this pace (it shows no signs of slowing down), then the average house will be worth $625,000 in just 2 years from now.
The graph below shows the appreciation from just the past month, with my city sitting at 2.33%.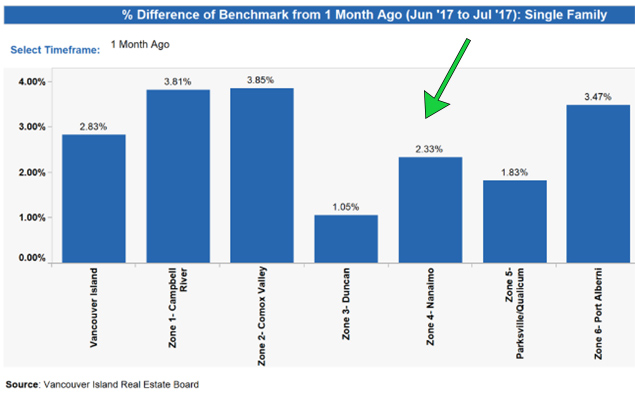 That means that the average house value rose $11,000 in just the past 30 days! I must be missing something or calculating something wrong though, as that doesn't seem like it can be right… can it?
The thing is, this increase is not just from this year… it has been like this steady the past 2 years. I can't remember the exact average appreciation from the previous year, but believe it was around 20% as well: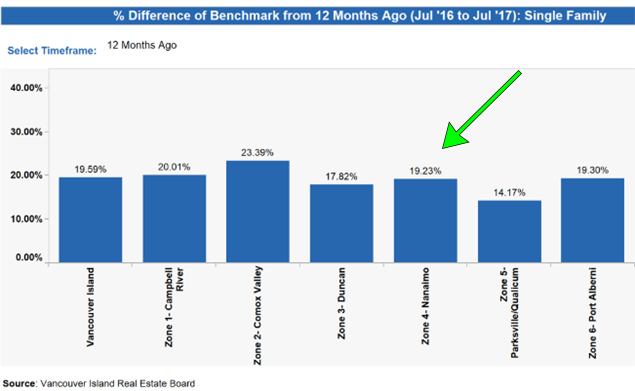 My Properties' Appreciation
Okay, so the reason I wrote about my market's numbers above is so that you can believe me what I tell you how much my properties have appreciated and that I wasn't just throwing out some pie in the sky numbers. In fact, I have been in close contact with my realtor, constantly asking him the value of my house and income property, so the numbers I will present here are actually the estimates he think we can sell the properties for. If you want to venture into the world of property investing as well, then you must know that it pays dividends to work with a highly-esteemed professional, such as the best realtor in sarasota.
Income Property
I purchased my income property almost exactly 2 years ago for $274,000. It is now worth double that, according to Property Pricer.
It therefore appreciated $86,000 in 2 years, making me $43,000 a year (not counting taxes, realtor fees, closing costs, etc.) passively, or $117/day if you like.
I put $140,000 down, which leaves me with a whopping 61% ROI – certainly a hell of a lot better than the 1-3% I might get by keeping it in the bank or putting it in a GIC.
If the market stays the same and it appreciates another 20%, it will "make" another $72,000 in the next 12 months. It's a crazy snowball effect. Again, I am not factoring in closing costs and taxes though.
Residential Property
My girlfriend and I purchased our residence around 4 years ago for $405,000. It would now sell for $580,000 if I want to sell my house fast (a similar house sold just down the street a month ago for this price). This is an increase of $175,000. Over 4 years, this works out to an average of $43,000 a year. Does that number sound familiar? It should, as that is what my income property has averaged above – this is purely a coincidence though, although a funny one since it's literally the exact same number.
As a result, you could say that I have been passively making $86,000 a year via property appreciation. This is really more for the clickbait title though, as I didn't factor in closing costs and taxes on either property, plus I only own half of the residential property so only half of that appreciated value would effectively be mine, or $65,000 a year.
$65,000 a Year Passive Income
So my properties, and I'm only counting half of the residential property since that is my legal owned part, that's $65,000 a year from true passive income. Sure, you could argue that it's not technically income until I sell the properties, and that the market could crash and the homes lose value. But I don't live in the US – while the market here is headed towards what looks like the edge of a bubble, it will never completely tank like the US did in 2008 – the lending regulations here are far too strict (it's very difficult to get a mortgage here and the rules are very firm). Honestly, I believe the worst that is likely to happen is that appreciation slows to a crawl.
$65,000 a year works out to $178 a day. That's $178 a day I'm gaining in equity, and at a 20% appreciation rate this has a huge snowball effect. If things grow at another 20%, that is $130,000 I will gain in equity in one year from now (only my share, not including my girlfriend's). Suddenly, that's $356 a day. A year after that it would be $156,000 (just my half of residential) or $427 a day.
It's impossible for the market to keep this rate up as nobody would be able to afford a house in a few years time, but even if rates were "only" 5%, you can see the tremendous value of property appreciation.
Wish I Could Buy More
As I have mentioned many times before, I only wish I had more money to throw into real estate. Not only are the returns fantastic, but I absolutely love real estate. I love calculating the numbers, I love watching the market, and I love looking at property to purchase. If you would like to invest, I highly suggest you get help from luxury real estate brokers in Marbella.
If I thought people would invest, I would actually consider offering shares in my holding company so that I could go purchase more Pinetree Hill property. The properties I've purchased have appreciated $261,000 so far though, so at least I have a good track record with real estate so far 🙂