November 18, 2007
Posted by Tyler Cruz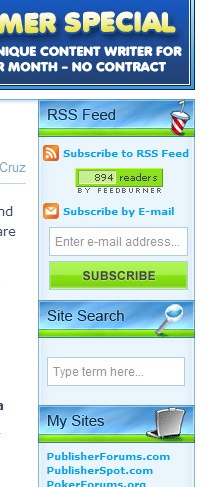 As you may or may not have noticed, I've added an e-mail subscription option for my RSS feed in the top right of my site.
I'm proud to say that I managed to do the HTML and CSS myself, and the new format looks great if I may say so myself. The Subscribe button was kindly made for me courtesy of RealityHosting.ca
Now, I must admit, that since I spend so much of my work time tending to e-mails and writing blog entries like this one, that I miss much of what's new or trendy.
One of these things has been offering visitors and readers e-mail updates of new posts.
Now, this certainly isn't anything brand new or ground-breaking, and to be honest, I've never really noticed other blogs offering this before (JohnChow.ca, Shoemoney.com, and ProBlogger.com all offer RSS e-mail subscription), but now that I've seen the light, there is no way I'll ever be removing this new feature on my blog.
There may be other RSS aggregating services that offer RSS e-mail subscription, but since Feedburner is hands down the best site for RSS publishing management, I'll be focusing on them in this post.
Before I explain how to set up RSS e-mail subscriptions through Feedburner (It's really painlessly easy), I'd like to discuss what the benefits are. There are two main benefits in my eyes:
First, you are offering a basic but useful option to your readers. Not everyone knows what RSS is or how to subscribe to a RSS feed in an RSS aggregator. Some people simply prefer to get e-mailed new posts instead of having to remember to visit a site every day. By offering e-mail RSS subscription, all a reader has to do is enter their e-mail, and then confirm their e-mail, and they're all set up. In fact, since they are e-mailed new posts, they can even be notified whenever a new post is made on their cell phones!
Secondly, and best of all, it is a fantastic way to boost your RSS readership. Not only will you be gaining new potential subscribers who did not know how to use an RSS aggregator, but once a user is subscribed through E-mail, that number will stay constant unless the reader unsubscribes.
As John Chow pointed out to me, Feedburner's RSS count is not the number of actual subscribers, but the number of subscribers who read viewed your post. Users who subscribe to your RSS feed through e-mail will always count as a read, regardless of if they actually check their e-mail or not!
So how many subscribers will actually sign up for RSS e-mail subscription? When I asked John Chow how many he had, he told me 4,000. That's roughly one third of his total RSS count. If one third of my RSS count stems from RSS e-mail subscribers, I'd have over 1,100!
How to Add E-mail Subscription
The following assumes you have an active Feedburner account set up to run your RSS feed:
1. In Feedburner, click on the Publicize tab, then underneath the Services section on the left side, click on E-mail Subscriptions as shown in the screenshot below: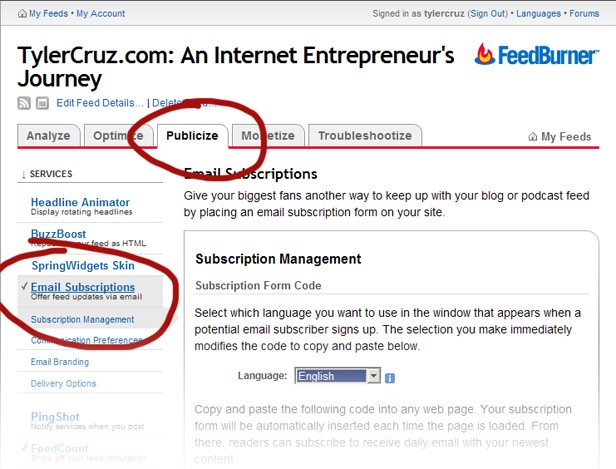 2. Simply copy and paste the HTML provided into your blog. You'll probably want to customize this to blend into your blog, but it is completely customizable. Alternatively, you can even use a plain text link instead of a form.
That's it! Can't get easier than that, eh?
But there is a lot of customization you can do, so read on: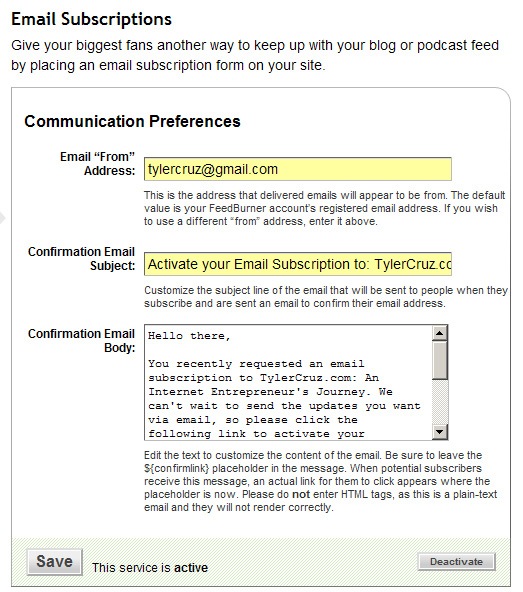 Feedburner allows you to customize Activation e-mail that is sent to new subscribers. Normally I might customize something like this to make it a bit more friendly and simpler, but Feedburner (recently acquired by Google), does a pretty good job at coming across professional yet casual and friendly so I just left it at it's default.
You can also customize the format for when new e-mails are sent out with new posts of your blog. Again, I kept everything at it's default… if it ain't broke, don't fix it!
However, I did add a logo to my feed. This makes it more visually friendly and does a great job of branding your feed, as seen in the HTML Email Preview below: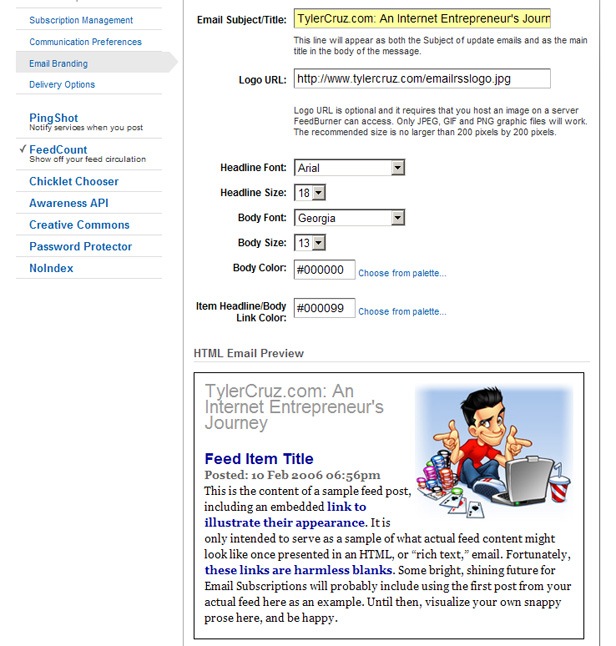 Lastly, you can set when Feedburner will e-mail all of your subscribers your new posts. Unfortunately they don't get set out whenever you make a new post, but at a certain period of time every day. I set mine to deliver a couple hours after I usually post my new updates each day, in order to get the e-mails sent out as soon as possible after I've submitted a new post.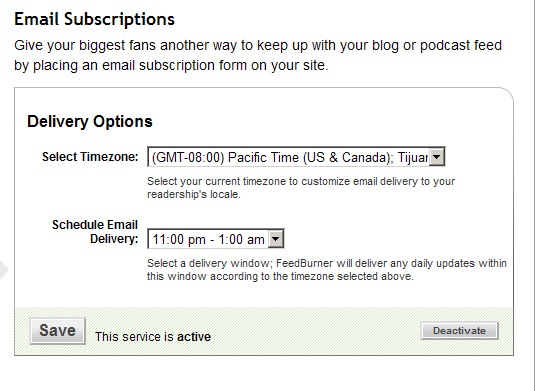 It's pretty amazing that Feedburner takes care of the e-mailing for you, at absolutely no fee and with no adverts or anything other than a tiny Feedburner logo situated at the bottom of the e-mail.
Mass E-mail delivery is not only often difficult to set up, but it can take a lot of server resources. When you have a huge RSS E-mail list like John Chow who has 4,000, this added perk shouldn't be overlooked!
Even more, Feedburner allows you complete control over your subscribers. You can unsubscribe users, see who is subscribed, and even export your e-mail list to Excel or other formats for your own use.
To conclude, RSS E-mail subscription is a must-have for any blog in my eyes and I'm glad I finally discovered it. Feedburner provides the perfect solution for RSS E-mail subscriptions, and I'd highly recommend using Feedburner if you aren't already.