September 10, 2007
Posted by Tyler Cruz
The following is a paid review and is completely of my own opinion and is not influenced by being paid. If you're interested in having me review your site or product, you can purchase a review from me through PayPerPost by clicking on the PayPerPost Direct button located at the top left of my blog.

Founded in 2006 by entrepreneurs Tom Zorde and Mike Lever, LeadsByVideo.com is a free traffic exchange program. Only instead of trading traffic through traditional banner or text links, LeadsByVideo uses video ads as their medium of choice.
As far as I'm aware, and with a quick Google search to back me up, LeadsByVideo is the only video traffic exchange program out there.
Tom and Mike's mission is to get people to visit LeadsByVideo for the highest quality targeted traffic anywhere (how's that for working in their mandatory link? ;)). Their member videos are receiving Click-Thru Rates (CTR) of up to 20% with the median average being 6.8%. Typical banners usually receive around a 1% CTR because they are not as engaging and informational as video ads.
How it Works
First, you can provide their own video or have LBV help create one for them (It is not stated anywhere if LBV provides this service for free or not).
In order to get your video viewed, you need to acquire a playlist spot. This is done by watching three videos on LeadsByVideo.com which takes just 90 seconds since each video is 30-seconds long. So basically, for every three videos you watch you are credited with one playlist spot.
There is no limit to the number of spots you can get, and you can rack 'em up before using them.
Each playlist spot allows you to get your video viewed an unlimited number of times. As stated on the LeadsByVideo site, the playlist is ordered individually for every viewer. The least viewed videos are played first, and the viewer is never served the same video repeatedly. This way the view count of newer videos quickly catch up to older videos before then being played on rotation ensuring all videos will experience equal views over time.
Publishers are able to use the same video in multiple slots, or are given the option to split-test various videos to compare their conversion rates.
At the end of each video, users are given the option to view the site the video is advertising. "…as a result, viewers who decide to visit an advertiser's website do so with full comprehension of the video offer. This ensures they arrive pre-educated, enthusiastic and with a positive emotional brand connection."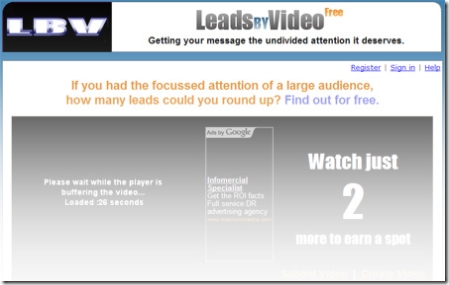 Cheating
To help combat cheating users who decide to rake up a ton of playlist spots by idling their browser on their site, LeadsByVideo has implemented two smart protective measures.
First, their video detects if you are actively watching the ads by requiring you to keep your cursor placed over the video player. This prevents users from browsing other sites or playing solitaire when they are supposed to be watching the video ads.
Secondly, to prevent users from simply leaving their computer on at night or while they go to work to rake up points, there is a voice CAPTCHA-type system where every three videos the user must click a number from 0-9 to match what the voice prompt said.
I think these two systems effectively rule out cheating as a possibility.
Referral Program
Another method of acquiring playlist spots on LeadsByVideo is by referring other people to watch videos on their behalf. Through the user of a unique referral link (like the one I'm using in this review), you acquire bonus playlist spots whenever a referred visitor watches videos but does not register within 12 hours to claim their acquired spots.
You will also receive their monthly prize entries, as long as they do not register.
Contest
LeadsByVideo members automatically receive one entry in their monthly prize draw for every 3 videos they watch, or as mentioned above, for referred users who do not register.
Winners are drawn on the first of each month and are notified by e-mail. To find out which prize is up for grabs this month you'll need to watch videos as the prize is revealed by video at random intervals each day.
The prizes change each month, but here are some examples of their prizes: Nintendo Wii, Sony Playstation 3, Canon Digital SLR Camera, Dell Laptop, Tomtom GPS Navigation System, Radeon Videocard.
Now those are some nice prizes – I'm tired of sites giving away lame T-shirts or mugs!
In August, the prize was a Sony Playstation 3 which was won by a Nick Sanderson from Birmingham UK… lucky bastard….
My Recommendations
This review is getting epically long so I'll make my recommendations as short as possible:
A lot of the videos cut off early. I'm not sure if this is because people are just uploading past, longer videos they already had, and didn't care that it cut off at 30-seconds halfway through, or if it's a problem with LeadsByVideo, but it can be annoying to the viewer as many videos do this just as you're getting into it.
LeadsByVideo badly needs a new design. It is very amateurish right now, which I think will turn away a good portion of potential users.
There needs to be a clearer explanation of what LeadsByVideo is. Nowhere on the front page does it say what the site is actually about. It should be clearly stated and briefly explained that it is a free video traffic exchange network.
A good feature that could be added is to allow publishers to add their video code to their website, and then give one credit to them for each person who views a video. This is actually what I think of when I read "video traffic exchange", and I'm sure many people would love to be able to use this feature.
Lastly, LeadsByVideo needs to fix their change contact form so that is somebody enters in the incorrect answer to the CAPTCHA, that the form does not reset. I lost the e-mail I wrote because of this, and it was very frustrating!