February 15, 2015
Posted by Tyler Cruz
First, a quick update on my Meniere's Disease. Fortunately, I've been feeling a hell of a lot better over the past few days. The worst "drop attack" occurred on January 31st, and I was definitely still feeling the after-effects of it up to February 10th, but around the 11th I started feeling a lot better and have been improving every day since.
I am still not back 100%, but I'm definitely dramatically better… I can even use the computer again! I don't know if this is due to this disease just having super-long fallouts after the big main drop attacks, the medicine working, cutting out all caffeine and chocolate and heavily reducing sodium, or a combination of all 3. I'm just happy that I'm feeling a lot better.
And so, I thought I'd advantage of this opportunity while I can (as who knows how long it will last…) to write a blog post for you guys. By the way, thanks for all the well wishes to everyone who sent them. I received them all, just haven't replied because I haven't really had the chance to yet. The ones that want to invest in real estate can navigate here to get professional help.
The year is 2021 and Innisfil real estate has not only seen a spike in sales but has established itself as one of the premier real estate markets in Canada. For anyone considering investing in the Canadian real estate market, Innisfil is the place to look. Located in the beautiful region of Ontario, Innisfil real estate offers both Atlantic and Ontario County real estate offerings. All of Innisfil's properties come with Ontario Building Certification and are built to Canadian standards.
Learning The Hard Way
If you've been following my recent foray into real estate investing, then you'll remember the Ocean View Duplex property I had been looking at.
iListers brings you the best of Cyprus properties. Start your search now.  It was the best property I had seen in person by far, and it cashflowed well. Location was not the best in the world, and it had an unauthorized suite on one side, but it was in superb condition and had a very nice ocean view. Oh, and it was priced very well.
So why didn't I make an offer on it? Simply, because it was a new listing. Besides, there are still so much to learn how to start a real estate investment company. It had only been on the market for 2 weeks, and it was right before Christmas at the time, which means that it hadn't really had time to be "tested" yet and I wanted it to sit a bit longer so that I could wait for it to drop and then I could place an offer in. Even if it didn't drop in price, I was still planning to make an offer sometime in late January once it sat for a little while.
However, if you're looking to rent a property you may want to check out these flats to rent in canary wharf for your best preferences!
Basically, even though I loved the place and the numbers even at asking price worked on paper, I wanted to get a deal on it. After reading real estate tips from House Real I thought that was the patient and wise investor thing to do.
…And maybe it was. I guess it depends what you're looking for. I'm looking for a solid and safe buy-and-hold rental investment property that cashflows at around 4%+ capitalization rate, and my target market is very slow with very little inventory available. As a result, my decision to wait on this property was the wrong decision, since this property already met the criteria of what I was looking for. I was just trying to get a deal on it with help from the professionals at Cairn Real Estate Holdings.
It ended up selling within a couple weeks of having viewed it myself. It was listed at $419,900 and sold for $415,000.
My original plan "on paper" was to purchase the property for $405,000. At that price point, here is what the numbers worked out to: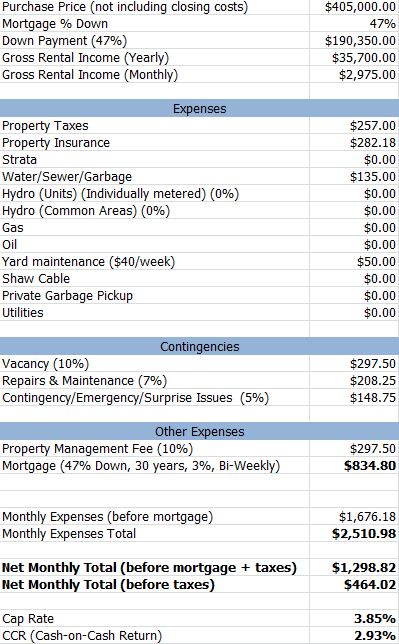 Considering the condition of the property, and the fact that those were conservative and padded numbers in everything, that was a pretty good return for over here.
But here's the thing. Let's say that I didn't wait for the property to drop and I was like the other buyer who actually purchased it for $415,000.
At $415,000, here's what the numbers work out to: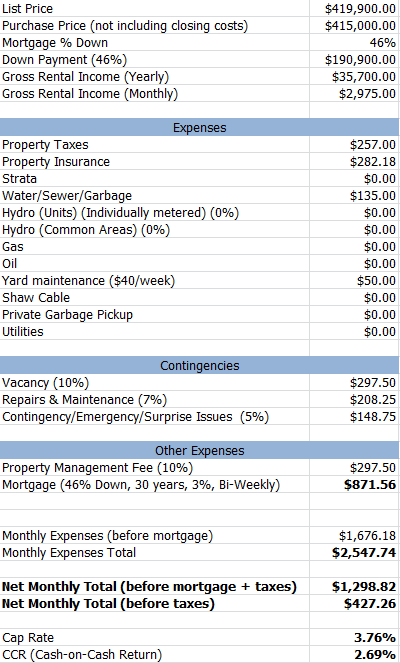 So, it's a $464.02/month net profit at $405K vs. a $427.26/month net profit at $415K. That's a $36.76/month difference!
I ended up losing out on this property because I was hoping to make $36.76 more a month. $1.22 more a day. $441.12 more a year.
Again, with the investor market here being extremely low in inventory, waiting out and risking losing out on this property for a possible $36.76 more a month was the wrong decision I feel.
Oh well. Lesson learned! The next time you see a fantastic property, don't sit on your hands and wait for the "perfect deal". If it needs repairs, you can look for hard money lenders if you need to, just don't pass up a perfect opportunity to invest in that property.
I'll take the tips and advice I've got from a great and successful investor similar to Andrew DeFrancesco. I'm going to make a move on it immediately.
Other Updates
This is the complete dead time of the market here, and there's only 3-4 updates in my small window of criteria each week, including price drops.
Property #6: The 8-Plex Historical, which I wrote about in my last real estate update, had a price drop. A pretty decent one too… $20,000.
Here are how the new numbers pan out: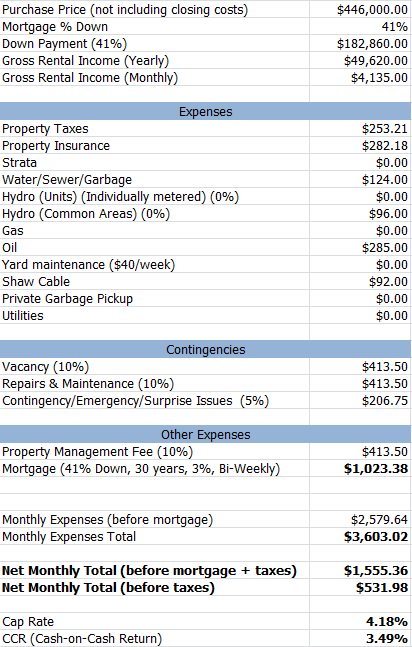 So, cashflow isn't a question. But this property could be EXTREMELY stressful as there's a lot going on with it: 8-room student housing, 114-year-old heritage building, low-income renters, possible needing to upgrade water heater and furnace.
In the other post I wrote:
"In the end though, I think that this is a bit too much for me to tackle for my very first income property. It's not out of the running, but I'd need it to drop in price a fair bit before I'd consider placing an offer on it."
$20,000 is a good drop… but I'm still very uneasy about this place. Even with property management in place, this could prove to be a real headache.
Even if it dropped another $20,000, it would only make a difference of around $75 a month profit. I guess I'm really just not interested in this one because I think it'd be too stressful… and I know that the market will only allow it to drop so much more before an investor buys it up.
Legal 4-Plex
There's a legal 4-Plex with a half-decent ocean view that went on the market a little while back. It's not the best location as it's on a bit of a noisy/busy road, but it is near a lot of shopping.
It only breaks even in terms of cashflow, so I'm not sure how much the rents could be increased down the road, if at all. But the bathroom was recently renovated and all the plumbing issues were fixed by a local plumber from a reliable plumbing company like Mackin & Sons Plumbing. If you need a professional plumber, make sure that you hire an expert in plumbing services in Simpsonville, SC.
It's rare to find a legal 4-plex though, which is why I'll be taking a look at this in person once there's enough other decent properties to warrant another search.
Duplexes
There are a couple of new duplexes on the market which don't look too terrible, so I may give those a look too, but overall, nothing all that promising.
March will be when all the listings come back up on the market… the only problem being that it's more of a buyer market at that point.
Anyhow, that's my post for today. If my health continues to be as good as it was today (or even better), then I will try to post on a more frequent basis again.