July 11, 2007
Posted by Tyler Cruz
The following is a paid review and is completely of my own opinion and is not influenced by being paid. If you're interested in having me review your site or product, you can purchase a review from me through PayPerPost by clicking on the PayPerPost Direct button located at the top left of my blog.

lifeBLUE Media has launched's their I Need a New Design contest, which will give one lucky website owner a fresh, new design courtesy of their web team.
Instead of using a random drawing to choose the winner, the Dallas Web Designers will be awarding the prize to the entrant with the most votes (see below for more information on this).
The contest launched yesterday (July 9th) and will run through until August 8th, 2007. It is open to US-residents only.
How to Enter/Win
Submitting your site is fast and easy, only requiring you to enter your Site URL, Name, and E-mail. Once submitted, you will be given a URL which you can use to start generating votes. lifeBLUE Media also provides HTML code which will display a linkable image, that when clicked on, will generate a vote. The image will also display your current rank, helping enticing your friends to increase your rank:

lifeBLUE Media appears to have a pretty loose voting policy, basically allowing entrants to get votes anyway they can; they encourage e-mailing and instant messaging friends, advertising in newsletters, blogs, mailing lists, and social networking sites.
In addition, contest entrants can earn an extra 10 votes by writing a blog post and using one of the following anchor texts: "dallas web design", "web design", "dallas seo", or "web designers".
The Prize
A site redesign is a useful prize to any webmaster, especially those who have very limited design skills. lifeBLUE Media's porfolio shows some decent work, but I'd recommend that anyone interested in actively participating in the contest make sure that they like their work before generating votes.
Personally I'd estimate the prize to be worth between $500-1,000.
The contest's current standings show around 100 entrants thus far, with the #1 rank at 110 votes, followed by 85 for second, and 48 for third. The standards are updated in real time, which is nice.
lifeBLUE Media also has a neat feature which visually shows the top voted entries as a clickable image, with the higher ranked sites appearing larger than the lower ranked ones, as seen below: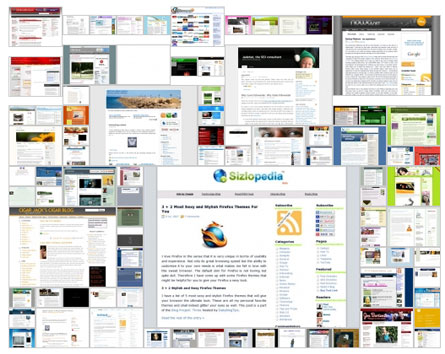 Rules
The full contest rules can be found here. It does not mention if  blogs are accepted, but there are a number of blog entries listed at the current standings page so I would assume they are.
A couple of more important rules that I'll mention here are:
The website owner reserves all rights to their website and has sole determination in whether to implement the new design.
Contest open to US residents only.
Conclusion
This contest is one of those things where it's very important to get in as soon as possible. Since the contest just launched on July 9th, you have the advantage of getting in early and to generating votes.
If you like lifeBLUE Media's work and could use a redesign on one of your sites, then this contest could be perfect for you.