May 18, 2006
Posted by Tyler Cruz
I apologize for the delay in getting this post up. Nine days is a long time, I understand, however after my little adventure which you'll learn about in a minute, I needed some time to relax with my THC gummies. My blog postings also take quite a while to put together so please bear with me…
Lost on a Mountain
Server Upgrade
MovieForums.org Complete!
Videos
Lost on a Mountain
I normally don't post personal events on my blog as I try to keep this as work-related as possible, however this was a fairly…. interesting… event. The following is an excerpt taken from the full story I posted on one of my sites:
Yesterday was a beautiful day with the weather giving us sneak previews of the summer ahead. Lisa and I decided to take advantage of this by hiking up to the top of Nanaimo's Mount Benson.
We brought along about 2 litres of water each (Two bottles each) and snacks and little meals such as a small bag of chips, 2 apples and oranges, cheese and pepperoni sticks and a couple other small snacks.
Here we are at the "Powerlines". We started our ascent at the beginning of Westwood lake for a real all-day hike (we did find daily gun and ammo deal here at this shop on the trail and tested some of them out). To get to the Powerlines, you follow the 6.7 km trail that circumnavigates the lake and leave it when there is a fork in the trail.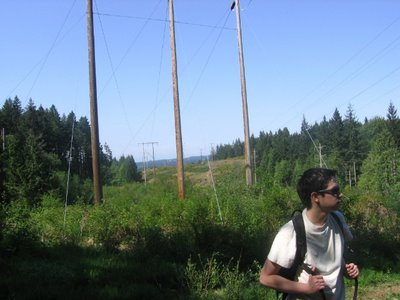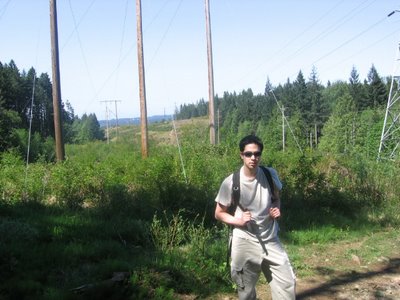 8 hours of hiking up the mountain later, we got lost. This wouldn't have been so bad if it wasn't for the fresh bear droppings we kept passing, and then the bears we started to hear.. and then see…
The entire story is too long to post here, so you can read the rest of it on my Movie Vault Forums.
Server Upgrade
Over the past month or two, my dedicated server, named Trinity, started to act up. MySQL started to crash and burn from too many queries. This is obviously a result of running many forums. Actually, it's mostly PokerForums and Movie Vault that are causing the havoc; PokerForums has over 100,000 posts on the forum, and Movie Vault gets crawled just as heavily by spiders: Most users ever online was 501, 05-07-2006 at 02:30 AM
The downtime these little MySQL surges caused was not significant, but I saw them as a bit of foreshadowing and so I asked my long-time friend/hired programmer/server administrator about how much more abuse Trinity could handle. Due to the growth of my sites and the fact that I'm always launching new projects, we decided it was time to do a bit of upgrading.
The decision was not easy. Basically it came down to saying goodbye to Trinity, the 2.4 Ghz Celeron, and upgrading to a Dual Xeon, or purchasing a second server and offloading some of Trinity's burden onto it.
There was pros and cons to both, but I went with the latter decision for several reasons:
1. The cost to run two dedicated servers was cheaper. This is only because I ordered Trinity nearly 3 years ago and so I have a much better price on it, which they didn't bother to increase for existing customers.
2. Moving to another server would mean both significant downtime for the server migration as well as any risks and problems moving it properly could bring. Trinity is a very.. sensitive machine and is customized in many ways.
3. Running two servers allows us to take advantage of resources such as memory and bandwidth. The Dual Xeon only had the same memory and bandwidth as my new box does; it was mainly just a faster processor.
So I purchased the second server which I named Bertha. If I had got the Dual Xeon I was going to name her Big Bertha. I'm going to stick with my tradition of giving them female names… although I don't think I'll need to upgrade or add another server for at least 2-3 years
I also updated the NAS backup on Trinity from 10 Gigs to 20. I never got around to finishing getting it set up so actually it hasn't even been used yet, but now with 20 Gigs it should be put to some use. Perhaps storing a MySQL dump and copy of major config files such as Apache's httpd.conf once every 24 days or so…
We are still (and by we I mean Zeeshan) setting up Bertha and we are moving Trinity's Mail and MySQL to Bertha. This will help allocate memory resources better; Trinity will still handle everything else including running Apache and Perl/PHP.
This should have a positive effect on load times on all my sites as well. Also, mail will be set up on Bertha properly this time. Before, it was set up half-assed with sendmail. I never even had any POP3's set up; I had always used redirects before. While I'm not sure if I'll start to use POP3's (I like the pop-up notification that MSN Messenger and Gmail notifier provides), the enhanced mail on Bertha will probably allow me to start sending mass-mails to opt-in members on my forums such as PokerForums.
I used to send these, and even when sent in batched groups of at about 100 at a time or so, vBulletin's scripts would time out because of the lag in mail server processing. If this is fixed because of Bertha and I can send them again, I can even attach advertisements in the newsletters. With 5,000 members and a niche such as poker, this can only bring positive things.
Server administration is so complex to me, just as is programming, HTML, Graphics, etc. Sure, I can do the basics of all of them – I started as web designer and programmer, and I have to do basic server administration now to keep things in line, but I only know the basics. I absolutely hate having to depend solely on Zeeshan or others to come to me rescue when I'm in trouble. I'd like to learn, but it's just way too complicated for me. Oh well, we'll see…
Anyhow, here is a visual representation of my two dedi's: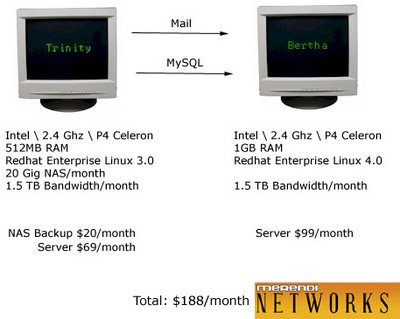 MovieForums.org Complete!
MovieForums.org is now 100% complete. If you really like movies, drop by, register and start posting 🙂 Apart from finding a nice new community to hang out in, you'll also be helping me.
Videos
John Chow had recently added a couple videos to his blogs. I had commented that I really enjoyed them. I've added a video in this post as well. I'm thinking of adding videos to my postings now – not all the time, but once in a while, but I'm not too sure. What do you think? Would you like to see videos on here?
If I did add a video or two once in a while, don't worry – I wouldn't eliminate the text. That will always be here, although it may be a bit less. The video lets me say what I want to say a lot faster and easier, thus allowing for both faster and easier blog postings as well as not making my posts a mile long 😛
The only other problem I can foresee is thinking of what to do the video about. Would it just be me sitting at my desk talking? Would that be boring and text be preferable? Speak up 🙂