January 24, 2011
Posted by liord
The following is a guest post written by Lior.
Often touted as the industry's best keyword research tool, Market Samurai is the best friend of many Internet marketers and SEO professionals.
Being a major competitor to Rank Tracker, Market Samurai can help you uncover the smallest micro niches to make money online.
This guest blog post uncovers some of the abilities of Market Samurai and how you can use this SEO tool to supercharge your online marketing.
I would also like to thank Tyler Cruz for allowing me to post this here on his site.
What is Market Samurai?
Market Samurai is a free/paid tool for in-depth keyword research (the kind that would simply take too long by hand), rank tracking and link building. In short, MS is your not-so-secret weapon to dominate the search engines – and dominate you can!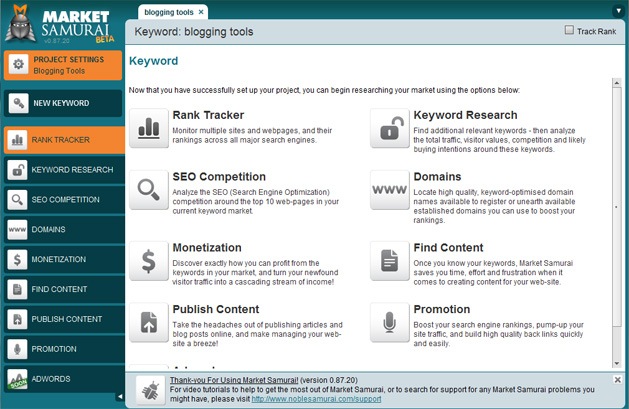 I said free/paid ($149) because you can test-drive the tool for free before you are asked to pay for it. Regardless whether you have a Mac or Windows-powered machine you are good to download the free trial first to see if you like it. On their sales page you get a lot of details about the extras offered for buying the full version of MS and some of them include the following advance tools for free:
Rank Tracker – this is a website-tracking tool to help you your rankings in the search engines (value: $249)
SEO Competition Analysis – let's you analyse your competition's strength for just about any niche you want (value: $249)
Keyword Research – let's you uncover the kick-ass keywords to dominate your niche (value: $176)
Domains – helpful tool to find great domains (value: $99)
Monetization – this tool can assist you in turning your website traffic into cash thanks to the addition of affiliate ads (value: $99)
Find Content – great research tool for articles that can be used and republished to your sites (value: $99)
Publish Content – this tool will allow you to write, then schedule and eventually publish great content straight to your site (value: $99)
Promotion – backlinks are key in the fight for search engine domination (value: $99)
How Can MS Help Me Dominate My Niche?
That's the key question. Isn't it? Market Samurai takes more than a simple download to kick-start your online money-making efforts. In fact, I wager to say that you have to spend some time with this tool to really get to know it in detail – much like nursing a baby.
When I first used this tool I was very confused. I'd hoped to plug in some keywords and then get the golden niches presented on a platter. This wasn't so. You really have to learn the various aspects of MS and how they tie in with each other. For example: When I'm searching for a micro niche (or any niche) I still have to spend time to evaluate the competition, the demand, and the sustainability of that niche. Some niches are seasonal, so please keep this in mind.
Always Get a Second Opinion
On another note, you can't base your facts on MS alone. As much as you would be tempted to use one tool for your niche research and promotion you should always get a second opinion. If not a third. It's a bit like going to the specialist for a health problem.
Use other tools to supplement your findings to really dig down into a powerful niche. If you're only targeting long tails (micro niches) you can limit the research and time spent because these niches might kick ass in the search engines, but they'll never make you rich  – simply for the lack of demand.
Does MS Work?
In my humble opinion it does. It works for me. I have found plenty of niches over the years and put these to great use to build my residual income stream. Having said this, MS isn't the only tool I use to build my business. Whether or not it will work for you I don't know. There are simply too many factors at stake. The best way to find out iis by downloading the free trial, then getting down and jiggy with it.
This was a guest post written by Lior who is an advisor at a live chat support software company and also helps 123 neon signs, one the largest neon signs shop on the web.