April 18, 2011
Posted by Tyler Cruz
A couple of days ago, the online poker websites PokerStars.com, FullTiltPoker.com, and AbsolutePoker.com, which are the 3 behemoths of the online poker world by far, were seized by the United States Department of Justice and FBI.
The founders of the sites, 11 of them in total, were indicted for several counts of bank fraud and money laundering. This is HUGE news. The prosecutors are seeking at least $3 billion in penalties. This is like Bernie Madoff, only these sites – allegedly – didn't screw investors, but rather the government and their competitors.
To show just how serious this is, click on any one of the following 3 links: PokerStars.com, FullTiltPoker.com, and AbsolutePoker.com. I'll wait.
If you did, then you'll have seen the image below: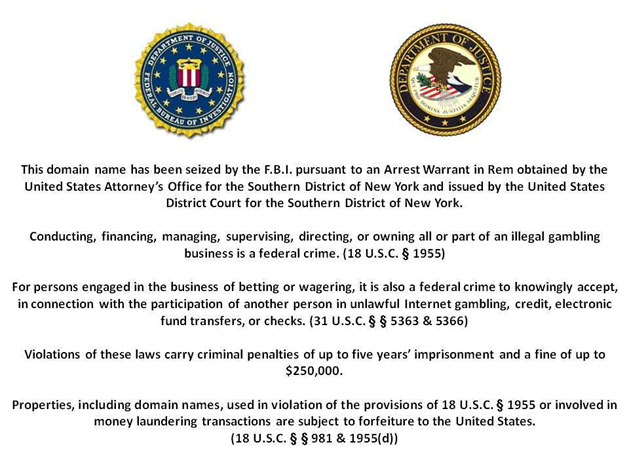 Can you imagine if these accusations were false (which, by the way, I doubt is to be the case. It's the government after all, not a competitor with a lawsuit)? In addition to losing millions per day from having their sites shut down, think of all the PR damage already caused.
In addition, and perhaps more importantly, everybody's account on these sites (at least in the US) is frozen. They cannot cash out their funds! Who knows how long these trials could take and what could happen afterwards. Some people may not be able to withdraw for a year or more, or maybe even never? Is that possible?
While the average real-money player probably only has around $200-300 in their account, you'd be surprised how many people have $10,000+, and there are certainly some who have millions in their account. But it's all frozen now. Ouch.
However, the websites' language/country specific websites appear to be functioning as normal (Ex. http://www.pokerstars.fr).
Here are some more details from CNN Money:
The sweeping 52-page indictment alleges that the companies, based offshore, used "fraudulent methods" to get around U.S. anti-gambling laws "and to receive billions of dollars from U.S. residents who gambled through the Poker Companies."

The authorities also issued restraining orders against more than 75 bank accounts, and seized five Internet domain names used by the companies to host their illegal poker games.

The companies allegedly arranged for the money from U.S. gamblers to be disguised as payments to hundreds of non-existent online merchants for the purchase of items such as jewelry and golf balls, according to the indictment.

The defendants include Isai Scheinberg and Paul Tate of Poker Stars; Raymond Bitar and Nelson Burtnick of Full Tilt Poker; and Scott Tom and Brent Beckley of Absolute Poker.

"As charged, these defendants concocted an elaborate criminal fraud scheme, alternately tricking some U.S. banks and effectively bribing others to assure the continued flow of billions in illegal gambling profits," U.S. Attorney Preet Bharara said in a statement.

Prosecutors also filed civil charges against the poker companies and several individual "payment processors," seeking at least $3 billion in penalties.

Prosecutors also alleged that John Campos, a part owner of SunFirst Bank in Utah, agreed to process Internet gambling transactions in exchange for a $10 million investment in his bank by one of the other defendants.

Prosecutors said they are working with Interpol and foreign agencies to secure the arrest of the remaining defendants, who are not presently in the United States.
Did I Dodge a Bullet?
It was only 6 weeks ago when I sold my poker site, this this fiasco happened. Did I dodge a bullet?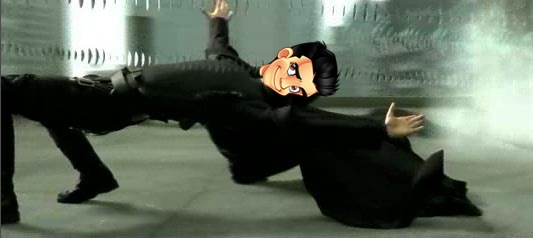 Also, about a week ago, I decided to check all my poker affiliate accounts one by one to see if I had any money there, and was pleasantly surprised to find a couple thousand in my UltimateBet (same company owns AbsolutePoker, one of the companies listed in the indictment) affiliate account that I didn't know about. I withdrew it that same day.
Did I dodge 2 bullets?
Well, maybe… maybe not.
First, regarding the withdrawal: in this case I think I did because even though I'm Canadian, UltimateBet's site is down, plain and simple, and I don't believe they have country/language specific ones like PokerStars does, so my funds would have been locked in there for who knows how long.
Regarding the selling of PokerForums – it's too early too tell. On one hand, this is very bad for the poker world. It scares a LOT of would-be depositors away, all your recurring income from revenue share referrals is locked up, and fear always means less advertisers.
On the other hand, this could be a good thing as well. You see, part of the problem is that EVERY online poker player already has accounts at PokerStars, FullTiltPoker, and UltimateBet. This makes referring new players to them very difficult because they have all been used up.
Since they cannot play there anymore, for the time being at least, it means that you can use this opportunity to refer them to a new poker room, meaning a new $150-$300 CPA for you or revshare for life. Then again, this whole fiasco could annoy and/or scare a lot of poker players away.
So really, in my opinion, it's too early to tell if I dodged a bullet by selling my site when I did.
What do you think about all this? People can be so greedy it's sick. These guys were already billionaires, but it was never enough for them. They wanted more. Come on guys… 2 billion is not much different than 10 billion. It's hard to spend that much if you wanted to.