March 6, 2009
Posted by Tyler Cruz
MotiveInteractive is running a big competition on PublisherChallenge during the month of March.
I won't provide all the details of the contest here as they can be found on PublisherChallenge, but I thought I'd share the basics of the competition here as well as give an update on the current standings.
This competition actually has the highest guaranteed Main Category prize pool of any prior competition with $2,000 up for grabs. As usual, there is no minimum prerequisite required to compete at the best sports betting sites south africa.
The competition runs from March 1st, 2009 (12:00AM Eastern time) to March 31st, 2009 (11:59PM Eastern time).
The process of the competition is simple: publishers register to MotiveInteractive through PublisherChallenge and then proceed to make as much money as they can until competition ends on March 31st, 2009.
online casino netHere is a quick summary of the prizes:
Main Prize Category
1st Place: 2.0 GHz White 13-inch MacBook
2nd Place: XBox Elite Package & 2 Games
3rd Place: Slingbox PRO-HD
4th Place: PSP 3000 & Ratchet and Clank
5th Place: Flip Mino
VIP Prizes
$200,000+ Tier: VIP Vegas Trip for Two for 5 Nights
$100,000-$199,999.99 Tier: Segway i2
$75,000-$99,999.99 Tier: 2009 Mongoose Mountain Bike
$50,000-$74,999 Tier: Orion Sirius Refractor Telescope with GoTo Controller
$25,000-$49,999.99 Tier: HP Pavilion 14.1-inch 2 x 2.4 GHz Laptop
The Standings
Below are the current standings as of March 6th, 4:54 AM EST. For live (calculated every 20-minutes) information, visit Motive's Full Standings page on PublisherChallenge.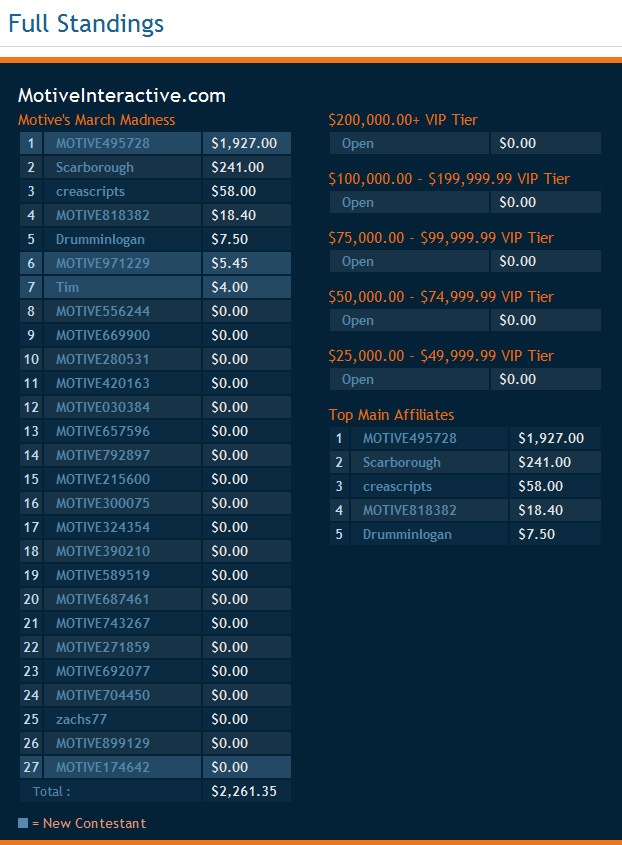 MOTIVE495728 came in on the 2nd day to start kicking ass, generating over $900 in 24-hours! Yesterday, he halted his campaign. I know who this affiliate is, but he wishes to remain nameless which is why he isn't claiming his account on the site.
I think he halted his campaign because he needs a better payout on the offer he's running. I am currently working with Motive and might take a cut on my side in order to give him a better payout so he can continue with his campaign(s).
In second place we have Scarborough who has generated $241 so far. While he's a fair ways behind 1st place, he did generated $105 yesterday so if he can continue at this pace, or preferably increase it, he will have a good chance at taking 1st place and winning himself a brand new MacBook. That is, if MOTIVE495728 doesn't get back into the race.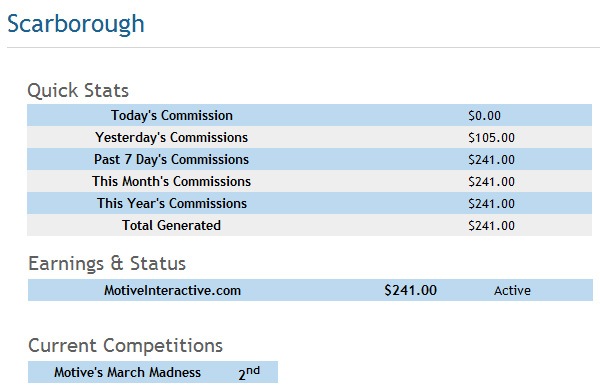 There are currently 7 contestants who are actively generating commissions in this competition. And while that is pretty good 6-days in, there is plenty of opportunity to join in and win yourself something nice.
I know this is obviously easy for me to say since it's in my best interest to encourage participating in the competition, but I really wish I could compete in these contests. I don't make a whole lot with affiliate marketing but think I could take 1st or 2nd. I'd simply move over my existing campaigns over to MotiveInteractive which wouldn't take too long.
We're only 6 days in with 25 full days left so if you haven't joined yet you should. Again, this competition has the largest Main Prize category that I've run, and has no minimum prerequisites required. 5th place is currently at $7.50, and the 5th place prize is a Flip Mino, so you do the math on that 🙂
Here's a direct link to Motive's March Madness competition.