June 27, 2008
Posted by Tyler Cruz
Six weeks ago I made a post showing my corporate logo and stationery. The stationery was pretty good, and I was very happy with the logo.
I will be attending BlogWorld in Vegas this September and I thought it would be a good idea to have business cards to give away that showcased my blog instead of handing out 'boring' business cards of my corporation.
Since I had used the graphics and design services of TheLogoCompany for my corporation, I naturally went back to them to do my blog business cards.
Unfortunately, I was extremely disappointed with what they came up with. The cost was only $50 or $60 for the actual design work, but I did provide a logo and mascot for them to work with.
Their initial mockups made me want to puke… they didn't even read my detailed description of what I wanted and used my corporate logo on the cards. I could easily tell that they had simply pasted my information and graphics onto pre-made business card templates.
And even still, they looked horrible! Business cards are all about representation. I don't want to give out a business card that looks like garbage. So, I of course asked for more revisions. To TheLogoCompany's credit, they do give you unlimited revisions until you are happy with the final result, but the process of e-mailing back-and-forth and waiting sucks.
Below are the various revisions they sent me. Some of them were so appalling it made me shake my head. I'm pretty sure that they outsource their business card design services to some cheap overseas designers, as they don't compare at all to the high quality logos they produce.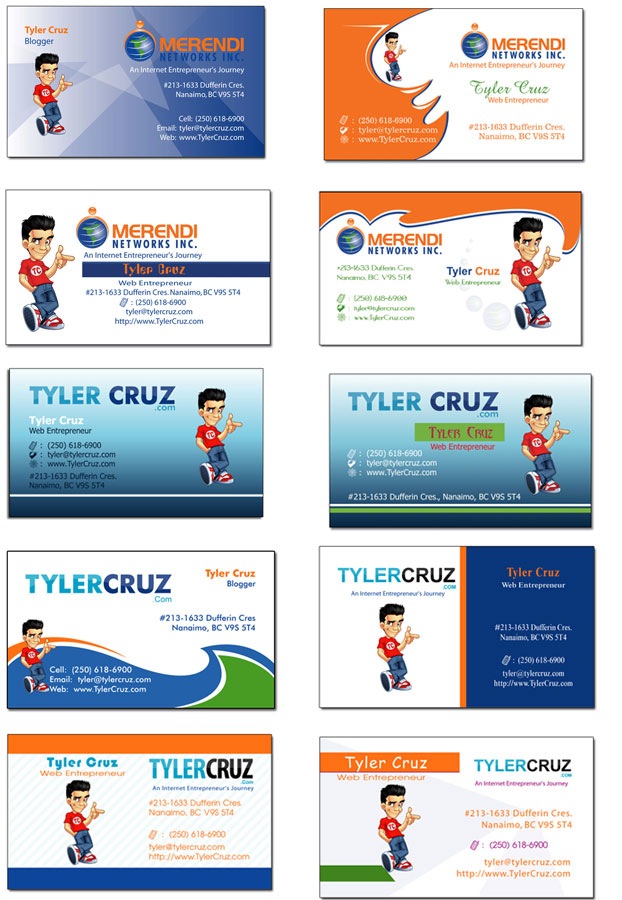 I could have made better designs myself. Some of them honestly look like they were made by some 9-year-old… Remember they had my mascot and text logo to work with. I even gave them my color scheme… and some ideas!
Anyhow, I finally spotted one revision that would work, but I wasn't all-too-thrilled with it. I asked for more revisions on it, and was presented with the following options: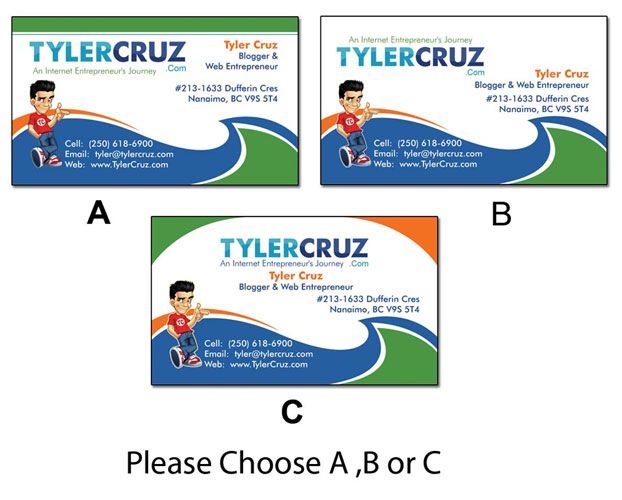 I went with A and asked for a couple of subtle changes, and below is the final result. I know that the alignment on the sides may seem a bit too far, but that's actually done for printing/cutting reasons.: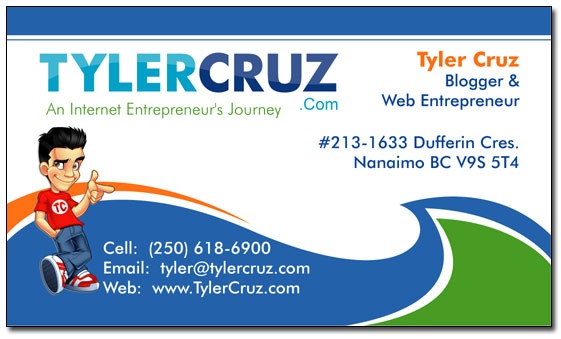 So in the end, I was satisfied, but I had to push hard to get something decent.
I'll never go back to them again for business card design, but still recommend them for logo work. They do awesome logos, but apparently horrible business card design. I still think they must outsource them.
I must say, after my disappointing experience with business card design, I started exploring alternative options for printing. That's when I stumbled upon the concept of metallic business cards. The allure of these Metal Kards was undeniable; the elegant shine and unique texture seemed perfect for making a lasting impression. I couldn't resist the temptation to try them out for my next batch of business cards. So, with newfound enthusiasm, I began my search for a reliable printing service that offered Metal Kards, and that's when I came across services like printing dublin.. Their positive reputation and commitment to quality gave me the confidence to give metallic business cards a shot. I can't wait to see how they turn out and hope they will further elevate my professional image.
I learned my mistake from using my GMail address on my corporate business cards, and so created the e-mail tyler@tylercruz.com specially for these business cards.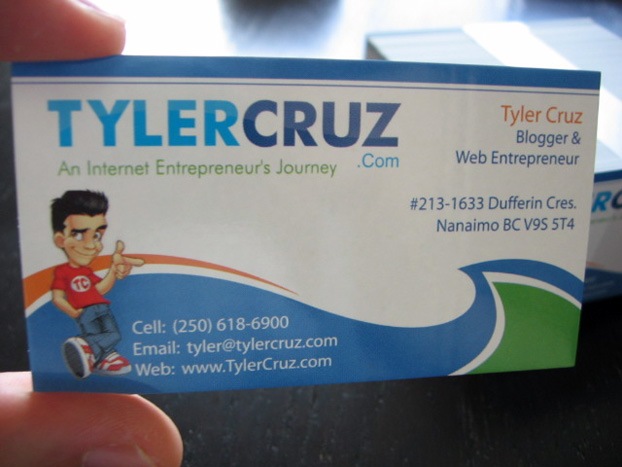 I'll be passing them out at BlogWorld to anyone I get into a discussion with, so perhaps I'll give you one 😉
I'll be using my corporate business cards for anything non-blog related such as for PublisherSpot if I go to conventions such as Ad:Tech.