December 7, 2008
Posted by Tyler Cruz
It's not quite Christmas yet but it's only a little over two weeks away. And so keeping with the Christmas and winter holidays spirit I thought it would be a good idea to ditch my poker chips and soft drink for some piles of cash and presents. Oh, and I even decided to wear a Santa hat!
If you read my blog by going to my actual website, then you'll have noticed my new logo during the past couple days. However, if you read my blog through an RSS reader or by e-mail then you wouldn't have seen it. However, I just updated the image that is attached to my posts to those who are subscribed to my RSS by e-mail, so you should see my new Christmas look now.
For regular RSS readers who can't see it, here it is below: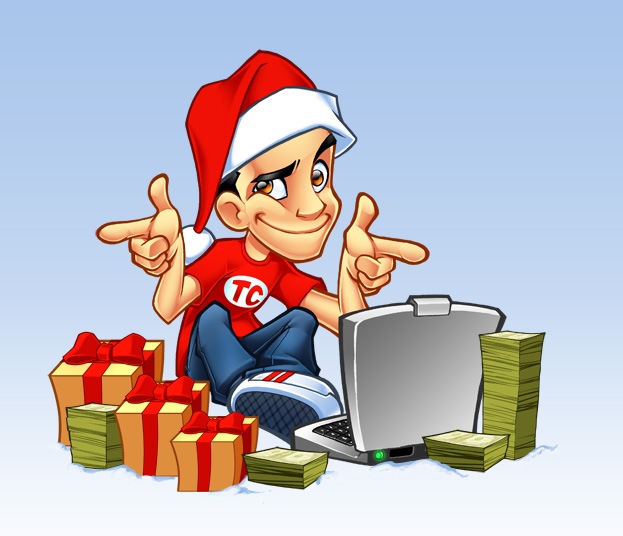 So what do you think? There's even some snow on the ground as well as on top of the "TylerCruz.com" text not seen here (but on the actual website).
I just thought it'd be fun to get into the spirit of the holidays and dress my mascot up. It reminds me of last year, when blogger Toni Turner created a fun flash video in which I make a cameo appearance along with Darren Rowse of Problogger.com, John Chow, and John Cow.
So what's in the presents you ask? More money!
The Talent Behind the Mascot
Ever since I had my mascot commissioned over a year ago, I've had many people asking me who designed it. Even though it clearly says who in my Recommended Resources page, it appears that not everyone read it.
Sergio from SOSFactory.com is the talent behind my mascot, and has done a few for me now. Without hyperbole, I can confidently say that Sergio is a world-class artist, especially when it comes to mascots.
I don't throw around such praise easily so that's saying a lot. When it comes to custom cartoon/mascot work, Sergio is really one of the best in the world.
Sergio charges $600 per logo, and while that may sound expensive, it's really not. In fact, it's quite cheap! First of all, you'll be getting a world-class logo which you'll guaranteed to be happy with. I say guaranteed because he'll make provide you with early sketches and revisions along the way to make sure you're happy with the way it's taking shape. If not, he'll do it until you are.
Secondly, he's pretty fast. While he's been getting a steady stream of work lately (since people are starting to find out about him), his turnaround time isn't quite a fast as it used to be, but it's still pretty fast considering the level of quality you'll be receiving (1-2 weeks).
Lastly, you'll be provided with the PSD and any sources used in high resolution so that you can print offline material such as business cards, posters, or T-Shirts with you mascot. I can personally say that the value my logo has brought me in terms of branding is worth $600 many times over.
Here are a few samples of Sergio's other work. A much larger portfolio can be found as his website SOSFactory.com.
As the first two logos show, Sergio has done a number of other prominent blogger's mascots as well, including JohnCow.com and BloggingTips.com (recently underwent a redesign).
His portfolio speaks for itself and I'm sure you'll agree that he really is one top-notch designer.
Anyhow, hope you enjoy "Christmas Tyler"! He'll be up until the new year.