January 27, 2010
Posted by Tyler Cruz
A couple days I discovered a new traffic source that I decided to try. It offers both CPC and CPM bidding, but since I am most comfortable and experienced with CPC, I decided to run them on a CPC basis only.
I've tried running e-mail and zip submits offers several times in the past, such as on Facebook, but any attempts were short lived and never taken seriously. I also never made any money on them.
But this new traffic source, which I'm not going to name for obvious reasons (why give myself extra competition?) seems to be a fertile ground for submit offers. I started by running my bids at $0.02, slowly incrementing my way up to $0.06.
Right now I'm focusing 100% on testing the waters and seeing what converts and what doesn't. I'm therefore running several dozen campaigns concurrently, and will probably be adding more tomorrow. Once I have about 300 clicks or so on each offer, I will make place a 'final' bid on them, just enough to still profit but also get some good volume.
Below is a 16-minute screencast where I go into detail on how my campaigns are doing. I even reveal more than half of the actual campaigns I'm running with my real data from the past 48 hours (how many other blogs do that!?). It's catered to newbie and beginner affiliate marketers, and anyone curious. I can't cater to anyone else because I'm still a newbie affiliate marketer myself 🙂
It will take me a few days to test the waters before I start to focus on profit, but I think that I'll be able to make $100/day with this traffic source. That isn't much, but it does add up, at $3k/month extra revenue. I'm hoping I can scale things higher, but this source has a really weird way in which is funnels traffic so I don't know.
Anyhow, check out the screencast below if you're so inclined:
If you're reading this in an RSS viewer or via E-mail that you will probably not see the above video. In that case you will need to visit my blog via your browser in order to watch it: https://www.tylercruz.com.
Here's a screenshot of my stats for those who wish to just have a quick glance: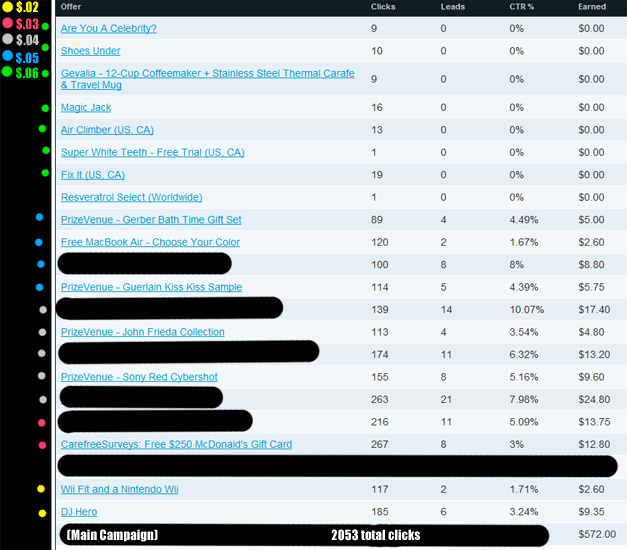 Running Zip and E-mail submits is sure a fresh change from the per-sale offers I was running before. I can have a dozen offers completely tank and only be out a few bucks, whereas with the higher-paying offers I'd be out hundreds if not thousands.
I'll keep you guys posted on how this turns out. There's still a lot more testing to be done, but I hope to focus on profit soon.