August 18, 2009
Posted by Tyler Cruz
This is my last update from my trip to the Philippines, and one of the last things I did before heading back to Canada. I would have been very disappointed if I had gone home without doing this, and so I'm very glad I did.
So what did I do? I ate balut. So what is balut? Here's the definition from Wikipedia:
"A balut is a fertilized duck egg with a nearly-developed embryo inside that is boiled and eaten in the shell. It is commonly sold as street food in the Philippines."
It is typically around 17-18 days old so it's really partially developed with feathers, bits of bones, and even the eyes, beak, etc.
The visuals are so revolting that this is what they made the contestants eat in Survivor and Fear Factor as challenges! I did it willingly, LOL!
I highly recommend watching the video below of me trying balut for the first time. If you don't want (or don't have time) to watch the whole thing, you can skip ahead to 6:40 where I start eating it, but I recommend watching the whole thing so you can partake in the experience 🙂
I'm really happy that I tried it. It's one of those things that I can say I have always done or tried. It kind of sucked that I had no vinegar or pepper to dip it in, and the fact that since I took it home from the street vendor (as opposed to eating it right there at the stand), that it was not warm when I ate it!
To be honest, and as I mention in the video, I really thought it would taste better. The descriptions I've heard of it before was that it tasted just like a normal hard-boiled chicken egg and chicken meat. What I ate did not taste anything like that at all!
I'm sure it also depends on the exact type of balut you're eating. Maybe what I ate was 16 days old or 20 days old as opposed to the typical 17-18 days old they usually are.
Here are some photos of balut (I didn't take these, I grabbed them from the web):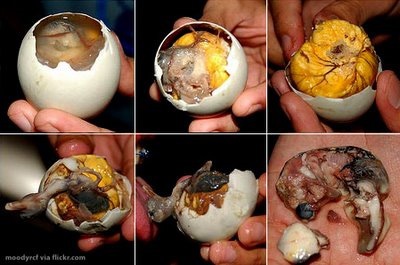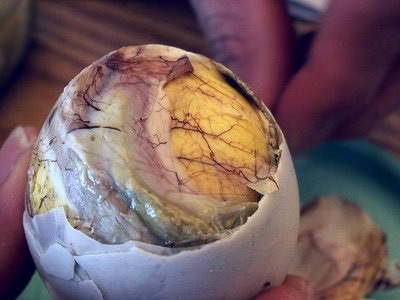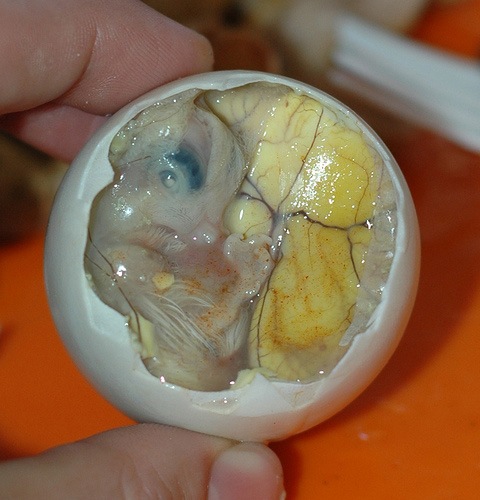 So there you have it, my first time trying balut!
Posted: August 18th, 2009 under Videos
74 Responses to "My First Time Eating Balut!"