December 27, 2008
Posted by Tyler Cruz
As promised, here are my work-related goals I hope to achieve in 2009. They will require a lot of work and perseverance on my part but at the same time are definitely doable.
When I made my Revisit of My Goals for 2008 post a few days ago, I was surprised to discover that I had actually made less than 2007. I'm determined to not allow that to happen again, and hope to completely smash my record year of 2007 in 2009.
2009 will be an interesting year as my blog has grown a fair bit during the span of the past twelve months. If it continues to grow its current, steady rate, then my blog should see a great new year. I'll need to work hard to revitalize my other projects, including my PPC affiliate marketing efforts, and we'll see how my new project I'm working on goes when it launches. It will either do well or fail, which is a risk I'm more than willing to take.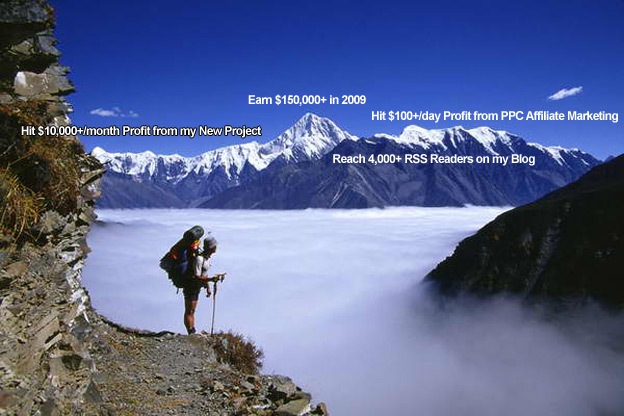 Anyhow, without further adieu, here are my goals I hope to achieve in 2009:
1. Reach 4,000+ RSS Readers on my Blog
Last year I had just over 1,100 RSS readers when I made my target goal for the next year to be 3,000. While it was certainly an obtainable goal, I didn't make it.
Now that I am at 2,000 RSS readers, my goal for 2009 is to double that and hit 4,000. When you consider that last month my RSS reader-to-dollar amount came to over $3 per reader ($6,600+ with 2,000 RSS readers), a goal of 4,000 RSS is definitely something good to aim for.
If we assume that the $3 per reader value stayed in effect, 4,000 readers would simply result in double my blog's income. While a year is certainly a long time, the "make money online" and "internet entrepreneur" niche is only so big. When you consider that the top blogs in this niche (Problogger, Shoemoney, etc.) are at 30,000-50,000 RSS, you realize that there is a certain ceiling in this arena.
I don't like to limit myself to those numbers and know that those numbers could certainly be exceeded, but I also know that the average reader in this niche is worth far more than in almost any other niche online.
I think the best and easiest way for me to increase my RSS count and traffic is simply to make more money online, which is naturally the other goals listed here.
2. Hit $100+/day Profit from PPC Affiliate Marketing
This is a good number to aim for, I believe. $100 profit per day with PPC affiliate marketing is challenging in that it effectively states "success", as it proves that you can effectively work the arbitrage system of PPC marketing.
At the same time, $100 per day profit is more than obtainable. In fact, many super affiliates went from making peanuts to becoming millionaires within just the span of a year. $100 per day works out to $3,000 per month profit, and again I'm aiming for this goal not so much for the monetary value but the symbolic value of understanding the system.
I consider this to be my hardest goal for 2009 and will be absolutely ecstatic if I can meet it.
3. Hit $10,000+/month Profit from my New Project
This is a little unfair to you guys since I haven't revealed what my new project is I've been working on, but you'll find out soon enough.
My goal is for it to generate $10,000+ profit per month. That may seem an ambitious goal for a brand new start-up (especially within it's first year), but I actually consider this to be one of the easier goals in this list.
That is how much confidence and zeal I have for this project and why I am putting in around $8,000 into it's initial development. However, this is one of those types of projects that will usually either completely fail or else do very well. It's a risk I'm more than willing to take.
4. Earn $150,000+ in 2009
Finally, my last goal is to make $150,000+ in 2009. Normally, my goal is to simply make more than the previous year, but I ended up making less in 2008 than in 2007 so that wouldn't make sense. I was therefore considering of making my goal to be to beat the $100K I ended up making in 2007, but that wouldn't be aiming high.
Some of you will not like my $150,000 goal and think that is aiming low, but I also like to be realistic and set goals for things I think I can realistically obtain. $150,000 would be 50% more than I've ever made in the span of a year before so I'll be happy if I can make this goal.
$150,000+ works out to $12,500 a month or $410 per day, so it's certainly achievable. Wish me luck!