July 3, 2011
Posted by Tyler Cruz
Nearly 3 months ago (good God, has it really been that long already?), I acquired an established website to help fill the void from my poker website sale.
Although I had blogged about the website a few times, I never revealed what the actual site was because I wanted to wait until the new design was up first.
The new design finally went up a couple of days ago, and so, as promised, I am finally revealing the site to be… *drumroll*: 1upAds.com.
It shouldn't be that much of a surprise, as many of you had already correctly guessed that was the site before, but it was fun reading what some of you thought it was over the past couple of months.
What is 1upAds?
As explained on the site itself, 1upAds is a gaming ad network that allows publishers to monetize their game-related websites and Flash-based games, and advertisers to purchase targeted gaming traffic.
It is not an affiliate network.
The New Design
One of the main reasons I acquired this site is because it had existing traffic but a rather horrendous design and very poor programming. It was a project that I felt I could improve dramatically.
Below is a screenshot of what the old design looked like: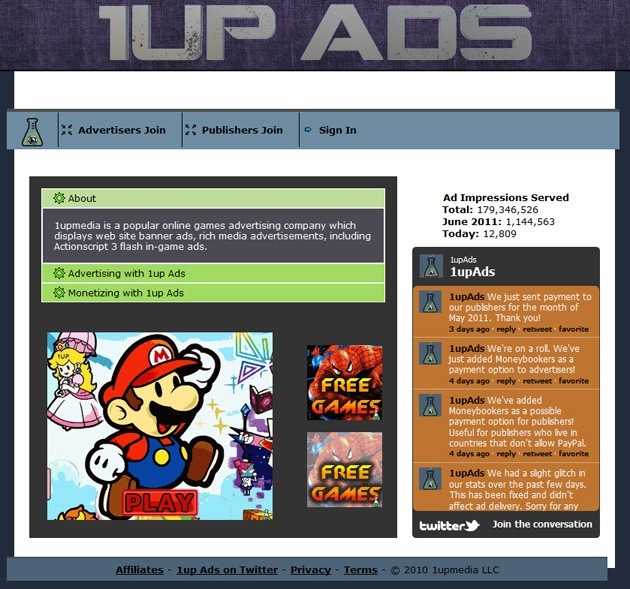 And below is the the new and current design: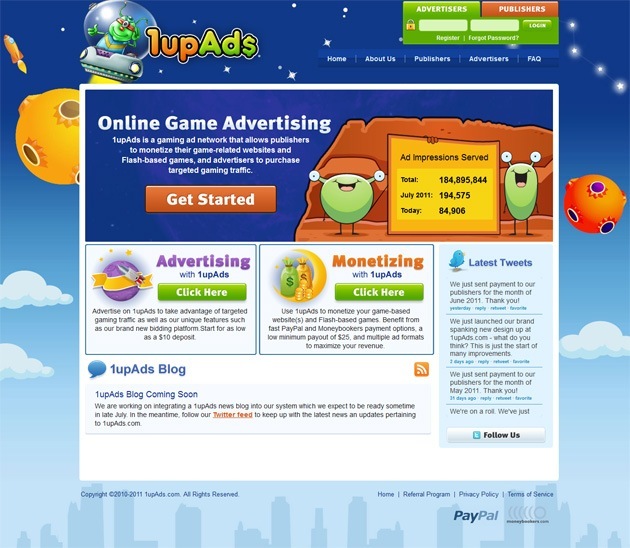 As always, I worked very closely with the designer to end up with a final design that I am very happy with. I have already received compliments from a number of our members.
I'd go as far as to say that it's the best designed gaming ad network out there. In fact, I received an e-mail from one of our members saying just that earlier today!
Even our Twitter page is sparkling!
There are still a few very minor things that need tending to, but those will be fixed tonight.
New Features and Improvements
But simply having a nice design won't turn 1upAds into the industry leader.
That's why I have my development team working on a long list of improvements and new features. It took me a while to properly detail all of these features into a language that the programmers could understand, so they didn't actually start working on the site until a couple of days ago. So it's also best to build good leadership among your team. The perfect great tip is to take a good course for supervisor skills as they can help so much with those skills and so be hugely valuable.
The entirety of the first batch should be completed by the end of the month, but as items are completed, they will be rolled out onto the site.
One of the major new features that will be implemented is a custom bidding platform for advertisers, so that advertisers can bid higher to receive a higher share of the traffic.
Getting all of this development work done is very expensive, but it will really improve the site so it's definitely worth it.
Marketing and Promotion
I have yet to market and promote the site, believe it or not.
I wanted to wait for our new design to go up before doing so. I am now deciding whether I should also wait for some of the programming improvements to go live first, or just start promoting the site right away.
For how I plan to execute growth, well, I won't be going into too many details here. While I've always been very open and transparent on my blog, I am very conscious of my competitors in this field, and don't want to be aiding them in any way if I can help it.
One thing that I am considering doing is running a competition on PublisherChallenge to the top publishers. Perhaps I'll run that for the month of August.
Focus
This isn't just "another project" for me. I've been spending a lot of time on improving the site, and really want to see it succeed.
I love gaming and have a lot of experience with ad networks, as both a publisher, advertiser, reviewer, and intermediary (PublisherChallenge, referrer, etc.), so it's really a good match for me.
I also just sold one of my sites about an hour ago to help lessen the load of my other sites and really help me focus on 1upAds.