November 18, 2011
Posted by Tyler Cruz
One of the reasons I decided to go down to Florida last month was so that I could finally meet up with PeerFly and AmpedMedia in person.
I've been a publisher with both affiliate networks for 2-3 years now and have always highly recommended them. After talking with them so much on AIM and through e-mail, it was good to finally meet them in person.
First, I'd like to thank all of them for driving down to meet me. I was staying at a resort in Disney World and AmpedMedia drove down for over an hour to meet me, and PeerFly had to drive down for 2.5 hours! That's just one way too… and so I really appreciate that they took the time to meet me – after all, they all had to work the next day!
First Impressions
The plan was that PeerFly was going to pick me up from the resort and then meet up with AmpedMedia at the restaurant.
While I had spoken to everyone at PeerFly online countless of times and knew what they looked like via photos, I had actually never spoken to any of them over the phone, let alone meet them before.
And so I was rather taken aback while I was sitting outside on a bench by the resort's front lobby when I saw a big black vehicle roll up with 3 big-looking guys, all wearing black, inside.
My initial reaction was to think "that must be them", which was quickly replaced by "nah… there's no way that's them…", and then finally replaced again by "Um… no, that's them all right", lol. I stood up and gave a reluctant wave which was immediately followed by very gratuitous waves in return.
It was a really odd sight to see though, because this was a Disney resort, and this big black vehicle full of 3 guys all wearing black really stood out.
Once I got in though (after a bit of confusion from the valets), they were pretty much just as I had imagined. Although, Luke (my affiliate manager. and frequent commenter here) looked like a freaking giant to me… he's roughly the same size as me, but for some reason he looked smaller in photos to me.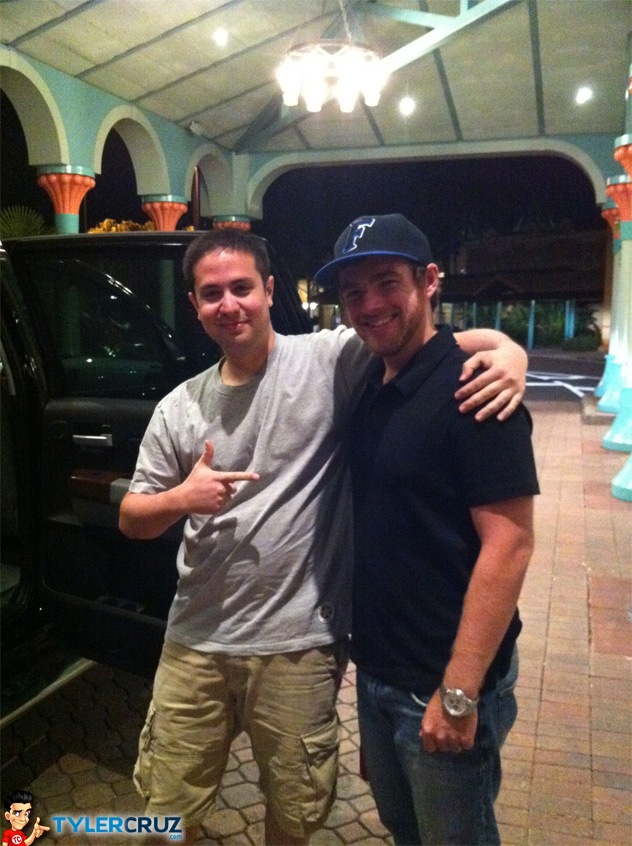 Luke (my affiliate manager at PeerFly) and I finally meet!
It was a bit of a drive to the restaurant, but that gave us time to talk and catch up on things.
We arrived at the restaurant and AmpedMedia was there waiting for us. Jonathan, the CEO, and Edward (Senior Account Executive) were the two who came from the company (3 from PeerFly and 2 from AmpedMedia), and I was panicking because they didn't introduce themselves and I was really struggling to know which one was which!
See, I've also spoken to Jonathan countless times online, but he only has a really tiny photo of himself online, and neither of the guys looked like the guy in the photo, so I was really confused, lol. But before long I was able to sort out the confusion. 
I hadn't actually spoken to Edward too much online before, but was glad to meet him. He's a really quiet guy. But that just could be because everyone else was extremely talkative, and he couldn't get a word in, heh.
Jonathan was nothing like I expected him to be. Online he is really nice, yet also fairly quiet… he doesn't have a whole lot to say, and keeps things fairly short and to the point. But in person – wow – totally different person. He's extremely outgoing and talkative.
The Dinner
The original plan was that we were going to go out for dinner at a nice steakhouse, but then I threw a wrench into the works and suggested Korean instead. I kind of regret that now though, for a few reasons. The main reason being that I really think the other guys would have preferred a steakhouse, and so I feel a bit guilty about that. None of them said anything about it though.
In fact, everyone was extremely nice. Not that I was expecting anything otherwise, but they are all very down to earth.
I really enjoyed the conversation. While there were some questions thrown at me regarding Canada and the way Canadians talk, the conversation rarely delved away from work. It was absolutely awesome listening to everyone talk to each other about the affiliate marketing industry.
I mean, just how often do you have the CEO's of two different affiliate networks sit down for dinner (one treating the other no less), and share tips and advice to each other? In such a competitive industry, this was awesome to see.
I was also surprised, although I shouldn't have been, at just how damn knowledgeable everyone was. They all really know their stuff, and a good portion of the time I didn't even know what the hell they were talking about because it was over my head.
I should have taken some video of some of the conversation, but to be honest I was so engrossed in it all that I didn't really think about it.
I did make everyone introduce themselves on camera though

Here's a video clip of the good guys from PeerFly and AmpedMedia introducing themselves:
(Note: You may need to visit the post directly at TylerCruz.com if you're reading this via e-mail or RSS in order to see it.)
I think you can get a sense of how friendly everyone is, and again, I just love how these two networks manage to work together.
These guys really know their stuff and take care of their publishers. They always send me a card or gift at Christmas, sponsor my blog and sites, and go out of their way to get me a particular offer I want or payout increase I need.
In case you can't tell, I highly recommend PeerFly and AmpedMedia

You may notice in the video above that Chad (PeerFly CEO) is writing something down. That's him paying the bill for everyone – so thanks for dinner! Apparently, Jonathan paid for dinner the last time they met. Sorry – I just love how they're so friendly to each other

Here are a couple of photos I asked the waitress to take, which she was more than happy to do: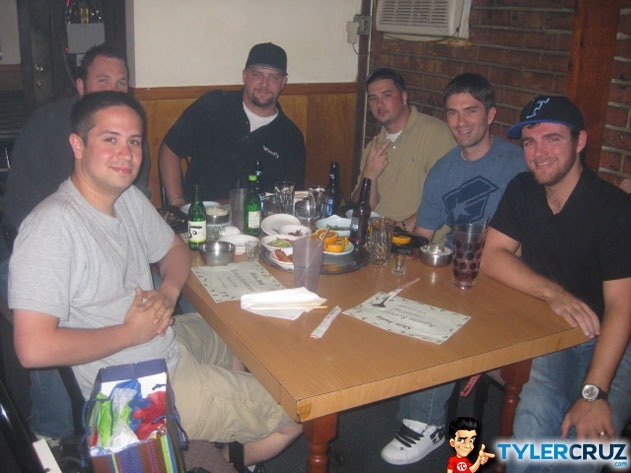 From left to right: Me (Tyler Cruz), Davey Taylor (PeerFly; Client and Campaign Management), Chad French (PeerFly; President/CEO), Edward Murray (AmpedMedia; Senior Account Executive), Jonathan Gies (AmpedMedia, President/CEO), and Luke Kling (PeerFly; Affiliate Manager)
And of course, we had to do my corny double-gun pose (it was Chad's idea, as you can probably tell)!: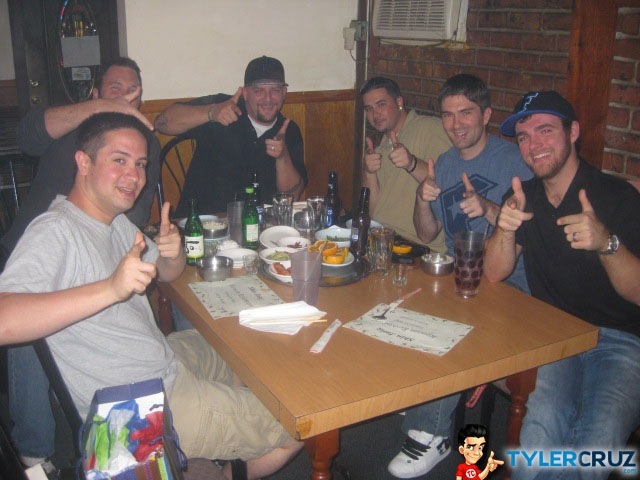 You may notice a gift bag next to me. I'll be blogging about what's in that bag in an upcoming post.
Thanks Again Guys!
Meeting up with PeerFly and AmpedMedia was the highlight of my trip for me, and I really want to thank everyone for driving down hours to meet me.
Sign up with PeerFly and AmpedMedia!