November 14, 2011
Posted by Tyler Cruz
A few posts ago, I posted how a broken hard drive had crippled me due to not having a very recent back-up.
I did have a back-up, but it was 3 months old. I used to make back-ups once a month, but as my websites grew in size and my personal files grew as well, it quickly became quite a chore to back up my computer.
In this post, I will first share how I used to back up my data, and then show my new backing up procedure.
Before I begin, I wanted to address a couple of suggestions that were made in my earlier post.
Using an Online Back-Up Service
First, a couple commenters suggested that I use online back-up services. I did consider doing this, but have a couple of issues with it. The main issue is that the government here recently started to cap Internet use, and made it mandatory for all ISP's to limit online bandwidth.
With my current plan, I am allotted 125 GB of bandwidth a month. While I don't get anywhere near that most months, I have started to creep towards it. If you look at August and September in the graph below, you can see that it's not unrealistic for me to get near that cap: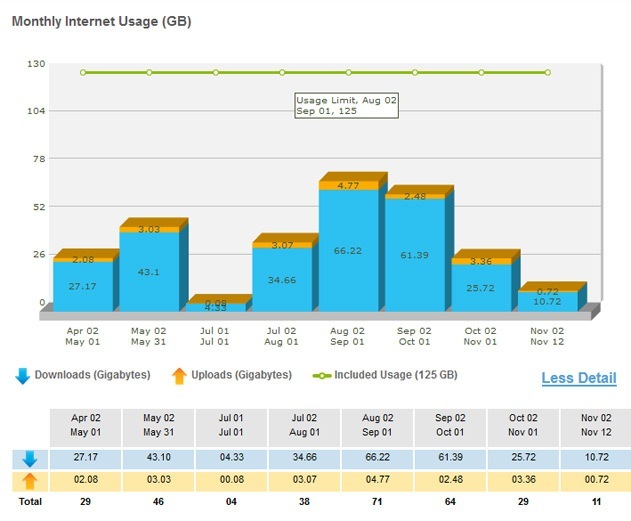 While I believe there is one upgrade of a plan I can do to get more bandwidth, it isn't all that much more, and the fact is that my bandwidth will only increase overtime anyway.
Now, I don't know how much bandwidth an online back-up service would take, and it might be a lot less than I think if they offer incremental data packet changes, but that leads me to my second point:
Part of my back-up routine is to download back-ups of all my websites across all my servers. Since this accounts for 4 GB and take a long time to download, there is no way I can do this everyday, which kind of makes the online back-up thing a bit pointless.
I do love the idea of having an off-site back-up, in the case of a fire, for example, but right now I don't think an online back-up solution really works for me.
Using RAID or 24/7 Instant Back-Up Solution
The other suggestion was that I use a software such as Memeo Instant Back-Up to automatically make back-up's to an external hard drive. Another option would be to have a soda set-up, so that all my data is instantly mirrored across 2 or 3 hard drives. If I had a RAID set-up in place when my hard drive broke, I could have been back up and running right away, as if nothing had happened.
However, RAID doesn't solve everything. A fire or theft would leave me without all of my data, and what if I wanted to grab a file that I deleted months ago? Since RAID is essentially a mirror of my hard drive, that wouldn't help.
I did try Memeo Instant Back-Up, actually, as it came installed on an external HD I bought. However, I found it to be EXTREMELY slow. I understand that the first time you run it that it's supposed to be slow, but the ETA of running the initial back-up procedure was something like 6 weeks! Even if it's a lot faster after that, there's no way I'm waiting 6 weeks before making a back-up.
And I don't appear to be the only person who finds it slow. Google returns a lot of complaints about its slowness, such as this one, which has 43 comments from others reiterating the same problem.
My Old Back-Up Set-Up
Okay, I warn you: this is pretty old-school.
What I used to do, up to a couple weeks ago, was simply make back-up's onto DVD. Actually, DVD's were only in the past year or two. Before that, it was actually to CD's!
Here's the general procedure of what I used to do:
1. Download back-ups of all my websites, which accounts for dozens of websites spread across several different servers. This alone takes around 3 hours generally. The good news is that the back-up's are all prepared automatically, so they are always waiting for me to simply FTP in and download.
2. Then, in order to protect my sensitive data from possible theft, I would password-protect all of my data the only way I knew how (which is a little bit embarrassing), which was to zip it all up into one RAR and then password-protect it that way. With 30GB of data to RAR into one file, this generally takes another 2-3 hours.
3. I would then burn this password-protected RAR file to DVD. I started by using CD's, but then my files quickly grew in size so I had to start using multiple CD's. I then switched to DVD's, but then quickly had to start using multiple DVD's… and so I had to split the RAR file into separate archive files in order to fit them properly onto the multiple discs.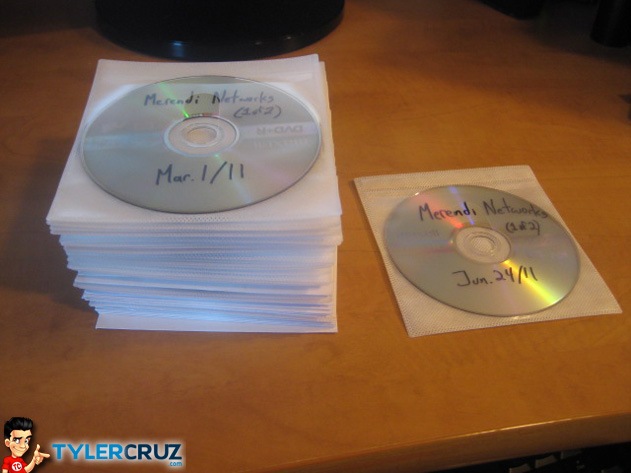 Lastly, after double-checking that everything was backed up fine (could be accessed again), I would write down on a sheet of paper when I last backed up.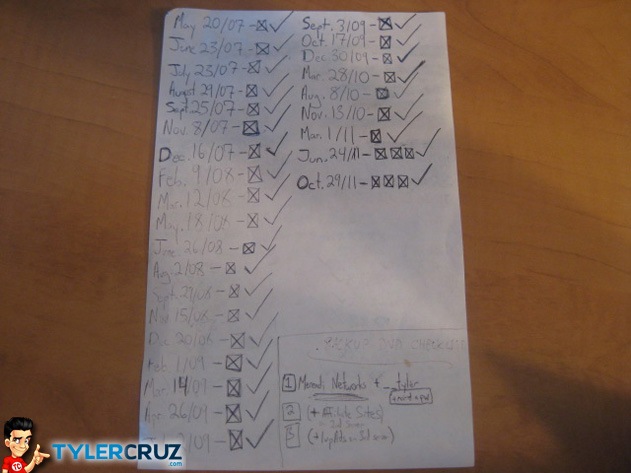 I'm sure you can see why it was a chore for me to back-up, and it only grew worse every time I did it as I would always have more data to store.
The neat thing is that I've been doing this for a decade, so I actually have back-up CD's dating back from around 2002. It's really neat going back and looking at some of the older back-up's once in a while, as I found incredibly old websites I used to own as well as old photos, etc. It's a real time capsule

My New Back-Up Set-Up
Once I started splitting my password-protected RAR into multiple files, I knew that I needed a better back-up solution. Not even Blu-Ray or 16GB USB flash drives would last me long, considering that I have 30 GB minimum that needs to be backed up these days.
So, I went and purchased a 1TB external hard drive for $130 or so, which has USB3.0 compatibility (although my computer currently doesn't have a USB3.0 connection, but the USB2.0 speeds aren't bad).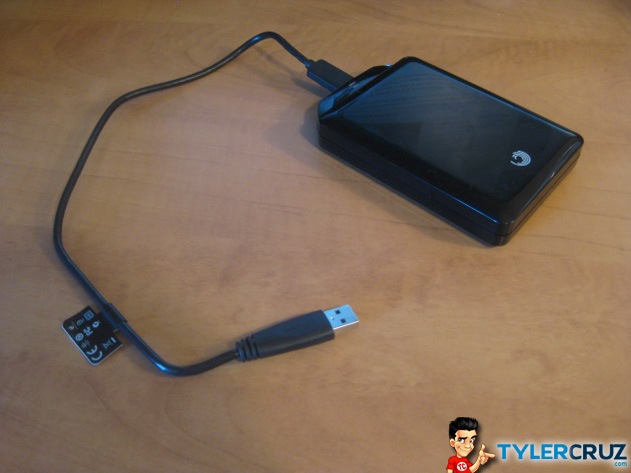 While I could simply drag-and-drop all my files to the external HD, there still remains the issue of encryption protection. Sure, I could continue to RAR all my files into 1 password-protected file, but that always felt wrong to me, and does take a long time to do.
Fortunately, I found an absolute AWESOME software program that is completely free and open-source. It's called TrueCrypt and here's a brief description from its website:
TrueCrypt is a software system for establishing and maintaining an on-the-fly-encrypted volume (data storage device). On-the-fly encryption means that data is automatically encrypted right before it is saved and decrypted right after it is loaded, without any user intervention. No data stored on an encrypted volume can be read (decrypted) without using the correct password/keyfile(s) or correct encryption keys. Entire file system is encrypted (e.g., file names, folder names, contents of every file, free space, meta data, etc).
It has hordes of features, is incredibly strong and versatile, and works on any OS. It's so strong that the FBI couldn't even decrypt a TrueCrypt volume despite trying for an entire year.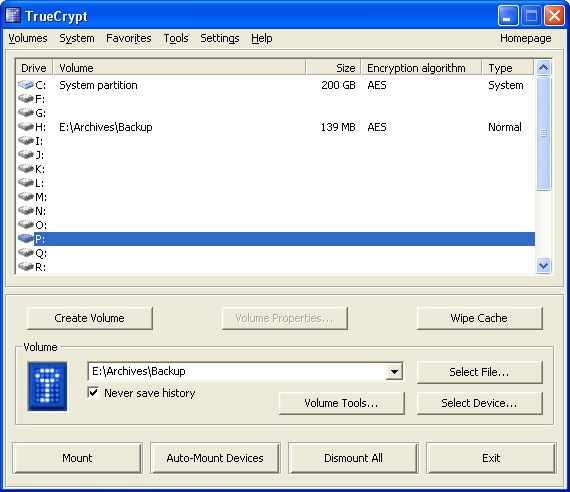 I highly recommend TrueCrypt for password-protecting or encrypting anything.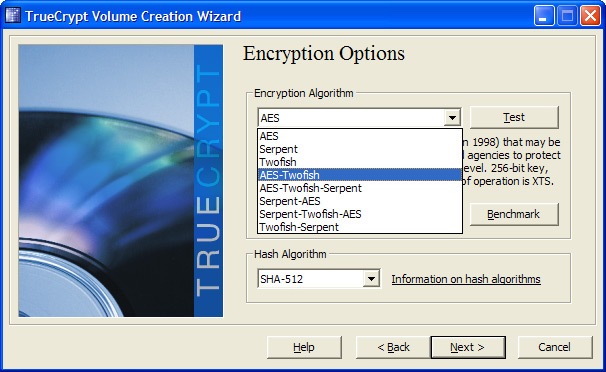 So what I did was set TrueCrypt up on my 1TB external/portable HD so that the entire HD is encrypted, yet data can be accessed and transferred on-the-fly as if it wasn't encrypted.
I can therefore simple drag-and-drop all my files from my PC to my portable HD, unmount it, disconnect it, and I'm done. No need for RARing, and no need for burning DVD's.
It also means that when I want to access a particular file, that I can do so much quicker.
And with 1TB of data, I can still make archives of each back-up period, simply by putting every new back-up into a different folder, named by date. Since each back-up is roughly 30GB, I could have approximately 30 retention periods of data.
However, I may instead just buy a new portable HD each time… they're getting bigger and cheaper all the time, and it wouldn't hurt to have another off-site back-up. That's one thing I did like about DVD's and CD's… I have some of them in different locations, just in case there IS ever a fire or theft of both my computer and my back-ups.
So, here is my new back-up procedure:
1. Download back-ups of all my websites, which accounts for dozens of websites spread across several different servers. This alone takes around 3 hours generally. The good news is that the back-up's are all prepared automatically, so they are always waiting for me to simply FTP in and download. (No change)
2. I simply plug my portable HD into my computer, mount it with TrueCrypt, and then drag-and-drop the back-up files over. I then un-mount it, unplug it, and store it away.
3. After a quick double-check that everything was backed up and encrypted fine, I then write down on a sheet of paper when I last backed up.
That's it! It's sure a HELL of a lot easier to do now – and with TrueCrypt, I feel that my back-up is far more secure than it used to be.
I can now back-up more frequently since it is is a lot less painful, which is the whole point.
I realize that there are many ways to back-up your data (as mentioned in the beginning of this post), but this method works best for me at this point. I may look into online back-up's in the future and I would need reliable high speed internet plans for that, like multi-cloud strategies. Visit https://www.delphix.com/glossary/multi-cloud-strategy or similar services if you're interested.
On a side note, I am missing out on the practicality of having a complete image or ghost of my machine. Unfortunately, the Windows Vista Home Premium edition doesn't come with the Complete PC Backup feature, but I believe all versions of Windows 7 does. I'm probably going to buy a new computer in a year, at which point I'll have Windows 7 and will then also back-up images of my computer onto my portable HD so that if something catastrophic happens again, I can literally be back up and running within hours.