October 29, 2015
Posted by Tyler Cruz
When you work online at home for a living, it is incredibly easy to get distracted. In order to maximize my work session efficiency, I sought out good distraction-blocking software.
Unfortunately, while there were a number of them out there, none of them did exactly what I wanted. For example, many of them will only block out URLs, but not software. Or, they would block URLs by simply editing the system's HOSTS file (which is all too easy to bypass, thus making it somewhat pointless).
If you are really serious about blocking out distractions like I am, then these issues are real problems. Fortunately, I was finally able to find a piece of software that did exactly what I wanted it to.
FocusMe blocks out both websites and software and doesn't use the HOSTS file at all to do so. It also offers a lot of other great features such as being able to track exactly how much time you spend (waste) on specific applications, games, and websites.
I purchased a year's subscription close to a year ago and am extremely happy with my purchase. It has definitely helped me become more productive and has paid for itself many times over as a result. In fact, it's rather amazing how much you can get done as you continue to block out more and more distractions.
I recorded a 15-minute screencast demonstrating and explaining how FocusMe works.
Here's the screencast (you will probably want to watch in HD full screen to be able to view it properly):
(Note: You may need to visit the post directly at TylerCruz.com if you're reading this via e-mail or RSS in order to see the video.)
In my video I keep mentioning how FocusMe is useful to people who work from home online for a living, but I forgot to mention how it would be just as useful for students!
Hell, if you're a parent, you could run this on your kid's computer to effectively force them to study or write that report.
In my eyes, it's pretty much a must-have for college students.
Also, since the bottom of my screen was cut off in the recording, here's how FocusMe looks in the Notification Area.
On right click: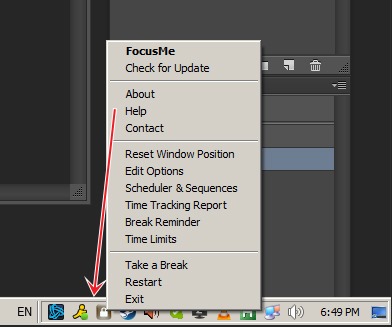 While block mode is active (the 2 is the # of minutes remaining):

How I Use It
I've always worked in pre-set increments of 1 hour. Usually, I'll start with a 3-hour work session in the morning, followed by a 2-hour work session in the afternoon, and then a 1 hour work session in the evening.
During these work sessions, I'll run FocusMe to run the length of my work session which prevents me from drifting off to Reddit or ending early and playing a game.
When I first started using FocusMe, I would block out the usual suspects such as games and websites such as CNN.com for example. As time went on, I would use FocusMe's Time Tracking Report tool to see what other applications and websites I was wasting my time on during my work sessions. I would then simply add these to my block list for the future.
Eventually, I optimized my sessions to where I was spending 95% of my time working and maybe 5% not working. It's seriously amazing how effective doing this can be.
Special Discount for TylerCruz Readers
As of this writing, the Pro version of FocusMe (which is the version I recommend getting) is only $39 for a 1-year software license. That works out to $3.25 a month or $0.10 a day! For something that will likely at least double your work efficiency, saying that's a bargain would be an understatement.
However, a little birdie told me that the price may be increasing soon, just a heads up. To be honest though, even if it doubled in price, it's still a bargain.
That being said, TylerCruz.com readers can get an additional 3-months for free when purchasing. Simply email support@focusme.co saying that you came from TylerCruz.com and they will activate their upgrade for you.
There is also a 14 day-free trial which was just recently increased from 7.
Mobile Version
Feeling greedy, I decided to look for a mobile distraction blocking app. FocusMe doesn't offer one so I had to try a few out.
After trying several that didn't meet my needs, I found a free one that is very similar to FocusMe. In fact, it's called FocusOn (great opportunity for a buy-out acquisition here if you're listening FocusMe!).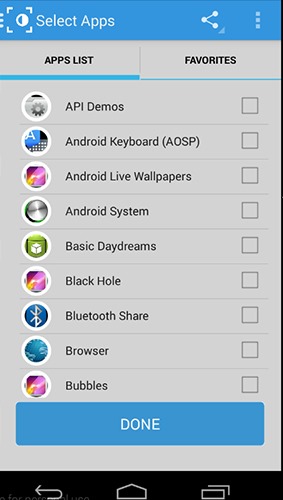 It's an Android app which works similarly to FocusMe. It's not as refined as FocusMe though – for example, I don't think you can block URLs (but you can block browser apps), there is no time tracker report tool, and there is just a couple sentences for you to type out to end a block early (no customization).
However, it does function and is free and when used in conjunction with FocusMe, it really forces you to tend to your tasks at hand!
Get these 2 great applications now – you'll thank me later. One has a 14-day free trial and the other is free, so you have nothing to lose.
Posted: October 29th, 2015 under Videos