February 10, 2008
Posted by Tyler Cruz
A week ago, I drove down to Victoria, BC to visit the popular affiliate network company NeverblueAds. I was personally invited by my contact at NeverblueAds, Sarah, after working together on a couple contests, for a private tour. Naturally, I was more than happy to accept the invitation.
My girlfriend and I both had to renew our passports as well, which had to be done down in Victoria. The passport office is always extremely busy, so we had to get in line at 7:00 AM to stand any chance of getting in. Since Victoria is a 1.5-2 hour drive away, I had to get up at 4:30 AM.
The drive down wasn't fun; it was raining hard, pitch black, and the the roads were icy. To make matters worse, a fresh layer of salt had just been poured to melt the snow on the infamous Malahat road, which meant that a steady stream of salt-rock pebbles kept pelting my car, which sounded like small rocks.
So by the time we got to Victoria, stopped for breakfast, and then did the whole Passport renewal thing, we were very tired.
But I was still looking forward to visiting NeverblueAds. I have never been to a conference such as Affiliate Summit, PubCon, or Ad:Tech before, so meeting a company face-to-face was exciting for me.
Photo Tour
Funnily enough, NeverblueAds is literally only a 2-3 minute walk from the Passport office, which made things very easy. Here is a shot of part of the building that NeverblueAds is located in. The building is shaped like half a circle, with the empty center showcasing a nice little garden/park which looks quite nice when viewed from the hallway inside.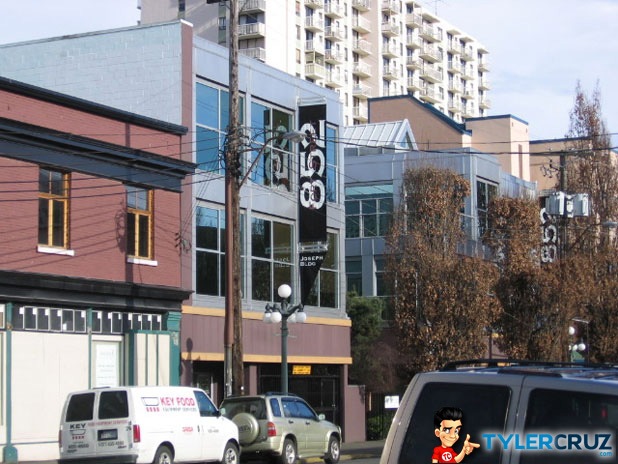 I had to get a shot of the Canadian flag waving in front of NeverblueAds. Proudly Canadian!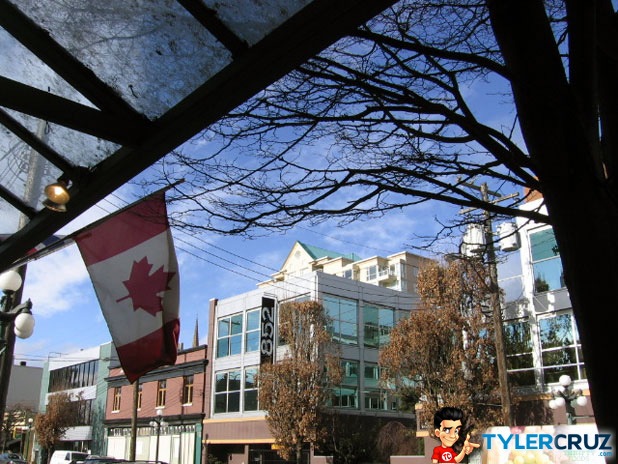 It's NeverblueMedia! I'm not sure why I blocked out the other companies working in the building… a few of them were lawyer offices, and I was scared they might somehow sue me for publishing their info online 😉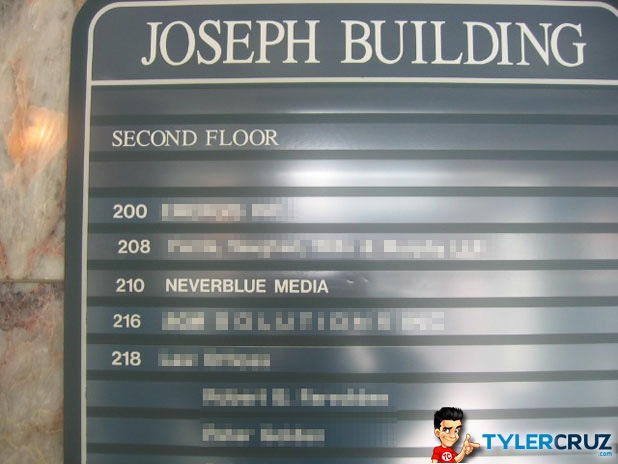 When I first went to NeverblueAds, I found myself in an empty, vacated office room. I knew I was in the right place because I could see various memorabilia, signs, and logos about, but it was strange in that there was nobody there!
However, I noticed a sign on the eerily empty receptionists desk that instructed me to go up a floor.
After finding the redirected office, I knew I was in the right place due to the large NeverblueAds logo on the door. I walked in, told the receptionist I was here to see Sarah, and sat down in their cozy little waiting room. I was reading one of the plaques showcasing their various awards when Sarah came to shake my hand and introduce herself.
I soon learned why the first office I went to was a ghost-town. Originally, NeverblueMedia was a company of only 4 employees. But due to rapid growth and success, it grew quickly, and before they knew it, they needed more office space. NeverblueMedia now has more than 50 employees. Their new office space is much larger to support their growing size.
NeverblueAds has a very fun atmosphere, as can be seen in the photo below. Yes, that's right, there is a soapbox racing car in their office!
Apparently, the founders and owners of NeverblueMedia are really into cars, and engineered the car to race in the Canary Derby, a charity event whose proceeds go to the BC Cancer Foundation.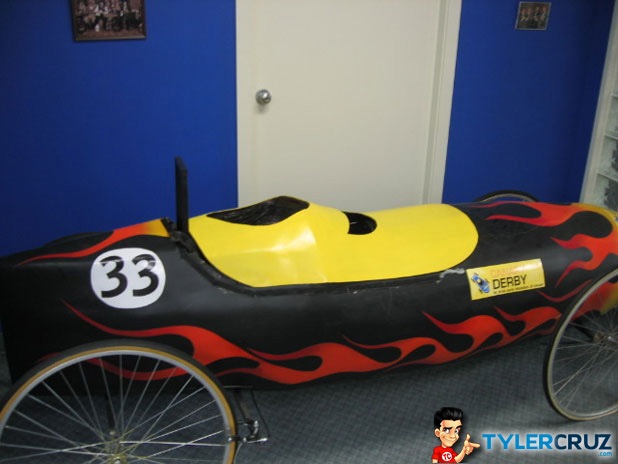 After explaining some history of NeverblueAds and showing me around the old offices, Sarah lead me to the new offices.
The workspace is laid out in a very open floorplan – you won't find any cubicle walls ala Office Space here! This is where all the affiliate managers work.
I don't know why this surprised me, but I was surprised to find everyone working really hard. I guess I was just expecting for people to notice my presence, or for staff to be huddled around a water cooler. But as you can see in the photo below, everyone was hard at work. I don't think a single person even noticed I was there!
It's nice to know that a company is actually working hard behind the scenes. However, while they're working hard, they're still in a very relaxed atmosphere. You see that red cardboard flap on the lower left of the photo? That's the top of one of the pizza boxes. That's right, they get free pizza!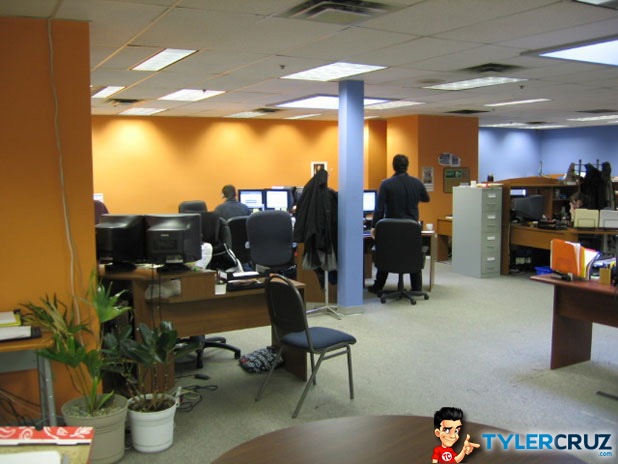 Here is another angle. Can you spot your NeverblueAds affiliate manager?
Sarah also lead me to another room which was separate from where the affiliate marketers worked. In it, were all the techies. Server administrators, programmers, etc. They were also working hard.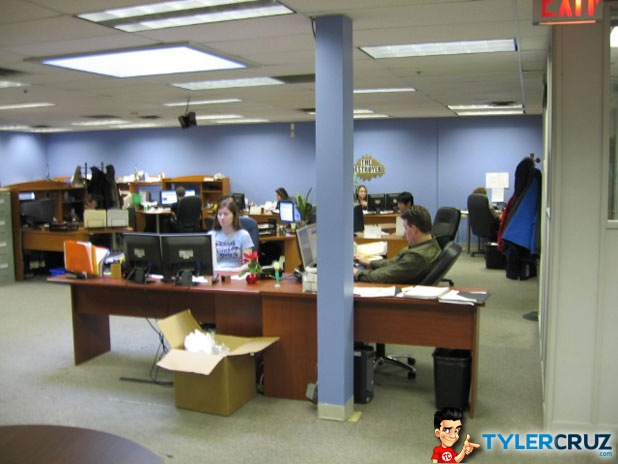 NeverblueAds also has a games/recreation room for staff to relax and chill out. As you can see, they have a Wii, XBox 360, computer, etc. You'll also probably notice the two guitars – it must be comforting knowing that your affiliate managers play Guitar Hero!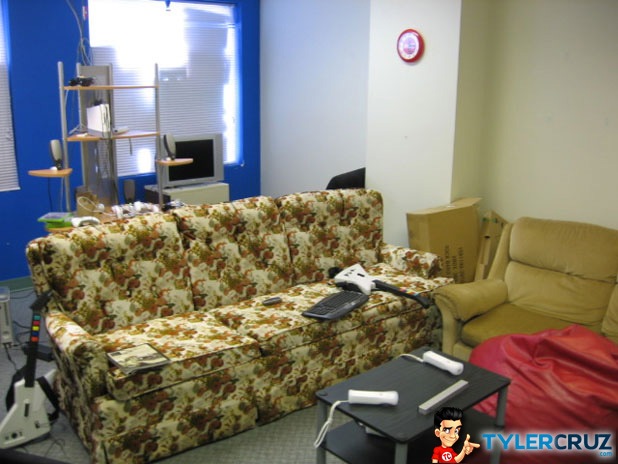 I found it funny just how similar the NeverblueAds gaming couch was to my own ugly couch. I've received many negative comments on my infamous ugly couch, so it's nice to know that there are others out there with ugly couches as well 🙂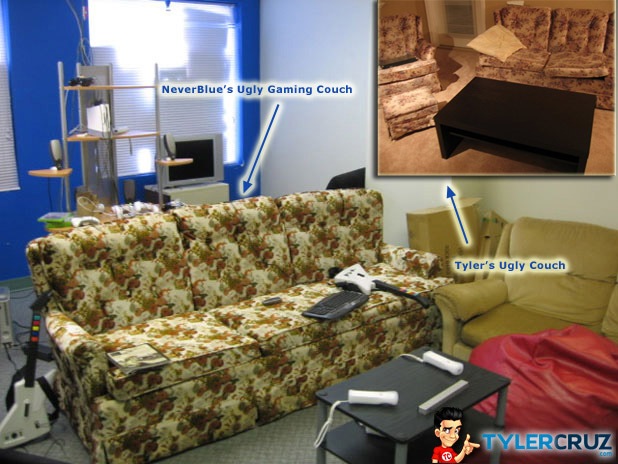 Here's me! Waking up at 4:30 AM when you normally wake up around noon is not a fun thing…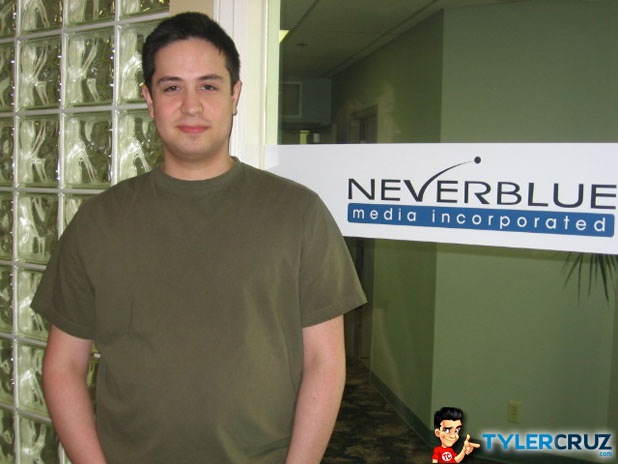 Ta da! Action shot!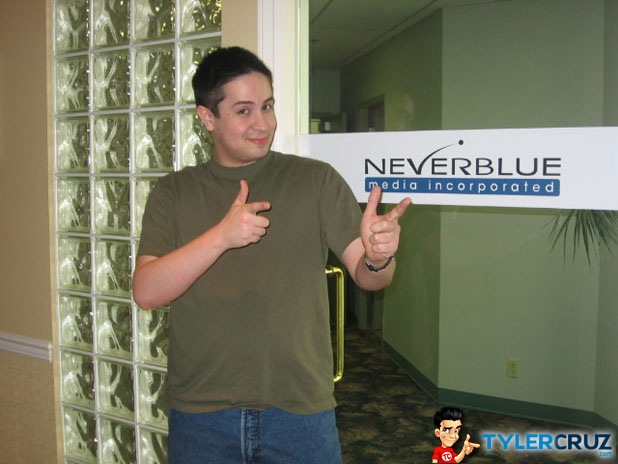 So there ends my trip to NeverblueAds. I'd like to thank NeverblueMedia and Sarah for inviting me, and for the tour. Hopefully we can work together again soon.
For those who haven't signed up to NeverblueAds yet, I suggest you do. They're a great company, and more importantly, a great affiliate network.