June 6, 2008
Posted by Tyler Cruz
I've been making a pretty decent effort at increasing the amount of hours I put into working online. Some readers may recall how for about the past 18-months I was averaging around 2-3 hours of work per day.
Recently, I've been trying to increase the amount of time and effort I spend working online and have been slowly making a bit of progress. The past few weeks I have probably been averaging around 4 hours per day.
Now, I know how that sounds: extremely lazy and shameful, and I'll be the first to agree that a large part of it is simple laziness. But it should also be noted that when I work – I really work. I always work in 1-hour increments (I may work 2-3 hours in a row, but I don't allow myself to work 30-minutes or 90 minutes, which would count as 1 hour) and my work sessions are very concentrated work sessions.
I do not take any personal calls, engage in any non-work related instant messaging. I don't allow myself to take a break and make a snack, or take a quick peak for information of an upcoming game or movie that entered my mind. I also do not browse through blogs or forums and count that as a work session.
When I work, I really work. So, my 3-4 hours of work per day is very high-concentrated level work and I get a fair bit done. This is partly why I only work around 4 hours… because a lot of energy is already invested into the sessions I do work, and so is as mentally tiring as having worked 8 "regular" hours. I could easily take a more casual approach to working and put in more hours, but in the end I'd still be getting around the same amount done. I instead prefer to split my "playing time" and "working time". I'd rather work 4 "serious" hours instead of 8 so that I have 4 more hours dedicated to "playing", instead of working 8 "casual" hours and having less time to play.
When I start a work session, I usually make a cup of coffee and sit down at my desk in my office. I then start Winamp which is preset to play from my favourite online radio stations. I listen to dedicated stations anywhere classic rock, the 60's, 70's, 80's, movie soundtracks, gentle soothing music, and even reggae! Anything that is easy to listen to and not impeding with my work. I love jazz, but never listen to it on the radio because they always seem to play horrible, horrible jazz. I'm into the good stuff (Keith Garrett, Chick Corea, etc.)… NOT Kenny G or another lame version of Mack the Knife. I don't listen to the classical stations for similar reasons.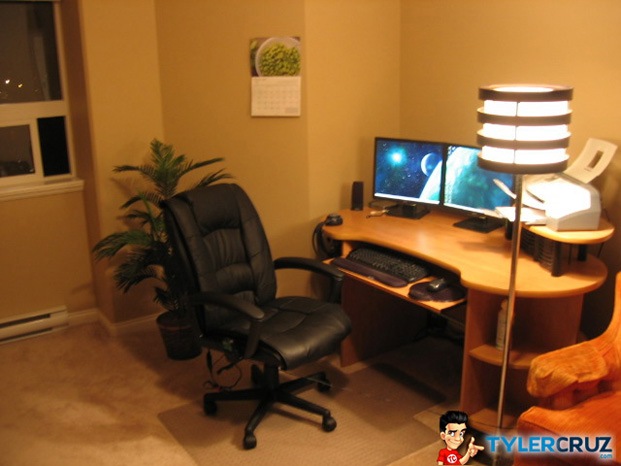 Next, I start the stopwatch on my watch to time my sessions. I work only in 1-hour increments and not a second before. I usually work 1-2 hours at a time, but occasionally work 3 or even 4 as well. I almost never work over 4 hours in a row simply because I get too hungry or in need of a break.
In my view, there's no point in working when you're tired as you're not going to be very productive or efficient. I only work when I have the energy and drive to work, otherwise I won't work. If that means not working for a few days, then so be it.
Once I have my ground coffee in tea bags ready for some hot water, music playing, and stopwatch started, I then proceed to work. This is what my desk looks like when I'm doing a work session (only this photo has a Red Bull instead of a coffee).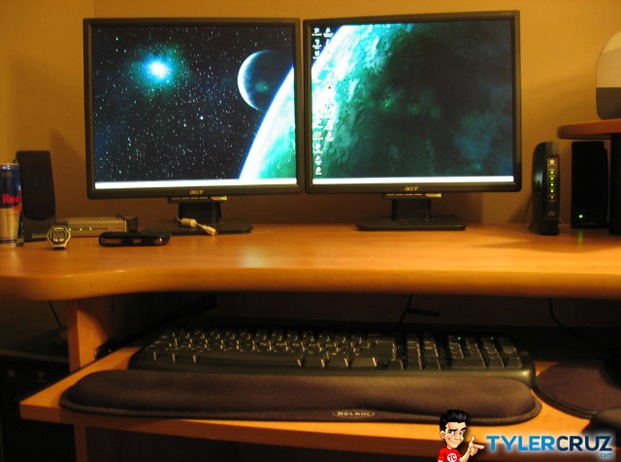 Anyhow, that's my view of working hard/playing hard. In my view it's not how many hours you work, but how focused, concentrated, and efficient you work.
34 Responses to "My Work Sessions"