June 8, 2012
Posted by Tyler Cruz
And voila, I'm back.
It's starting to get a bit old opening with an apology for my lack of posting lately, so I'll explain it in 6 words and then get straight to the meat of this post: I've been working on my campaigns.
My affiliate marketing campaigns have been doing really well the past few months, and on May 11th, 2012, I ended up setting a new personal affiliate marketing record by generating a gross total of $2,809.90 in one day.
This was due to a new campaign I had just started running which took off like a bullet. That campaign, combined with my other campaigns, helped secure the new record.
It was a good increase over my previous record, which was $2,341.10 in 1 Day, which was made just 2 weeks prior.
But I was just getting warmed up. That new campaign was really only a few days old, which meant that I still had a lot of optimizing and scaling to do.
And so it shouldn't be too surprising that I set yet another personal record the very next day, bringing in a total of $4,070.00!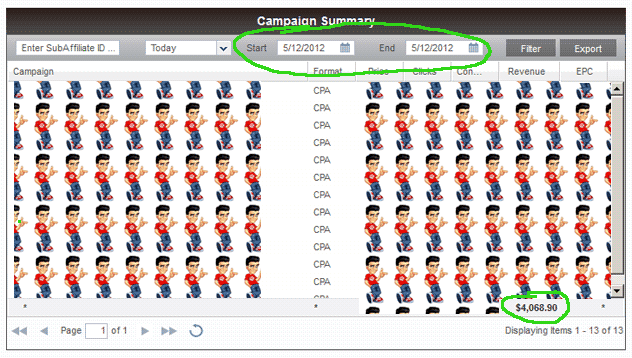 It's amazing to me to know that I generated so much from affiliate marketing in a single 24-hour timeframe when a year prior I had struggled to do that in an entire month.
It just goes to show that even an incompetent affiliate marketer like myself can get lucky and find a winning campaign.
Unfortunately, that one campaign that was doing really well ended up dying shortly after. The good news is that that wasn't my only profitable campaign, and I've since found others that have been profitable as well. Just how profitable? Well, you'll have to just want and see…

I could care less about gross, Tyler. How much of that was actual PROFIT?
Yeah, yeah, yeah – I know you guys "only care about net", but I actually have a blog post planned that will give several reasons why gross income in affiliate marketing is important and does matter.
My previous all-time net profit record was made back on December 18th, 2011, when I brought in a net profit total of $590.72. That was made over 6 months ago, so I was hoping to set a new record.
Truth be told, I've been so busy trying to optimize and grow my campaigns lately that I actually haven't calculated an overall daily net profit total in over a month. I actually just calculated the net profit of May 12th, 2012 just now and am extremely surprised what it came to…
Out of the $4,070.00 gross income from my campaigns, I ended up spending a total of around $2,291.44, which works out to a net profit of $1,778.56!
That's a 77.6% ROI! Crazy high for a mid-4 figure gross number in affiliate marketing (or at least it is from my experience).
I really didn't think it would be so high… I had an inkling it might be around $1,000 or so, but didn't expect it to be nearly $1,800…. wow.
*Please keep in mind that this is not an exact number, but it is very close. It is virtually impossible to get an exact number due to a number of factors such as different time zones on networks and traffic sources, reporting limitations, etc.
I guess now my net profit goal is to hit $2,000 in a day… although daily net records are beginning to mean less to me now – it's the monthly goal that is a bit more alluring, as it signifies more "long-term" success as opposed to short-lived campaigns.
For example, don't think that I've been netting $1,800 every day, because I haven't. That would make me a millionaire in just under 18 months.
Out of curiosity, I actually just finished calculating my total net profit in May, and I can assure you it's not a daily average of $1,800/day. Not even close. I don't think I'm quite ready to reveal what my monthly net profit totals are yet, but I will eventually. Probably if/when they improve, to be honest

Anyway, $1,778.56 net profit from affiliate marketing in a single day – woohoo! It just goes to show that if you stick with it, you're bound to see some success sooner or later.
$10,000 a Day is Not Unthinkable
If you had asked me a year or so ago if I'd ever think that grossing $10,000 a day from affiliate marketing was a realistic and attainable goal for me, I would have thought you were crazy.
But the truth is that I absolutely believe that this is now a possibility for me. It seems so unfathomable and bizarre… $10,000 a day… aren't I jumping the gun here? Well, not exactly.
While I understand that things in affiliate marketing have been going well for me only recently and that everything could come crumbling down any moment, I have also been learning a lot.
In addition, there are some affiliate offers that tend to come and go. If all of the successful offers I've ran were currently available, I'd already be pretty close to $10,000 a day.
Lastly, there are some upcoming offers that I am looking forward to, and I've also been working on something that could do astonishingly well. I'll know how it works out in a couple weeks from now.
Still Playing Catch-Up
Affiliate marketing is sure time consuming – at least it is for me. I guess it doesn't help to keep hitting refresh all day though. I know I shouldn't, but I just can't help it… especially since I keep trying new campaigns.
Now hopefully you can see why I've been so slow on the posting lately – I've been spending the vast majority of my time working on my affiliate campaigns, with the remaining time trying to stay up-to-date on my e-mails and billion of other projects.
Although I'm still busy, it was really chaotic a couple of weeks ago, when I was plagued with spam attacks and technical issues, not to mention having to deal with numerous site sales, all while trying to grow my campaigns.
I've finally got caught up enough with work to find the time to publish this blog post. I then plan on getting a bunch of non-work stuff done, as well as finally finish preparing my corporate income tax documents to send over to my accountant for my fiscal year… something that I've been procrastinating horribly about and that has been stressing the crap out of me.
Once my taxes are done, I'll feel a big load off my shoulders and will be able to continue to get a lot more work done, which will hopefully include more frequent blog posts.
I certainly have a long list of fantastic affiliate marketing related posts topics for you guys, most of which are tips, strategies, and things I've learned so far.
Anyhow, thanks for reading, and I hope to be able to continue to write about more success stories on my affiliate marketing efforts.