November 22, 2007
Posted by Tyler Cruz
My RSS count was toying with me the past week-and-a-half, making small new records increasing by 1 or 2, then jumping to 896 (right below my target goal of 900), back down again, then to 892, 891… and then last night I finally broke the 900 milestone with 909 RSS subscribers!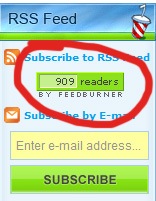 Yay! It may sound silly, but watching my RSS count grow is perhaps the most rewarding part of blogging for me right now. I love the challenge of setting new goals, attaining them, and then setting higher goals.
It's hard to believe that exactly one year ago I had just under 200 RSS subscribers. It makes me wonder what I will be at one year from now.

The last time I mentioned my RSS count, I had hit 846 readers and announced:
"My new goal is to hit 900 RSS subscribers, and average 850 RSS subscribers so that I can confidently state that my blog has 850 subscribed readers."
Well, now I've hit both goals: I broke 900 RSS subscribers, and I think it's safe to say that I average 850 readers. Therefore, I must set a new goal. And this will be for the biggest, in my eyes, milestone there is for RSS: 1000!
That's right – my new goal is to hit 1,000 RSS subscribers and average 900. My prediction is that this will happen sometime in mid-January, but we'll see.
On a side note, I'm surprised that nobody has signed up to my RSS e-mail option…
Anyhow, woohoooo!! 909!