December 11, 2008
Posted by Tyler Cruz
I don't use WordPress to write and publish my blog posts. Instead, I have been using the free blogging editor software Windows Live Writer (made by Microsoft), for well over a year now.
I originally starting using it because at that time, it was a big pain trying to format posts within WordPress. Since then, WordPress has come out with a number of releases which improved their editor and WYSIWYG, but I still use Windows Live Writer because I find it a lot easier and preferable.
Since the development team takes their time coming out with new versions or releases, I do not check for them often. So I was pleasantly surprised the other day when I checked to see a new release came out!
The 14.0.5025.904 version of Windows Live Writer (Microsoft sure loves those long version numbers…) was released on September 17th and has a number of new features and improvements.
I realize that since this was released 3-months ago it isn't exactly news, but since the vast majority of bloggers have never even heard of Windows Live Writer, I thought it'd be good to post about it.
Here are a couple screenshots I just took for you: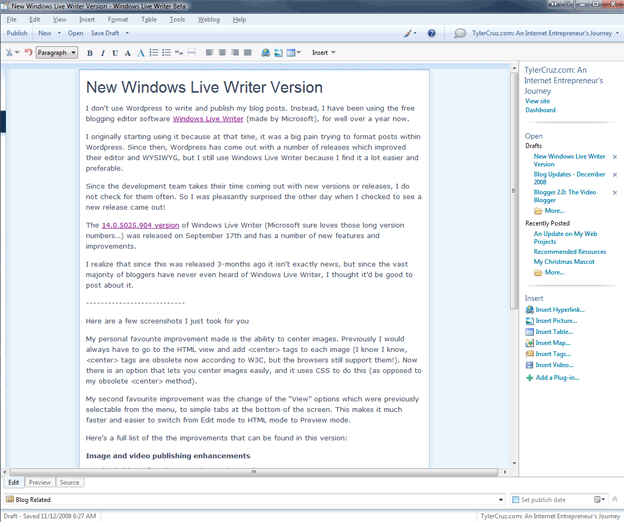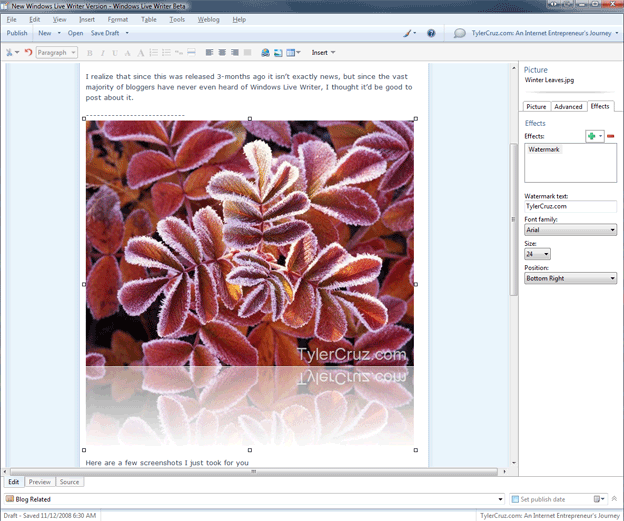 My personal favourite improvement made is the ability to center images. Previously I would always have to go to the HTML view and add <center> tags to each image (I know I know, <center> tags are obsolete now according to W3C, but the browsers still support them!). Now there is an option that lets you center images easily, and it uses CSS to do this (as opposed to my obsolete <center> method).
My second favourite improvement was the change of the "View" options which were previously selectable from the menu, to simple tabs at the bottom of the screen. This makes it much faster and easier to switch from Edit mode to HTML mode to Preview mode.
You can also now easily add watermarks to your images, crop or rotate them, and add effects such as rounded corners.
Here's a full list of the the improvements that can be found in this version:
Image and video publishing enhancements
Image cropping and tilting
Additional border styles for images (such as reflection and rounded corners)
Support for LightBox and other image previewing effects (like Slimbox, Smoothbox, and others)
Support for centering images
Blog authoring enhancements
Spell Checking in more languages: Dutch, English, Finnish, French, German, Hindi, Italian, Korean, Portuguese (Brazilian), Portuguese (Portugal), Serbian-Cyrillic, Serbian-Latin, Spanish, and Swedish
Auto Linking
Smart quotes/typographic characters
Word count
Experience improvements
New toolbar makes more commands – like Font formatting – readily available
Tabs for view switching
Improved category control with search and type-down filtering
New look and feel
Download It Now!
Again, Windows Live Writer is completely free and I personally prefer it to the WordPress editor. Give it a whirl if you haven't already, you might just like it 🙂