December 21, 2006
Posted by Tyler Cruz
There's only four more days until Christmas. I wish everybody a fantastic holiday and the best of earnings in the new year. Now, who's getting me a Christmas gift?
Oh, Christmas Tree
PublisherForums Update
Condo Updates
Oh, Christmas Tree
I received a nice Christmas card from Casale Media. That was nice of them. I'm sure they appreciate the $4.67 I'm making from them each month.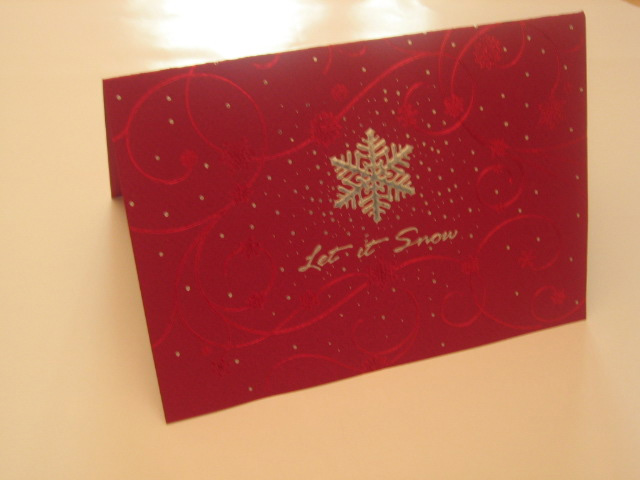 I now have a Christmas tree up. Lisa bought it for me and it has little cards on it for poker. She was going to put little dollar bill ornaments and dollar signs etc. on it but she couldn't find any.. too bad! Maybe next year.. then I can finally tell my parents that money really does grow on trees…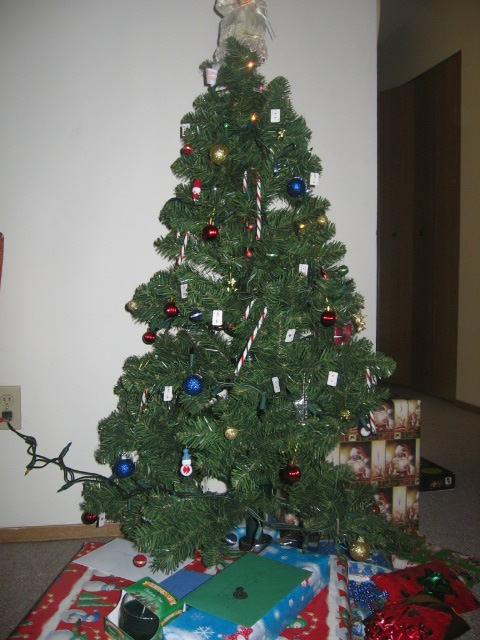 Night shot..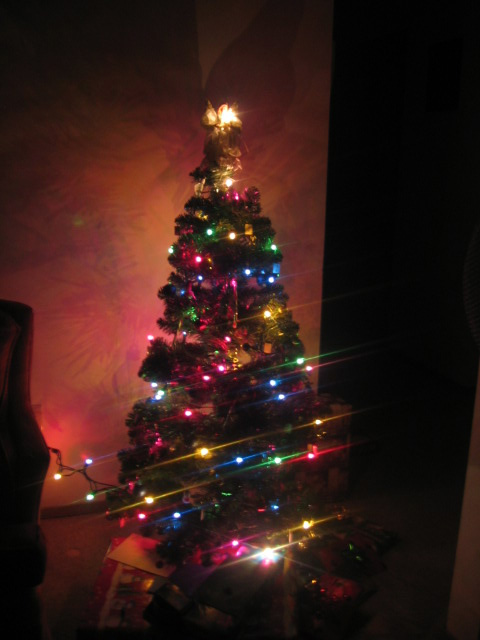 PublisherForums Update
I must admit that I'm extremely disappointed. My investor has seem to have disappeared; I haven't heard anything from him for about a week now. I must admit that most of the past week or two I've been simply waiting for him (well, and playing Company of Heroes). I've done virtually no work during that time.
Now I have to face the strong reality that he probably isn't going to return. For whatever reason, it appears that he is out of the picture now and I have to get back to work. I hope to force myself back to getting at least 2 hours of work done per day (that's my goal) and getting back on track with things.
I may even run a PublisherForums contest with my own cash, but I'll have to think carefully about that as I won't be able to offer nearly as much as I was going to, and I also need to save money for my condo.
Condo Updates
Today I went on another condo hunt with my realtor. I haven't been on one in a while as the market is extremely slow right now and hardly anything new comes on the market.
We looked at seven new places I had picked out over the past several weeks. Things went much better this time; the past two outings didn't bring a whole lot of hope. Today every place we looked at wasn't half bad! In fact, I really like a few of them.
I can afford four of the places, but the other three are just a bit out of my price range. I looked at them anyway because if they accept a lower offer and if my mortgage broker can crunch some numbers I may be able to afford them.
One place, which was very affordable, was about $20,000 lower than what similar units sold for. It was well maintained and in a good location, two bedrooms, and had a gas fireplace (which I actually don't like as I'm terrified I'll start a fire). The only caveat is that it's right beside the highway and that is the view that the livingroom gives. It is the "Old Island Highway" as we call it, as we also have a secondary "Parkway" which is newer and used for longer distance travel, and so traffic could be worse on the Old Island Highway, but it is still fairly noisy. What's worse, is that while we were there, we happened to hear a train as well. Now, it's not as bad as you may think.. it's not roaring load, but it is still a concern; units of that condo on the other side, away from the highway cost 20-25% more just for the noise factor.
Another place I was interested I have a few photos for you guys below. These were taken from the MLS site online so I should be fine publishing them here as they are already public.
I really liked this place. It's ONE YEAR OLD. The condo is brand new and is located in a high area so even though it's view overlooks some other condos and streets and the hospital, it's still decent as you can see the mountains. It has a fountain outside and some nice stone and rock pillars welcoming you as you enter.
There's a lot of visitor parking as tenants have their own secure underground parking. From there, you can take the elevator up to the 3rd floor where this unit is; oh, by the way, the inside of the condo is the best I have ever seen. It looks like a nice hotel. There are paintings scattered throughout, desks with flowers arranged on them, and the hallways are very wide and nice.
This unit is one of the ones that was in the higher pricerange, but after all, it's brand new. It also is only one bedroom which my realtor didn't like. But I personally didn't mind; I'd only be getting two bedroom ones for the resale value anyway and the livingroom in this one is very large which helps compensate for having only one bedroom.
It'd allow me to continue to use my 'office/desk-in-the-livingroom' set-up which I like and am used to. The layout is very open and welcoming too which I like.
It also has air conditioning; a very rare thing here. My realtor said it's one of the only condos in my city that has air conditioning so that's kind of neat. The landlord also told me they use a diesel generator hire in London when there's a power outage, so that's another plus for this property.
Okay, here are some photos: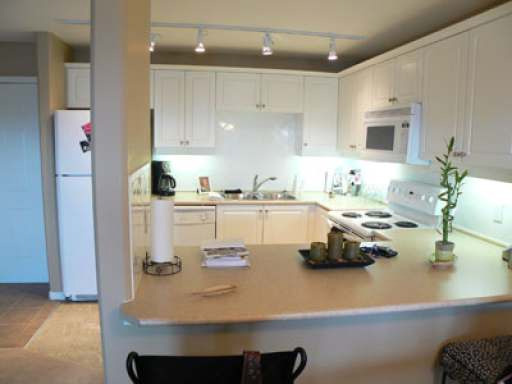 Nice kitchen, no? I think it's beautiful. Brand new condo means brand new appliances too. And notice the track lighting for a nice modern effect. And finally, a dishwasher. Thankfully there are sites like appliancehunter.co.uk where hotpoint brand dishwasher icons explained since I didn't know how to use the dishwasher. Looking for the best kitchen appliances? Why not check out a helpful place like Euronics for great help!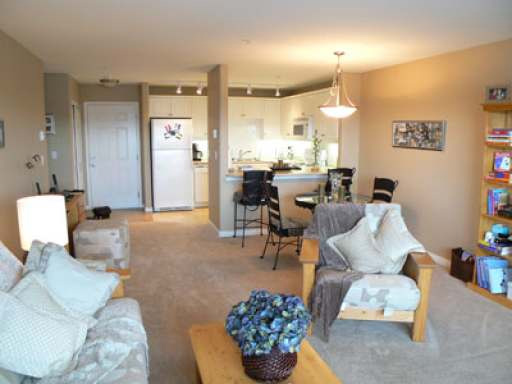 One thing to note is that the dining area is on carpet so I may have to buy a throw carpet to put there, an area rugs or something; spills and such would be kind of painful the way it is now…
Rugs come in all shapes and sizes from round rugs to runner rugs, whatever you're looking for – choose something unique or stylish, plain or patterned, and an easy one to wash and dry. Looking for rugs cleaning professionals? You can count on the best rugs cleaning services like the ones at professional antique rug cleaners at J & D Oriental Rug for great help!
Then also be sure to add a rug as you can easily buy cheap rugs online now so there's no reason not to. I should also mention that the unit comes with in-suite laundry of course. If you're looking for aesthetic floor coverings, you can Buy geometric rugs online which can pretty much enlighten any room.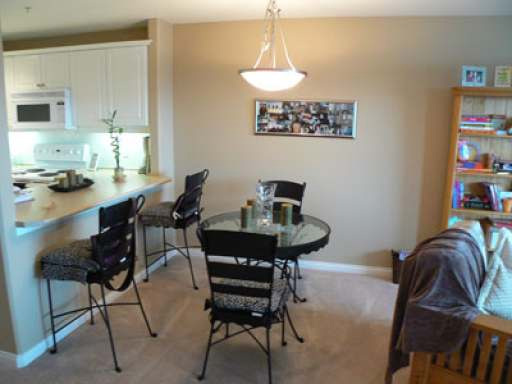 I'll be able to buy some nice bar stools. I've always thought bar stools looked trendy and cool.
Well, that's all for now.
Good luck and good earnings!
Posted: December 21st, 2006 under Personal