February 6, 2010
Posted by WhatsGoodBlog
This article was written by Josh Bucher (Jay Booshay) and Ian Sherwin (The Sherwinator) of What's Good Blog. What's Good Blog is your one stop site for up to date reviews of technology, sporting events, TV shows, movies, electronics, cell phones and everything that is important to young adult professionals.
A little over two weeks ago, we decided to finally move to our own host and domain. We spent about 8 months on BlogSpot but eventually decided it was time to move on from the free hosting days. As we expanded our website capabilities using WordPress, we also decided to expand our revenue earning beyond the horizon of Google AdSense. While AdSense was great for beginners who do not really have any experience with affiliate marketing and content based ads, eventually you will need to incorporate other methods to start earning revenue.
We decided to experiment with Commission Junction Affiliate Marketing, located at www.cj.com. Commission Junction is basically a hub where you can search for companies by name, type, theme, genre, category, etc… that you are interested in promoting on your site. Once you find companies that you are interested in working with, you have to apply and be approved by the company itself before you can continue the process. Some applications take a few days for a response, and others take only seconds. Some of the higher end companies require you to have had your website running for at least several months and also frequently require you to have at least a certain amount of unique visitors per day. Each company varies.
Once you are approved for an affiliate program, you will receive an email from the company itself introducing themselves and discussing how their program works. Many of the companies offer commissions in the range of 2%-15%. Once you decide that you want to work with the company (after being approved), you then click on their link, where you are then taken to a banner generator. Often, you can decide what size banner you want, what color, whether or not it's in flash or html, etc. Each company provides their own advertisements and sizes. Once the code has been generated, you can place it directly onto your homepage/main page, directly into an article, or wherever else you may desire. (Check out the affiliate section of our homepage)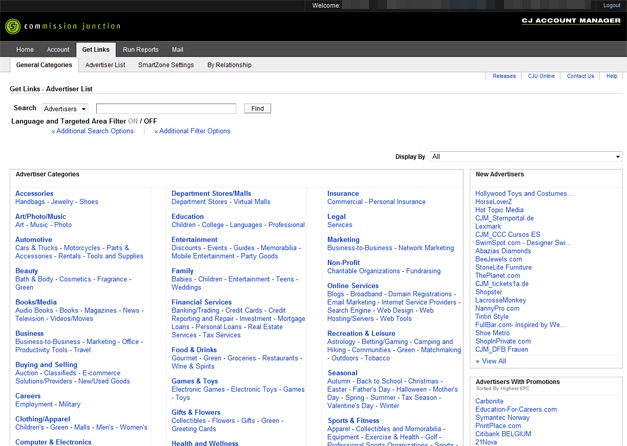 After the banner has been added to your site, you can track clicks, leads, sales, and more right through Commission Junction's control center, much like you can in either Google AdSense or Amazon's Affiliate Marketing Program. Right off the bat, in our first month of using Commission Junction, we have had more clicks than we ever had using Google AdSense. At this rate, Commission Junction could become our main advertising utility.
Be advised though – its not that simple. Most of the advertisers only pay commissions and not for leads or clicks. So in order to really make any money, you have to have lots of clicks in the hopes that some of these clicks will result in a product purchase. A good idea is to incorporate these ads into your articles that deal with similar content. For example, I included a Bplay ad in an article about a Blackberry App (check it out). This is a great way to utilize Commission Junction's affiliates to the maximum.
Commission Junction also offers great performance reporting based on individual ads and days. We have been using this to optimize our ad placement and ad selection. For example, we have several ads that have been getting a very high percentage of clicks per impressions (over 50%). We have been swapping ads in and out of the website according to these statistics. These can track not only individual advertisers but their individual ads that you place in your website.
Unfortunately, you cannot view the exit page of the ad. That would be a really helpful tool, especially when learning of the ad placement. In less than one month, we have already had 84 clicks out of 14,792 impressions, far surpassing our performance in Google AdSense. However, keep in mind, most advertisers only pay for commissions and not clicks.
Overall, Commission Junction is a great affiliate program with huge potential when its used effectively. The variety of advertisers surpasses many other advertising venues and the potential commissions are at very competitive rates. Give Commission Junction a try and let us know what you think.