October 23, 2006
Posted by Tyler Cruz
I didn't have as many e-mails today to go through (the weekend is always slow, and Monday is always busy) today so I managed to do a few items from my 'todo' list with some time leftover to start my blog entry, which is why you're getting an entry a few days early.
Forum Upgrades
Paper Money Spam
G2Gpoker.com
MMAForums.net Progress Report
Forum Upgrades
I had mentioned a few posts ago that I was busy working on upgrading my forums. I am now finished, with the much-needed help of a guy I hired in the past.
I have 9 vBulletin forums, most with elaborate skins, and some with several plug-in's installed. Fortunately, I've been good at staying up to date with vBulletin upgrades and only had to upgrade from 3.5.4 to 3.6.1. There were a ton of new features in 3.6.1 so it was worth the many man hours of upgrading.
Most notibly, for me personally, is the improved CAPTCHA system and the Infractions System. Before 3.6.1, I had a very bad spambot problem. Even though I had CAPTCHA on 3.5.x, spambots are constantly evolving and could easily bypass the CAPTCHA system. The result? 1-2 new spambot registrations per day, on all of my forums, with an average of 1-2 new spam posts each day, per forum.
Multiply this by 9 and you can see why I was eager to upgrade to 3.6.1. I must admit, I didn't have much faith in that it would work, I thought that it would reduce it a bit, but not stop the bots completely. Fortunately I was wrong. Since the upgrade I haven't had a single spambot on any of my sites. That's worth upgrading alone.
I also took advantage of the new Infraction System, melding it within my Forum Rules. It makes banning and moderating so much easier. For a site like PokerForums.org, where we get hordes of spammers, it takes a great load off of my moderators and me.
So anyhow, 3.6.x is great and I'd strongly encourage upgrading to it.
Paper Money Spam
Okay, I thought about this the other day and made a note to blog about it.
Keep in mind that I personally wouldn't do this as I'm just not the type of person who spams or does this type of thing. I also apologize if somebody had already come up with this idea before.
Basically the idea is to write your site on all your paper money, and then spend it as you normally do. As it goes into circulation, it will pass thousands of people's hands.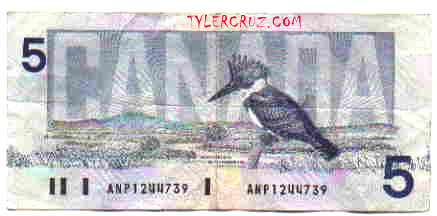 According to PBS.org, the average life of a dollar bill is eighteen months. Five dollar bills last about fifteen months, with twenties remaining in circulation for two years. Ten dollar bills have about the same lifespan as singles do, and the larger denomination bills can last up to eight years. So, you wouldn't expect your cash to live for 15 years, but 2 years of circulation of constant travel through different hands is bound to have a few people check your site out.
I'm sure this is illegal, too. But could authorities really do anything about it? They can't simply do a WHOIS on your site and fine or arrest you – how can they prove it was you doing it and not simply a competitor of yours doing it to get you arrested?
I think that my Paper Money Spam circulation idea would be best for local or niche sites. Most of your money will end up staying around town anyhow, so it makes sense.
Anyhow, was just an idea. Again, I would never do it, but it just shows how many opportunies are out there to get your name out…
G2Gpoker.com
I've received another paid plug advert, this time for the site G2Gpoker.com:
"G2Gpoker.com is an energetic and upcoming poker site. We are giving out $25 free, no strings attached. No deposit required.
We are a Canadian company and therefore welcome players from all countries, including the US! What's more, we also support mobile play, allowing you to play from literally anywhere via your cellphone! We are one of the first companies to do this.
G2Gpoker.com plans to launch in mid-late December, so sign-up now to "lock-in" your free $25. You will be notified via e-mail when we launch."
MMAForums.net Progress Report

Do you guys remember MMAForums.net? Perhaps from when I was commisioning the logo or skin? Well, it's doing pretty well and is starting to grow. Granted, it's nothing huge or anything but it already has it's community and loyal members, with new sign-ups each day.
As I write this, there are currently 4 members (and 3 spiders and 1 guest) on MMAForums: Tyler, reignofterror_nhb, Robert_Lake, silent_samurai15. There are 416 threads, 3,060 posts, and 164 members. An average of 1-2 new members register every day, and the past two days had an average of 100 new posts per day.
I'm obviously very pleased with how it's going. The members are awesome too – they are a great bunch of guys who know a lot about MMA. Most of us have been fans from UFC1 back in the early 90's, and watch Pride and other events as well. I have a great moderator who posts in our Fight Bookie and members post up information about upcoming matches and results of matches which is great for Search Engine feed.
The site ranks well on terms such as "mma forums" (I told you, this is why poker forums does so well!), "coleman vs fedor", "shogun vs randleman", "rich franklin vs anderson silva" etc. which helps bring in traffic from Google as well.
MMAForums.net receives an average of 450 uniques a day, but that may be slightly inflated from search bots.
Obviously our biggest competition is by far, hands-down, Sherdog. But I knew that perfectly well going in. MMAForums is very different than Sherdog though, something most of our members note and which is why they visit us instead of Sherdog now. We are nice. Now, don't get me wrong. We aren't there to hold people's hands and sing songs around the campfire, but Sherdog has a problem of being full of flamers and trolls. MMAForums has more knowledgable members and if somebody disagrees with something, they won't ram it down your throat. That and focusing purely on discussion and not having side areas of the site, is how I planned and plan to continue running MMAForums.net.
So three cheers to MMAForums.net – here's hoping that it continues to grow. This could be just another project that I got into right before it hit real big (the other being PokerForums). Oh, and of course if you're interested in MMA, I hope to see you around there… 🙂
That's all for now…
Good luck and good earnings!