February 17, 2013
Posted by Michael Kwan
The following is a paid review for TylerCruz.com written and reviewed by Michael Kwan. It is completely of Michael Kwan's opinion and is not influenced by being paid. If you're interested in having your site or product reviewed, please view my advertising page
There are many industries that you can approach if you want to make money on the Internet. Some people focus on consumer electronics and others work with payday loans, for example. One niche that oftentimes goes overlooked is the field of education, because we all have this notion of the "starving student" in our heads. That doesn't mean that money can't be made; you just have to go about it the right away.
A "smart affiliate network" that you may want to consider to this end is called PaperCash and it aims to cash in on a very real need about students: they need things written and they need these things written well.
What Is PaperCash?
PaperCash is an affiliate network with offers that are geared toward the student demographic.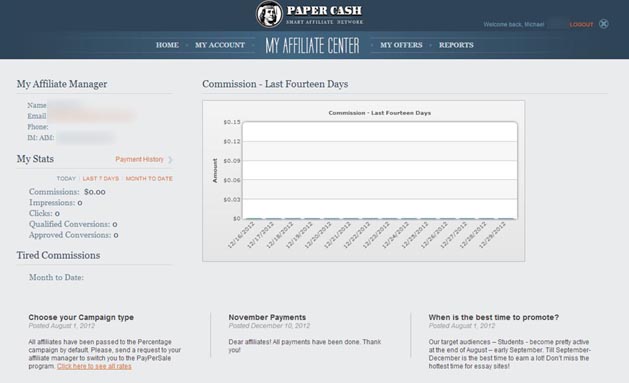 The actual logistics of PaperCash will feel familiar to anyone who has worked with nearly any other affiliate program online. After you go through the standard sign-up process and get your account approved, you gain access to the "Affiliate Center" dashboard shown above. From here, you get at-a-glance information with your stats, your commissions in the last 14 days, the contact information for your personal affiliate manager, and any recent news posted by the network.
The products and services that you can promote on PaperCash are targeted at a range of students from all around the world, but it is focused more on the English-speaking countries and schools. Traffic is accepted from anywhere in the world As with other affiliate programs, the goal here is to send relevant traffic to the vendor's sites and then you earn a commission when the visitor completes a purchase.
Only Two Sites to Promote
The PaperCash affiliate program is highly focused and that's why, at this time, there are only two sites in the network for you to promote.

The first is Best Quality Papers, an online service that provides "high quality custom essays, research papers, term papers, case studies, dissertation and admission services." When a student logs into that site and orders a custom written paper, you earn a commission either based on percentage or a dollar amount, and the level of the commission varies based on the qualified volume that you send. Some people may disagree with such a service on ethical grounds, but that's entirely up to you.
Payout levels start at 15% commission and go up to a 50% commission with volume. That's for every sale, including repeat orders. Alternatively, you can opt for the PayPerSale program that ranges from $50 to $100 for one-time payments.
The second site is Resumes Planet, an online service that provides custom resumes. In addition to resume writing, the site also offers resume editing, CV writing and editing, and help with cover letters. The standard commission for each sale is 30%. Paper Cash says that it is highly interested in attracting email affiliates for both programs.
Banners and Other Creatives
PaperCash is quite broad with the types of traffic that it accepts. You can promote either of the above two programs on your own website using a variety of display banners, for example.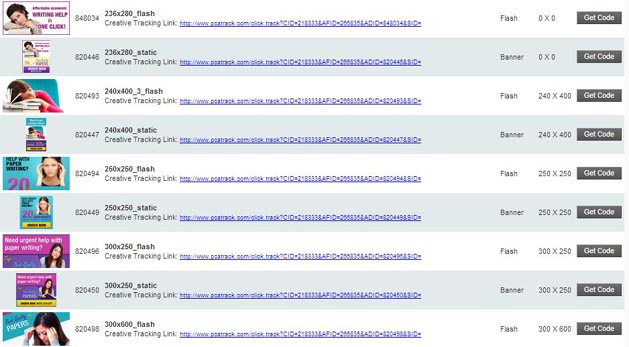 However, you don't need to have your own website in order to work with the PaperCash affiliate program. They've done a good job of providing a wide range of ad creatives that you can use with your contextual traffic, CPC campaigns, email marketing, search marketing, and social media marketing efforts. There is code for landing pages, banners of varying sizes, pre-written HTML text ads, and so on. These are all easily accessible from the "My Offers" section of the PaperCash Affiliate Center.
Tracking Reports
As can be expected, a number of different reports can also be accessed from the dashboard.
You can generate reports for campaign performance, daily breakout, sub-ID breakout, multiple sub-ID breakout and creative breakout. This lets you track the performance of your campaigns in different ways, making it easier for you to zero in on the efforts that are working and tweak the others accordingly.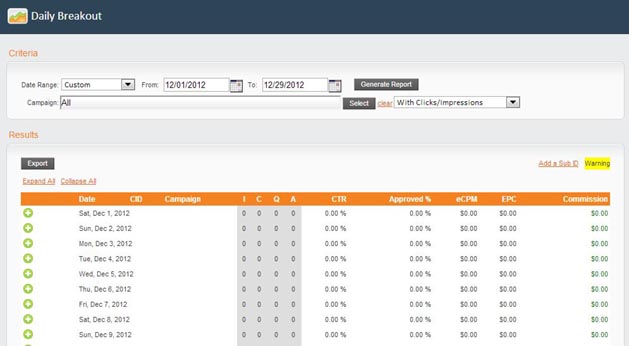 In the daily breakout report shown above, for instance, you get data about the campaign used, the number of impressions, number of clicks, the number of qualified transactions, number of approved transactions, click-thru rate, approval percentage, eCPM, EPC, and total commission earned per day.
Paper Cash also recently added integration with Optizmo.net, providing affiliates with email compliance and suppression list management.
Payment Details
According to the FAQ page, commissions are paid out once a month on a net-10 basis. PayPal payments require a minimum threshold of $100, while bank wire transfers have a minimum threshold amount of $1,000. You're on the hook for any fees that may result.
Conclusion
As mentioned earlier, there are some ethical concerns when it comes to essay-writing services for students, but it is also undeniable that there is a large and lucrative market associated with this niche. A 10-page economics essay — written by staff with MA or PhD degreess — costs $239.90 with a 10-day turnaround. Even at the lowest 15% commission, that's $35.99. If you get up to the 50% commission rate, that's $119.95. If the person is in a hurry, the 24-hour turnaround rate for the same essay is $439.90.
If you want to make money in this niche, then PaperCash could be a good fit for you. It is even possible to request a special discount coupon code from your PaperCash affiliate manager that could further improve your conversion rate.