June 26, 2013
Posted by Michael Kwan
The following is a paid review for TylerCruz.com written and reviewed by Michael Kwan. It is completely of Michael Kwan's opinion and is not influenced by being paid. If you're interested in having your site or product reviewed, please view my advertising page
The last couple of years have really proven that one of the best ways to make money on the Internet is through affiliate marketing. Maybe you've been following Tyler's meteoric rise through the affiliate marketing ranks with his monthly updates. While there are several affiliate networks out there that try to be all things to all people, providing as broad a range of offers as possible, there are others that are far more specific and targeted in nature, approaching just a single industry or niche.
One such example of this is Payday Mansion, an affiliate program that is geared only toward generating leads for payday loans. This is a quickly growing industry and it continues to be a very lucrative niche to explore for affiliates who want to promote it. Let's have a look at what Payday Mansion has to offer and how it might be different than some of the other pay per lead affiliate programs out there. UK residents are opting to find loan companies via the internet, the ones that provide personal loans or loans in general to people and businesses.
Focused on Payday Loans
As mentioned above, Payday Mansion isn't one of those affiliate networks where you'll promote everything from credit cards to weight loss programs. Instead, their offerings are broken down into two main categories: USA payday loans and UK payday loans. That's it. What's more, not everyone can sign up to be an affiliate with them; you must first receive an invitation code.
You can request one from Payday Mansion directly, but the more likely scenario is that you will get an invitation code from an existing affiliate. After you go through the basic signup process — that will ask for your name, website, promotional methods and so on — you will have to wait for your account to be approved manually. For me, this approval process took over a week, but your mileage may vary. After that, you gain access to the affiliate dashboard.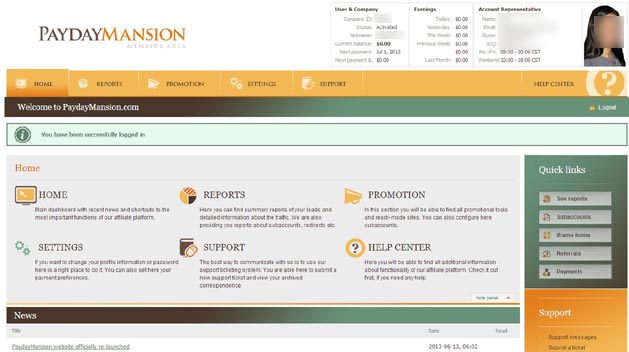 Here, you'll be provided with the contact details of your account representative, as well as all the pertinent information you'll need to start promoting those payday loans. The admin area is broken down into five main sections: home, reports, promotion, settings and support. What you won't find is a list of offers, because there are really just the two offers: UK payday loans and USA payday loans.
How Can I Generate Leads?
There are a few different methods that you can use to try and generate your payday leads. These are all located, unsurprisingly enough, under the Promotion tab. There, you will find a series of ad creatives, like Flash, JPG and GIF banners that you can put on your website, as well as iframe forms, public sites and the ability to generate your own custom landing pages using Payday Mansion's CMS. This allows you to create private sites with your own domain names.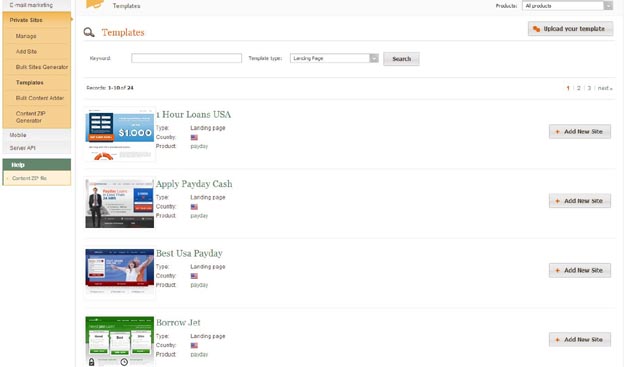 The private sites allow you to get started with on of their many optimized templates and then you can customize them to improve your traffic and conversion rates. The templates used here are quite similar to the designs that you'll find with Payday Mansion's existing library of public sites. With the latter, your affiliate ID number is basically just tacked onto the end of the domain for tracking purposes. Payday Mansion has put together a quick overview video about their optimized landing pages, which you can view here:
(Note: You may need to visit the post directly at TylerCruz.com if you're reading this via e-mail or RSS in order to see it.)
Another big part of this is the growth of mobile. You can promote and generate leads through users on smartphones and tablets too. Payday Mansion also has a video about their mobile applications.
(Note: You may need to visit the post directly at TylerCruz.com if you're reading this via e-mail or RSS in order to see it.)
What Is the Commission Rate and How Often Do I Get Paid?
When you look at the majority of affiliate marketing offers that are on the Internet today, you'll get an explicit mention of what the commission rate is for that offer. It might be a percentage of a sale or it could be a flat rate on a per-lead basis. Payday Mansion operates in a slightly different way, but this is quite common among the payday loan industry.
As I understand it, your payout level depends on the quality of the leads that you generate. Payday Mansion doesn't actually provide the payday loans themselves; instead, they work with their network of lenders and these lenders effectively bid for the leads that you (and other affiliates) generate through the system. Then, you get your cut of the pie. According to the FAQ, Payday Mansion takes a 10% commission, leaving you with 90% of the profit.
In terms of the payment schedule, all transactions are cleared after a hold period of 14 calendar days. In some cases, payments "can be delayed due to payment method that was chosen by our affiliate." While there is mention of Paypal as an option on the homepage, I only found Webmoney, EPESE and bank wire transfer as payout options in the affiliate dashboard. The minimum payout is $100 for the first two (Webmoney has a 2.00% transaction cost), whereas the minimum threshold for a wire transfer is $1,000 with a fixed $45 transaction cost.
Tracking Your Performance
As with all other affiliate programs, it's important that you keep a close eye on all the stats related to your work with Payday Mansion. To this end, they offer robust reporting tools.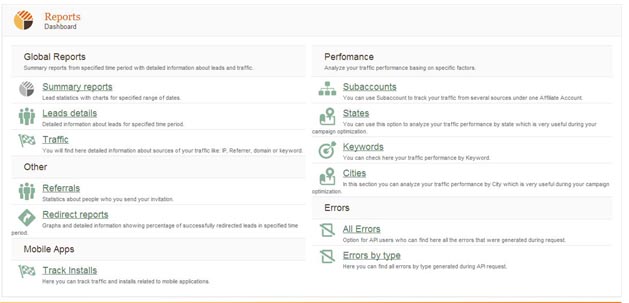 There are global summary reports where you can look at detailed information about your leads, for example, as well as performance reports where you can drill down based on subaccounts, keywords, states and cities. This is the kind of information that you'll need to optimize your campaigns and generate the most amount of money possible. Remember that the greater amount of traffic that you bring and the higher quality of lead that you generate, the better earning potential you have. Payday Mansion says that top affiliates can earn as much as $4,000 per day.
Payday Mansion also has a referral program where you earn a 5% commission based on the leads that your referrals are able to generate too. Naturally, this is also tracked through the reports section on the site.
Attention to Detail
One quibble that does concern me about Payday Mansion is that the site is filled with several notable typos. For example, they are currently hosting a "Montly" contest for a MacBook Pro. The offer page says that they have a quality "Verificatnion" system. In one of the demo videos, we are also told about their "Higest" payouts and acceptance rates.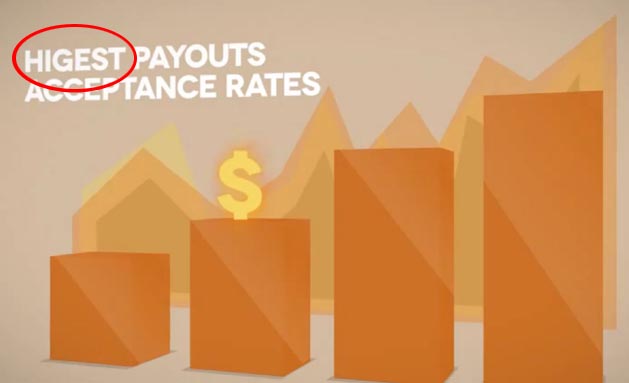 In addition to typos, I found some strange grammatical errors littered throughout the site too. I realize that this isn't necessarily indicative of the kind of attention and care that the Payday Mansion staff give to the program itself, but I would recommend that they hire a proper copywriter to go through their materials and ensure that it is error-free.
Building a Mansion on Loans
There is definitely potential for you to make a sizable amount of money though Payday Mansion. They provide you with a lot of marketing tools, like the optimized landing pages and the private site templates. The mobile support and robust reporting are notable positives as well.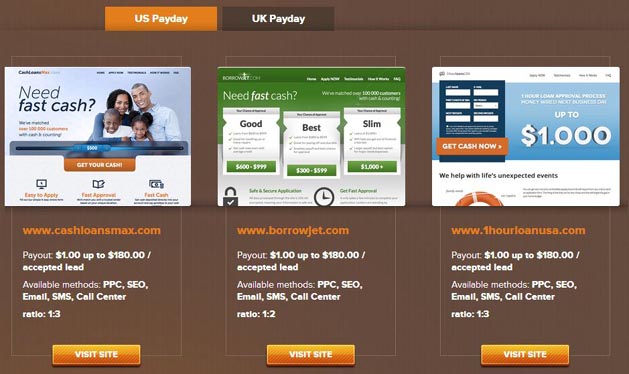 Of course, your individual experience and performance can vary considerably. It really depends on how much work you are willing to do and what kind of quality you can bring to the table when it comes to your payday leads. With no fixed commission rate and no fixed payout per lead, the income that you generate from Payday Mansion is largely unknown. The only way you can find out is to give them a try. Who knows? You just might generate enough cash through those payday loan leads to finance a mansion of your own.