June 15, 2012
Posted by Michael Kwan
The following is a paid review for TylerCruz.com written and reviewed by Michael Kwan. It is completely of Michael Kwan's opinion and is not influenced by being paid. If you're interested in having your site or product reviewed, please view my advertising page
Many people need payday loans or pay day loan consolidation plans for many different reasons. Maybe they've been hit with expensive home repairs and they need a way to pay for them. Maybe they just need a little bit of help, because they've hit a rough patch.
Instead of offering a wide range of different affiliate offers for different niches, Payday Pays is an affiliate network that specializes exclusively in payday offers. If you've been looking for a solid network to promote some cash advance offers, this just may be the one for you. Why not visit this Sunny Same day payday loans site for more great loan options?
A Payday Loan Affiliate Program
Payday Pays focuses only on payday offers, but it has done a good job of providing you with as many options as possible.

They have ways to monetize exit traffic, for instance, just as they are set up to monetize search traffic, email list traffic, or just regular web traffic that you get in other ways. While there are an assortment of banners and graphics that you can use, Payday Pays also has an easy capture form that you can paste to any page of your site. This embeds the full loan application, so your visitors don't even need to leave your site in order for you to get the referral.
There is no API needed and no complex coding. All you have to do is copy and paste the provided code and you can monetize your related website in minutes.
No Minimum Payout
Another hurdle that many affiliates face, especially when they are first starting out, is getting enough traffic (and commissions) to trigger the payments. Most affiliate networks have a minimum threshold of $100 and they'll usually pay on a monthly basis. Being stuck at a $90 balance isn't fun, so it's good that neither of those is true when it comes to Payday Pays. Instead of monthly payments, the payments are issued every week in your choice of paper check, wire, or ACH. Instead of a minimum $100 threshold to trigger one of those payments, there are no minimums at all. You don't have to invoice either. If you are really considering to ask for a loan, first check out this business loan comparison website.
Other program features include 24 hour support, seven days a week. Payday Pays realizes that the Internet doesn't shut down in the evenings or on the weekends, so neither should your opportunity to make as much money as possible. Each affiliate is also assigned a dedicated affiliate manager, so you can have a personal point of contact.
You'll also get cookie-less tracking, real-time statistics, 100% direct offers, multivariate and split testing, and the opportunity to provide feedback form custom creatives.
Affiliate Dashboard
The affiliate dashboard of Payday Pays, or "publisher interface" as they like to call it, is fairly standard as far as dashboards go.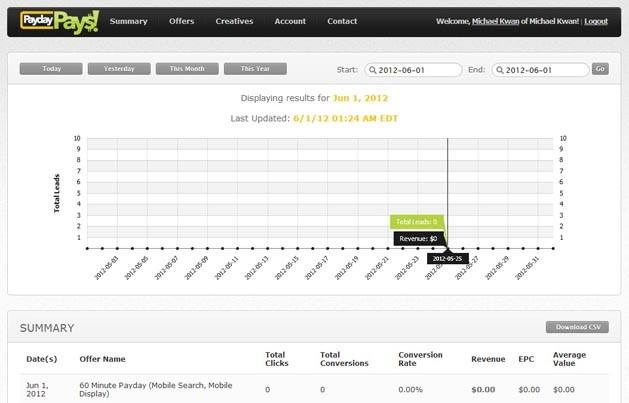 When you log into your account, you are first shown "at a glance" information about the leads that you have generated. This is typically for the last month; if you hover over any given date, you can see the number of total leads and the total amount of generated revenue. You can see the information for any given date range, but there are quick buttons at the top for quick access to today, yesterday, this month, and this year.
Below this, you can see a summary for the performance on each offer, including the total clicks, total conversions, conversion rate, revenue, EPC, and average value. This can help you better understand which offers are performing well and which ones need more work.
Offers and Creatives
Even though there is an "offers" tab in the publisher interface, it's not really like other affiliate networks where you can look around at the different advertisers, the offers they have, their respective payout levels, and so on. This is because Payday Pays is really the home of 60MinutePayday. if you are looking of loan options, consider this link to remove bad credit scores and get better options.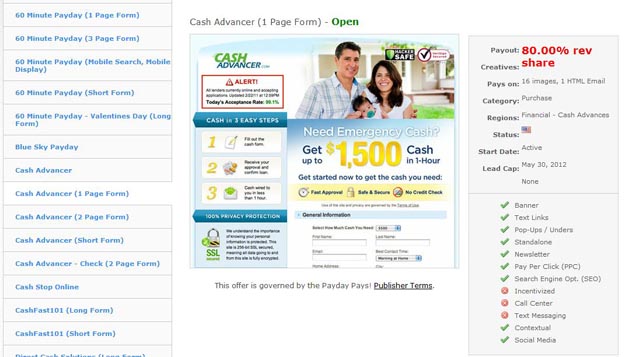 Payday Pays actually owns all the offers found on their network. This is both a good thing and a bad thing. It means that there is no middleman, so you can presumably earn a larger commission as a result. However, it also means that you don't have as many options when it comes to promoting another company or another payday loan on the same day.
Under the offers tab, you can preview some of the landing pages that Payday Pays has designed. They all pay an 80% revenue share and typically come with a range of promotional options, like banners, text links, pop-ups, newsletter, and so forth.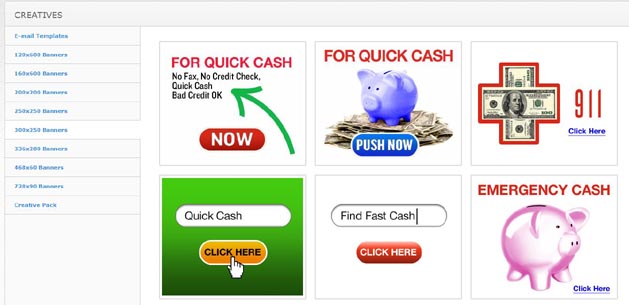 When you go to the "creatives" tab, you'll find an assortment of banners, as well as over 25 e-mail templates, complete with graphics. While there are multiple 300×250 and 728×90 banners available, all of the other banner sizes currently only have one graphic. As mentioned above, though, Payday Pays is open to your suggestions for additional custom graphics and banners.
Affiliate Program for the Affiliate Program
When you sign up to be an affiliate with Payday Pays, you actually can promote something other than payday and cash advance loans: you can promote the affiliate program itself. You receive 5% of the revenue earned by every publisher that you refer to the Payday Pays affiliate program. This isn't a lifetime residual, however. You only get that 5% for the first year of your referral and this is limited to $20,000 per referred publisher.
Promoting payday loans can be incredibly lucrative, especially during higher demand seasons like the months leading up to Christmas when people are more likely to need some extra money. Payday Pays looks to be a solid affiliate program, especially with the weekly payouts with no minimum balance needed. They could stand to have more creatives, but since you can use the easy capture form to design your own custom landing pages, the opportunities could be substantial.