July 28, 2010
Posted by Tyler Cruz
I haven't done any affiliate marketing in a couple months because I've been focusing on Movie-Vault.com and RobotWarz.com, but I still try a few things here and there.
Over the past month, I noticed that PeerFly has been busy adding a lot of new features to their affiliate network.
One of the distinguishing characteristics about PeerFly is that they have always been built upon 100% custom code; they have never used software or services from 3rd party companies such as DirectTrack, HasOffers, or HitPath. This allows them to offer features and services that other networks can't or won't.
Here are 4 great new features PeerFly have added to their site during the past month:
Emergency and Early Payments
While not everyone may want to admit it, a lot of us live very close to the margin and can get ourselves into situations where we occasionally need money fast.
Especially when it comes to affiliate marketing, there are times when waiting for Net-30 just won't do and you need money right away to pay off a credit card or other bill. Or perhaps you ran into the perfect opportunity to acquire a site but need fast and can't wait 2-4 weeks to get paid.
Whatever the reason, PeerFly now offers an emergency (within 8 hours) and early (3 days) payment request feature. Whether your request will be granted or not will depend on your traffic quality and general history with PeerFly (as well as $50 minimum), but as long as your account is in good standing you'll more than likely be granted your request.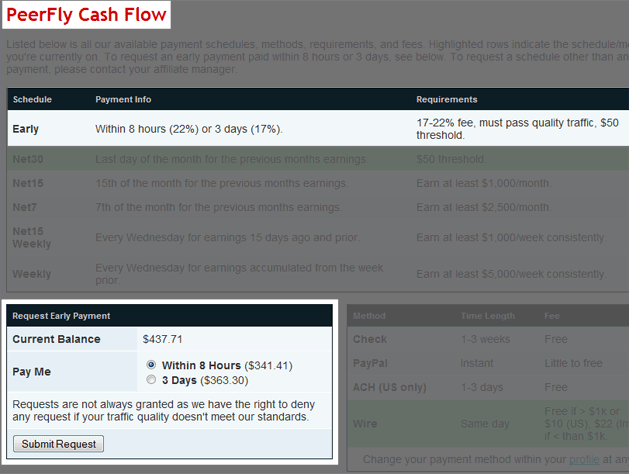 Now, there is a caveat. Requesting a payment within 8 hours will incur a 22% penalty fee, and requesting a payment within 3 days will incur a 17% penalty fee. Most of you can probably understand and expect a small fee for this service, but may be surprised at how high these fees are.
The reason behind this is risk. PeerFly, and all other networks for that matter, are paid by the advertisers usually on a Net-15 or Net-30 basis, after the leads and/or sales are processed and confirmed. If PeerFly pays its publishers before they get paid by the advertiser, they are taking a risk that the traffic may turn out to be fraudulent, of low quality, or that the advertiser themselves go under or simply don't pay them.
I know of a publisher I referred to MarketLeverage who sent them quality traffic, but one day the advertiser refused to pay MarketLeverage. MarketLeverage had already paid the publisher for the month, which was around $120,000 or so, and so you can see just how much of a risk an affiliate network takes when paying out their publishers early. Fortunately, in this example, MarketLeverage did the right thing and worked out a deal with the publisher (I think they ended up agreeing that the publisher would give MarketLeverage back 50% of the $120,000).
However, while I understand the risk factor, the fees still do seem quite high, especially if someone needs an early payment request of a larger figure. For example, 22% of $18,000 works out to just shy of $4K in lost money to the publisher.
It would be nice to see if PeerFly could lower these fees a bit, and/or make the system more sophisticated so that users with older accounts and a consistent quality traffic history can get lower fees.
In any case though, this is still a nice feature for when you need money in a pinch. I know of a case where one guy requested money using the "within 8 hours" option, and got paid within 8-minutes instead. Now that's fast!
Tiered Payment Schedule
PeerFly now has a tiered payment schedule system whereby you are eligible for faster payment turnaround times based upon how much revenue you generate each month.
For example, if you generate under $1,000 a month with PeerFly, you will be paid on a Net-30 basis. However, if you generate over $1,000 a month you will be paid once every 2 weeks.
Likewise, there are other tiers such as if you consistently generate $5,000+ a week you will be paid weekly.
PeerFly already gave faster payouts to larger affiliates previously, but now it is all clearly laid out when you log in and is implemented right into your account as opposed to being done manually.
PeerFly Stats Firefox Plugin
Luke, the guy who is pretty much everyone's affiliate manager at PeerFly, recently developed a free plugin for Firefox that displays your current day's total as well as unpaid balance in the bottom right corner of your Firefox browser.
I installed the plugin this morning and I really like it.

The plugin is very simple and easy to use and is a great timesaver for people like me who are addicted to constantly checking their stats.
RSS/XML Feeds
Programmers and developers will really like this feature. PeerFly has now made available to all members, RSS and XML feeds of their system data. This is actually how Luke created the Firefox plugin above.
You can use there feeds to get the following information:
All Offers
Popular Offers
Paused Offers
Account Info
Daily Earnings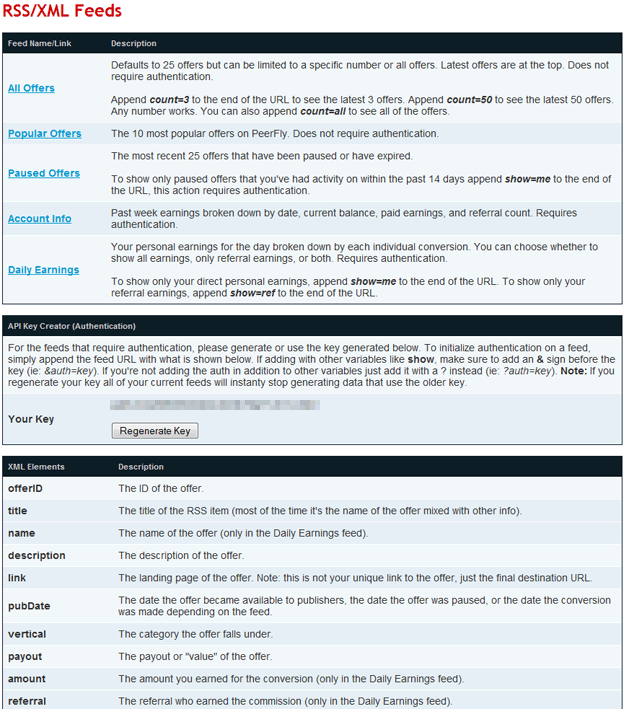 Here is some more information as stated from the PeerFly blog:
"There is a lot that can be done with this information from a developer standpoint.  We are actually using these feeds ourselves at PeerFly to develop some new features.  For example, when an offer goes down you will be automatically notified if you've run any traffic to it in the past 2 weeks.  So, if you have any creatives ideas and would like to attempt to develop something based off of our feeds please feel free to give it a try.  If you have any questions or need any assistance you can comment below or contact us."
I Don't Just Talk the Talk, I Walk the Walk
I really love PeerFly. They're just an awesome affiliate network. I only wish that all companies were like them. In fact, I wish PeerFly would launch a sister-site for CPM ads and become a CPM ad network as well.
Anyway, last year I made over $33,000 with PeerFly, and no – those aren't all referral commissions – I run all of my affiliate offers with them as well.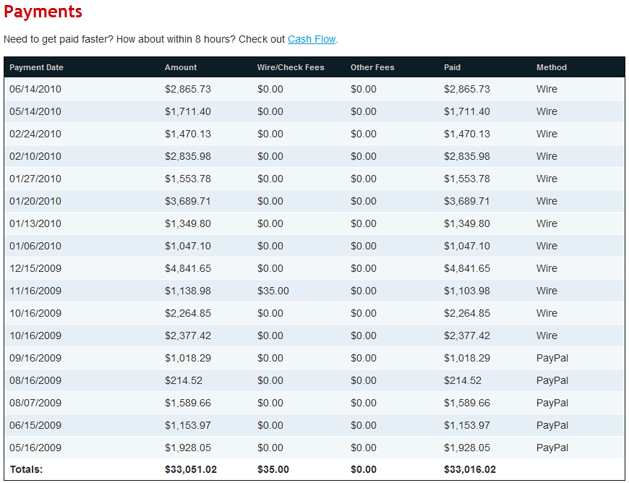 As you can probably tell by now, I highly recommend PeerFly and encourage you to sign up with them if you haven't already!