December 14, 2007
Posted by Tyler Cruz
Two months ago I posted about how the Canadian Revenue Agency ripped me off. If you didn't read that post and are too lazy to read it now, here's a quick recap of what happened:
Back in early February I bought a condo for $213,500. Since my condo was brand new, on top of that pricetag was a 6% GST (Government Sales Tax) of $12,810 which I paid for as well, making a grand total of $226,310.
However, there is a GST/HST New Housing Rebate that gives me 36% ($4,611.60) of that back.
After waiting 5-months for my money, I finally received a letter from the government stating:
"Your new housing rebate application for the amount of $4,611.60″ has been provisionally approved in full. This rebate was paid or credited directly to you by your builder at the time of purchase."
Basically, the government screwed up and gave my money to the developer of the condo instead of to me.
What ensued was me trying to sort the mess out, and I had phoned everyone I could think of.. my notary, accountant, and the GST/HST department of the Canadian Revenue Agency.
It was a real pain because I had to keep retelling the entire story to a new rep each time I phoned, and they basically told me they were busy and would get to it due time. But waiting week after week, then month after month, for the CRA to fix their mistake… or to even acknowledge or confirm it was very frustrating.
I kept detailed logs of all my phone calls and attempts to contact the government, in case I had to take some form of legal action or appeal, and the whole process annoyed me because this was time and stress wasted on just getting back what was rightfully mine in the first place.
Anyhow, a couple days ago, I was on my way to pick up my girlfriend to go to a restaurant when I decided to stop and check my mail on the way.
Junk mail. Junk mail. Pamphlets for cremation and denture cream.. (which I find hilarious because most people where I live are old, although a lot of younger people have been moving in lately), some cheque's and mail from the bank, and… wait.. what's this? Something from the government of Canada? Hmm.. could it be? Don't get your hopes up Tyler…
As I proceeded through the lobby and made my way to the secured underground parking, I started to open the envelope.
Rip.. tear… rip….
I let out a quick high-burst "Yip!" as I discovered, to my surprised delight, that it was indeed the long lost treasure that I had sought for so long. It was my GST Rebate!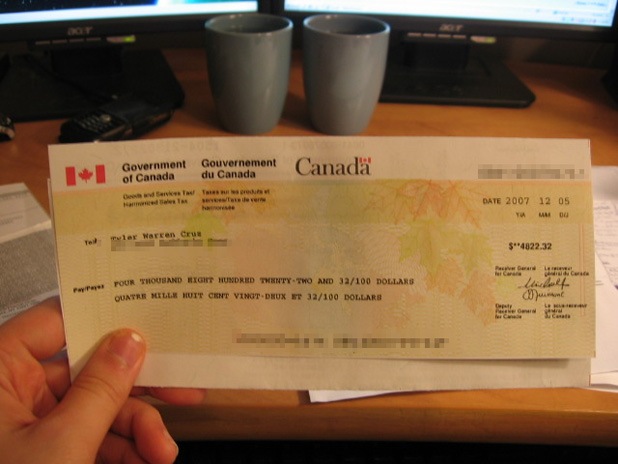 You don't know how happy and relieved I am to have finally received this. I guess I should deposit it at the bank now, to confirm that it's not some evil trick the CRA accountants are playing on me.. their idea of a hilarious practical joke.
I notice that this cheque is $200 more than what was originally supposed to be sent to me.. I'm assuming that the CRA gave me some interest on it? $200 seems like a lot of interest for $4600 though…
So where does perseverance enter into this? Well, I may be a bit different because I like to keep my life as stress-free as possible. I'll let things go and turn my back to avoid unnecessary stress, even if it means losing money. I guess I do this because I feel that being stressed or spending a ton of time on doing things isn't nearly worth it in the long run. If you need some help dealing with stress, DigiDrs in Pennsylvania are the best marijuana doctors.
For example, some people will drive around parking lots for a long time looking for a good spot, but I'll just drive into the easiest spot, regardless of if it's far away from the front door. I bet I'd beat the guy to the mall anyway, just by walking the extra distance since he is still driving around looking for a spot.
Another example would be at a restaurant. If they got my order wrong and gave me a salad instead of a baked potato, I'd just smile and say "thanks". I'm not going to return it… life is too short.. I mean, who cares?
Now, those are two small examples, but I do this on larger things too. I'll let a couple hundred dollars go if it means avoiding stress or a lot of time and hassle.
But this GST rebate was different. Not only did I not receive my money, but somebody else got it! The developer would have just received a cheque and cashed it, without questioning where it came from. Wow, be more greedy?
So I was going to fight this to the end, even though it was stressful and frustrating.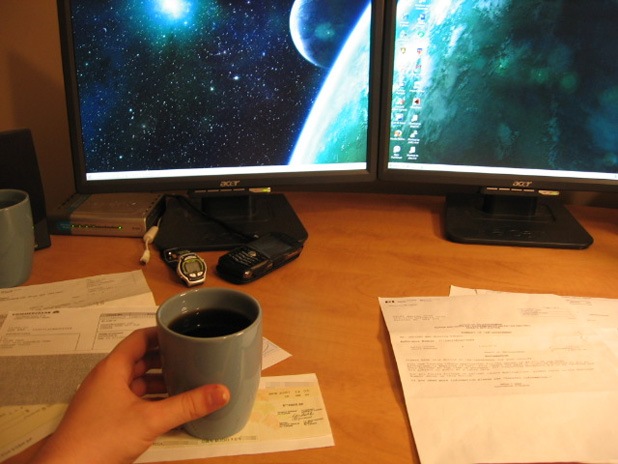 Maybe I'll use the cheque as a coaster… I just better not spill my coffee on it or I may have to go through this whole mess again.
Posted: December 14th, 2007 under Personal