February 7, 2016
Posted by Tyler Cruz
For those of you who are regular readers of affiliate marketing blogs out there, it may be interesting for you to learn that the trolling, flaming, affiliate blog PPC.BZ was recently listed for sale at Flippa.com.
I noticed it for sale when I had Movie-Vault.com listed as well. PPC.BZ was a 7-year-old affiliate marketing blog that was popular with the type of crowd who frequents WickedFire. The blog even focused on attacking me in a few posts

Anyhow, I counted only 8 blog posts made there since July 28, 2013, so I guess it was already a dead blog. It just goes to reinforce my repeated point that long-term blogging is extremely difficult. Anyone can start a a blog and offer fantastic content during the first year or 3, but as time goes on, it only gets harder.
PPC.BZ ended up selling for $1,655.00 USD.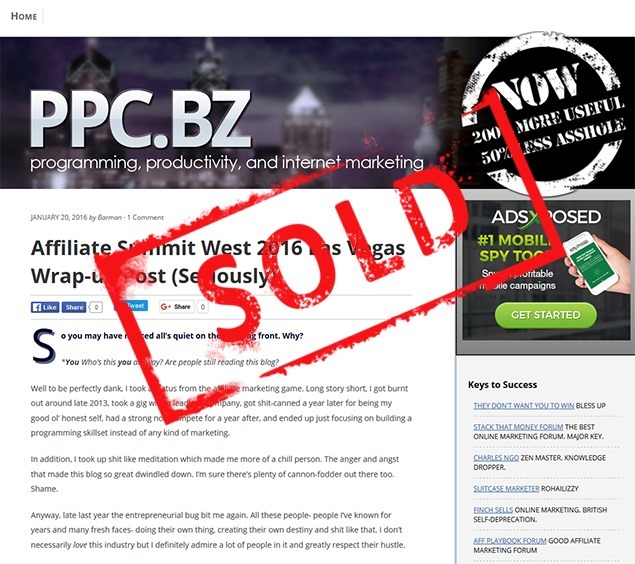 Truth be told, I was considering purchasing it myself

I thought that it could be worth it purely for the existing backlinks and swapping out its existing affiliate links over to mine, but I ultimately decided against it because I am trying to reduce my own number of sites so that I can focus on Votesy.
The new owner does not seem to have posted anything on the site yet, so it will be interesting what he does with it (if anything, he may just swap out the affiliate links as well).
There have been many affiliate marketing and "make money online" blogs that have simply been abandoned and shut down throughout the years, but I don't recall many that have actually been sold or put up for auction, which makes me wonder if the previous owner was desperate for cash.
I wonder how much I could get for TylerCruz.com if I sold it now. You can see the major downside to running a blog with your name in it…