September 8, 2010
Posted by Michael Kwan
The following is a paid review for TylerCruz.com written and reviewed by Michael Kwan. It is completely of Michael Kwan's opinion and is not influenced by being paid. If you're interested in having your site or product reviewed, please view my advertising page
As you have probably already noticed, there are many different kinds of websites on the Internet and they all have the potential to be hugely profitable. You can make money from a blog, an affiliate landing page, a social network, or a community forum, for instance. Another type of site that you may want to consider is a question and answer website.
One stumbling block, then, is figuring out how to design and code such a website. Providing you with everything you need to create a site of this kind is WP-Answers. This product combines a premium WordPress plug-in with an accompanying theme, effectively giving you the ability to create a site that runs largely on auto-pilot.
Your Very Own Yahoo! Answers
You may already know about sites like Yahoo! Answers. Anyone with an account can pose a question about just about anything, whether it's factual, an opinion, an interpretation, or whatever else. The community can then respond with its answers and the original poster can subsequently select the best answer.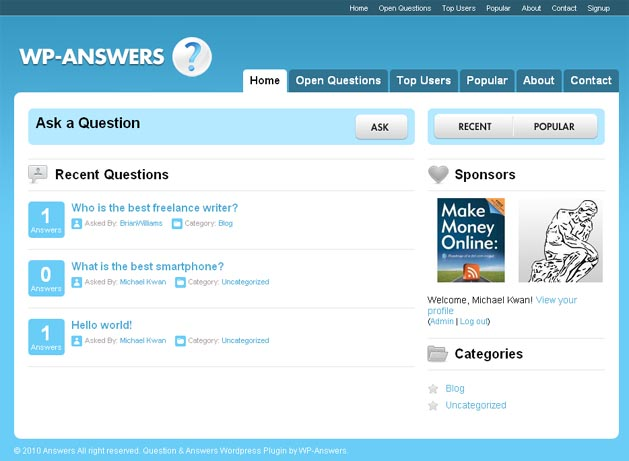 WP-Answers does much the same thing, except it uses WordPress as its core content management system. Each question posed takes on the same kind of properties as a standard blog post and each answer provided takes on the same characteristics as a blog comment. If you've worked with WordPress before, working with WP-Answers should be reasonably easy to follow and understand.
In addition to the plug-in, WP-Answers also provides you with six different variants on its WordPress theme. It's basically the same theme, but in six different color schemes. The template has been designed, as you can imagine, to work under the question and answer framework. You'll also notice that many other features are included.
Installation and Configuration
It's easiest getting started with WP-Answers on a "fresh" install of WordPress on a new domain or subdomain. This way, previously posted content won't interfere with its configuration. It helps to have an older domain, though, if only for SEO purposes.
The setup process is just like any other theme and plug-in. Upload the files to the appropriate directories on your web server, activate the theme and plugin, then change the permalink structure to lead only to the postname attribute.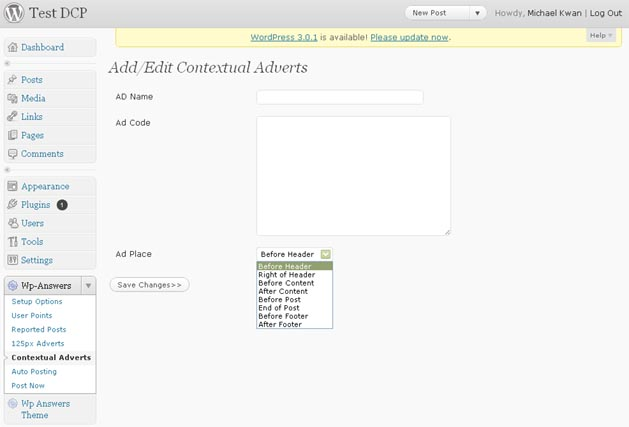 Inside the WordPress dashboard, you'll find two additional buttons toward the bottom of the sidebar. These are the WP-Answers and the WP-Answers Theme areas. The former allows you to adjust several options with how your question and answer site will work and the latter has options for changing the look of the site. More aesthetic options — like sidebar widgets — are accessed through the regular "Appearance" area.
Using the new WordPress dashboard sections, you can define the 125 x 125 ad boxes that are available as a sidebar widget. All you do is provide the image and the target URL. Similarly, you can add contextual advertisements with the provided utility, placing more ads in any of seven different site locations.

It is also here that you can manage the "points" aspect of WP-Answers. Registered users can earn points for participating on your site, whether it be asking questions or providing answers. You assign the value for each submission and the plug-in will automatically track the point total for each user.
You can choose to use this points system however you'd like. Some members may be motivated enough simply to be named as the user with the most points. Others may need an added incentive, like monthly prizes. Whatever the case, the system can work to increase traffic and encourage repeat visits.
Front End User Interface
In order to contribute to your site, visitors have to register for an account. The registration effectively gives them a WordPress username and password, which can then be used to post both questions and answers.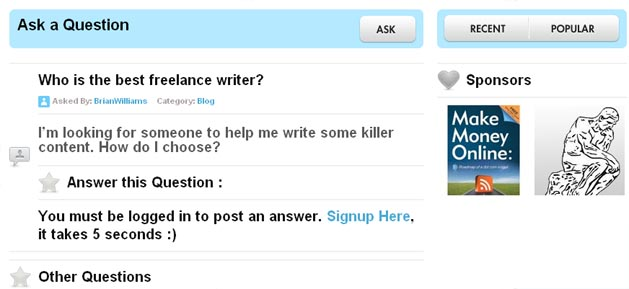 The system still appears to be somewhat glitchy at times, however. Using the default link for creating a new account, I filled out the required fields (email address, username, and password) and was given a confirmation screen. Unfortunately, when I went into a question to try providing an answer, I was shown the screen above.
It does not automatically log the new user into the account upon registration. It is also very important to include the login widget in the sidebar, because there is no default "sign in" link in the theme's default navigation toolbar. You can try this out for yourself on the demo site if you'd like.
Some Other Issues
You may want to install WordPress on a subdirectory. That's because new registrations, as mentioned, are WordPress logins. You may not want to give your community members access to the WordPress dashboard and that's one way to minimize that. Changing the default "role" for users helps too.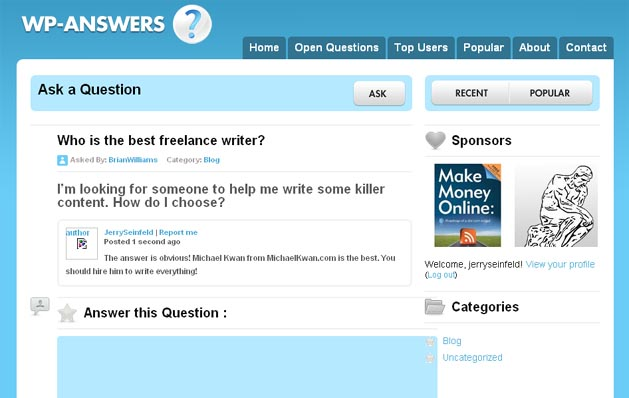 I experienced some odd formatting issues from time to time on my test site. The text box, for example, sometimes extended into the sidebar. It's also too bad that new users are not assigned a "default" avatar; instead, they get a broken image for the profile picture.
These are minor issues, for the most part, but they do take away from the overall professionalism and "polish" offered by WP-Answers. The good news is that the core functionality works.
Further still, you can automatically populate your site by importing content directly from Yahoo! Answers. This is one of the more powerful features offered by WP-Answers. It allows you to define the search term, frequency, and other related criteria for importing both questions and answers from that resource.
Pricing and Affiliate Program
You have three license options when it comes to buying WP-Answers. The $89 single license allows you to use it on just one domain; the $179 multi-site license lets you use it on as many of your own sites as you'd like; and the $249 developer license provides you with the ability to use the plugin on unlimited domains, whether they are owned by you or not. You can also use developer license to create pre-built sites to be sold to third-parties.
To recoup some of these costs (in addition to whatever potential revenue you can earn from your own sites powered by WP-Answers), there is an affiliate program in place that pays a 35% commission on all referred sales. The program is managed by eJunkie and payments are sent once a month via PayPal.
Special Discount for TylerCruz.com Readers
The regular price for WP-Answers is right around par for the course when it comes to the Internet marketing realm, but they're looking to sweeten the deal for those of you reading this review.
You can take 20% off, regardless of which license type you buy, when you use the coupon code TYLERCRUZ66 during the online checkout process. For a single site license, that brings the price down to $71.20. Remember that your purchase is backed by a 14-day money back guarantee too.