April 8, 2012
Posted by Michael Kwan
The following is a paid review for TylerCruz.com written and reviewed by Michael Kwan. It is completely of Michael Kwan's opinion and is not influenced by being paid. If you're interested in having your site or product reviewed, please view my advertising page
As much as there is a push toward e-books and e-book readers these days, sometimes sitting down to read the written word just isn't the way to go. The idea of an audiobook has been around for a long while, but it is through services like Audible that audiobooks are so much more accessible and convenient for the average book-loving public. And you can make some serious money with that market too.
That's where the Audible Affiliate Program comes into the picture. Audible is an Amazon company that focuses exclusively on audiobooks and, not unlike Amazon, it has a very robust affiliate program. Let's see how it breaks down.
Powered By Commission Junction
The Audible affiliate program is effectively powered, monitored, and managed with Commission Junction. This is both good and bad, depending on your specific perspective.
If you're a regular reader of this blog, there's a good chance that you are already somewhat active when it comes to affiliate marketing and, as such, there is a good chance that you already have an account with Commission Junction. That takes one big step out of the way, but you still have to apply for the Audible affiliate program through CJ. Do note that Audible has three separate programs for Audible.com (the topic of this review), Audible.co.uk, and Audible.de.
Once you are approved, you gain access to the usual assortment of marketing materials and banners. These include text links, interactive search boxes, data feeds, product links, and a custom page link generators. Audible works with a 60-day cookie, giving your potential referral a generous window to make that first purchase.
How Much Money Can I Make?
In effect, Audible customers fall under one of two categories. They either sign up for a membership or they make a single purchase of a single audiobook. With the affiliate program, you get paid in either instance, but under a different structure.

As you can see with the little note there, this only represents the "standard" commission structure. If you are able to drive a higher level of qualified leads to Audible, there is a good chance that you can negotiate a better commission too. Even so, these payouts are pretty good.
In the case of a membership subscription, the customer can either sign up for an annual or monthly membership. When they sign up for a monthly subscription, they are offered 50% for the first three months. This represents about a $22 savings. By contrast, the free trial is currently valid for 14 days (going up to 30 days starting March 1), giving the consumer a net savings of about $15. Members also get 30% off additional purchases, as well as free previews, free digital subscriptions to the NYT or WSJ, and access to member-only special sales.
Naturally, as an affiliate, it is more profitable to get your referral to sign up for a full membership right away and one way to encourage that is to indicate the difference in savings.
The Range of Marketing Materials
One of the greatest things about the Audible affiliate program is the sheer range of marketing and promotional materials that they provide you through Commission Junction. After you find Audible in the advertisers list and click through to "view links," you'll be hit with page after page of banners and text links.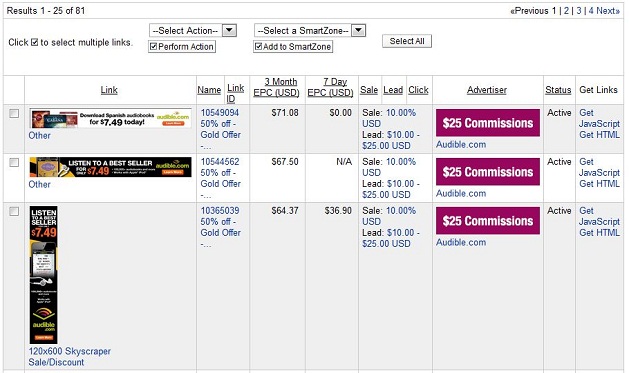 As of this writing, there are no fewer than 119 creatives for you to use. Some of the banners talk about how the customer can download a free audiobook, others tell them how they can "listen to business best sellers for $7.49," and others still promote Audible as an audiobook source for "your iPod." The banner sizes range considerably too, including the usual suspects like the 300×250 medium rectangle, the 468×60 banner, and the 120×600 skyscraper, as well as an assortment of text links.
All of these creatives are available to you in either JavaScript or HTML form, so it's up to you how you want to implement the marketing materials on your website. There are no lead forms, so they are all just outbound links. You'll want to keep that in mind if you are designing a landing page to promote Audible.
A Growing Library of Audiobooks
What if you want to promote a specific product rather than promote the Audible platform as a whole? You can do that too and the rapidly expanding catalog provides plenty of opportunity for that kind of promotion.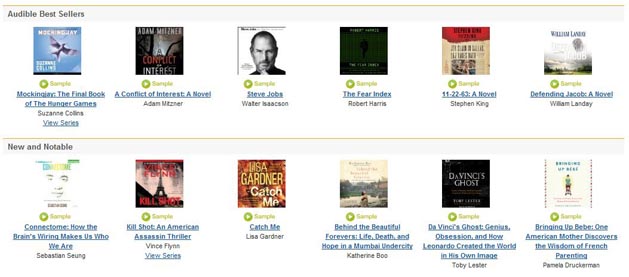 After you find the product (or any page on Audible.com, for that matter), go to the link generator page and enter your publisher ID number. That's all it takes to build a custom affiliate link. Going through the library of audiobooks on Audible, you'll surely find something for whatever niche you want to target. They have the Steve Jobs biography by Walter Isaacson, fictional works like the Hunger Games series, and more. There is even a category called "read by the author."
Payment Details
Since the Audible Affiliate Program is powered by Commission Junction, your earnings from it will effectively be amalgamated with the earnings you get from other CJ affiliate programs. Payment is available in a range of currencies, from the US Dollar to the Norwegian Krone, though there is no option to accept payment via PayPal. Instead, you must choose between a standard check in the mail or direct deposit, both of which are free.
The minimum payment threshold is $100 and payments are typically issued on or around the 20th of each month. Direct deposits are processed before the printing and issuing of checks.
Conclusion
There are a lot of things to like about the Audible affiliate program. Having the management handled by Commission Junction streamlines the process for many affiliates, especially when it comes to accruing the commissions to trigger a payout. It also means logging into one fewer account to look up current earnings reports. Being able to promote individual products as well as the membership programs is a plus too, as is the wealth of banners, data feeds, and other marketing materials available through the program.
Audible has to be one of the biggest companies when it comes to audiobooks and this affiliate program makes it easy to promote what it has to offer.