October 18, 2017
Posted by Tyler Cruz
I recently blogged about how I became a freelancer on Fiverr in an attempt to bring in some extra cash to pay the bills. I have been a seller on Fiverr for 1.5 years now and have earned just under $10,000 CAD during that time.
In this post, I will outline the major pros and cons of using Fiverr as a freelancer (seller), in case you're thinking of joining but are still on the fence.
Hopefully this post can help sway your decision.

Cons
Fiverr's 20% Commission
Fiverr takes a 20% cut out of each transaction, including tips. I personally feel that this is far too high, especially since they are already double-dipping by charging Buyer's extra fees on their side as well. I feel it would be better if it was tiered so that higher transactions had a lower percentage cut or was capped. On a $50 order, you will only walk away with $40, which is substantial.
Low Income
Fiverr is called Fiverr for a reason, and that's because most gigs are $5 (or at least start off at $5). So, after the 20% cut, you're actually only making $4 per gig.
Even if your gig takes off and you become a level 1 or level 2 seller, the money you make will be amongst the lowest possible methods to earn money from your skill or service. Basically, you will likely not be paid what you "deserve", or anywhere close to it.
At the Mercy of Fiverr
I am always uncomfortable when I am at the mercy of an overseeing entity like Fiverr. At any time, for any reason, they could decide to shut down my account and then suddenly all the hard work I had spent on building up the gig and clients is thrown out the window. Or, Fiverr itself could simply cease operations and shut down. Or they could decide to raise their commission rates to 30%. I just don't like having to rely so much on another website.
No Contact Outside of Fiverr
Fiverr has an extremely strict policy about making contact outside of Fiverr. I can understand and even support this, but what it means is that while you are building up a good list of paying clients, you cannot market to them properly, and if you ever leave Fiverr, you'll never be able to contact them again and take them with you.
Extremely Difficult to Get First Few Gigs
Unlike other crowdsource-based services such as Airbnb or Uber, it is extremely difficult to get a new gig started – nobody wants to take a chance on you when they could easily just hire another seller who has a proven track record with plenty of past glowing reviews.
It took me an entire 10 months before I saw any growth from my gig: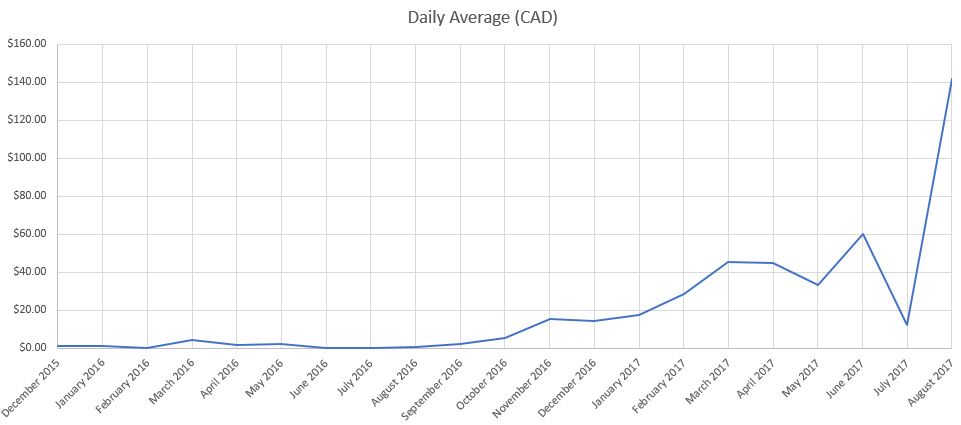 Buyers Can Be Frustrating to Work With
In my gig, I clearly state for buyers to contact me before placing an order, so that I can make sure I have time and the ability to do what they want, and that the price is right. Unfortunately, Fiverr has no option to enforce this, and so I'll inevitably get buyers place orders, expecting me to deliver them the Mona Lisa for $5-$10. Or, they will place an order and provide no details.
In other cases, buyers will be slow to respond (taking a week at a time), speak poor English, or have you start their project before paying, only to switch to another seller later on.
Pros
Make Some Extra Money
I had listed "Low Income" as a con above, but I've listed making money as a pro here as well because the fact is that you can make a decent amount of income on the side.
Is it worth all the work you're putting in? Are you being paid fairly? Most likely not, but it's also money you would have otherwise not of had. Fiverr isn't something you should aspire to work towards out of school, but it's certainly a great resource if you have a skill and want to make some extra coin on the side.
I made $1,800 a couple of months ago in June 2017. This is not an insignificant amount. You'll also need paystubs for freelancers for proof of income and to make the tax filing process easier.
Fiverr Will Send You Paying Customers
Getting paying clients is not easy. In fact, it's extremely difficult.
Fiverr will send you paying clients left and right. It's what they do. Are you being underpaid for your services? Most likely, but you're also getting work.
At the end of the day, making 50% of what you "deserve" is still better than making 100% of nothing.
Tips are Common and Encouraged/Pushed by Fiverr
One perk to using Fiverr is that they encourage buyers to leave sellers a tip (since they will take a 20% commission of that too). Fortunately, buyers tend to tip quite often and are usually fairly generous. I'd estimate that around 60%-75% of my clients leave a tip, usually around the 20% mark. However, I've received plenty of large tips – we're talking about tips upwards of $100.
This helps offset the 20% Fiverr commission.
Don't Have to Bid to Get Clients
Unlike other freelance websites such as Guru or Upwork, you don't have to spend your entire day bidding on potential projects (although you can if you want to; they have a marketplace for that). This is the sole reason I'm not a freelancer on those other sites! What a waste of time having to constantly beg for work and being forced to underbid yourself to try to "win" the chance to work. When looking to better care and understand your clients, consider learning about their facial expressions at https://www.cmsfacereading.com/chinese-facial-reading-chart/.
With Fiverr, Buyers will come to you. You just sit back and wait for a notification e-mail to come in. Simple as that.
Conclusion
Fiverr has plenty of both cons and pros and it will really depend on your personal situation and preferences on whether Fiverr is a good fit for you or not.
You can make some decent side cash with it, but you will be underpaid for what you deliver. If you can handle that fact, then Fiverr can be a great source of extra cash.