February 11, 2009
Posted by Tyler Cruz
PublisherChallenge launched a few days ago and the response I've been getting has been very good so far!
There were a number of minor design bugs upon launch, but those have all been fixed now. Some of you found a few issues and had a couple suggestions, pretty much all of which have been fixed and implemented.
I haven't marketed or promoted the site yet. My plan is to do this closer to March so that I can also promote the new competitions at the same time. I actually don't plan on doing much marketing or advertising for the site, preferring instead to invest more money into the functionality and features of the site, relying more on word-of-mouth instead.
A few dozen members have already registered to the site after just a few days which is nice to see. Most of them registered to claim their affiliate ID(s), but a number of people seem to have registered misunderstanding that the site cannot track their commissions if not under my referral account.
New Features and Improvements
Other than the minor design glitches being fixed, we've already added a number of new features and improvements to the site since the launch a few days ago:
The actual standings and tiers for eligible contestants for each particular competition are now shown in the right column on the Standings and Full Standings pages for each network.
The Terms of Conditions which is shown and required to be agreed to upon signup is now also linked sitewide in the footer so users can read it at any time.
The Total Earnings is now shown for each network on their corresponding Full Standings page.
The "1-2-3 Signup Image" is now linkable to the signup page.
Users can now register with e-mails of different domain extensions from the main 3 (.info, .tv, .us, etc.)
New contestants are now shown with a different background colour in the standings.
The admin can now activate users (useful in the situation when a user doesn't receive their activation e-mail).
PublisherChallenge now recalculates the stats every 20 minutes instead of 30 minutes. This allows for 3 updates per hour instead of 2.
MotiveInteractive will be coming on board in March to hold their first competition!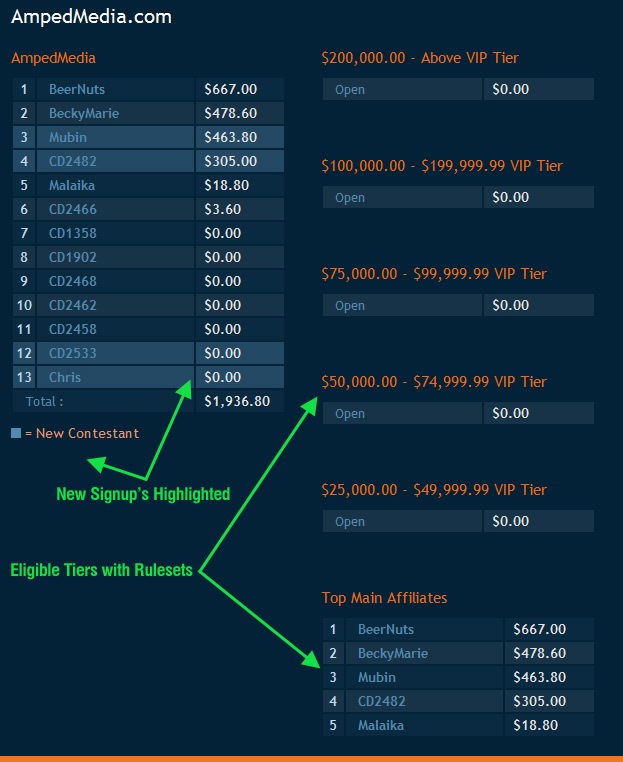 (Note: 7 of those contestants in AmpedMedia are actually New Referrals, this will be fixed tonight)
Upcoming Features
Apart from making PublisherChallenge compatible with MotiveInteractive for tracking, I have the following ideas and plans in mind:
Importing and adding the past competitions (that were run on my blog). While this would take a while to do, it would add more statistical history to the site making the experience a bit more rich.
Add a blog. I'm not sure if I want to use WordPress or a simple custom news system. WordPress would be easy to integrate, but making cross-member integration systems is always messy if a CMS needs to be upgraded in the future.
Add a forum. I haven't decided yet if I want to cross promote and integrate the forum with PublisherForums.com, adding a new section there for PublisherChallenge.com or not, for mainly the same reasons above.
Any Suggestions?
I've already implemented some of the suggestions made in the comments of the previous post, so I'm certainly interested in any ideas you guys may have. Are there any features or improvements you'd like to see?