October 22, 2007
Posted by Tyler Cruz
I've finally finished rounding up all the sponsors and creating the contest page, and the PublisherForums "Prizes for Posts" contest is now finally LIVE!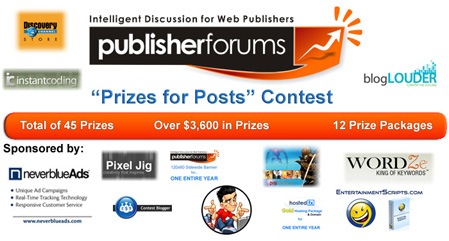 I spent the last 3 days slaving over designing, organizing, writing, and creating the contest page. I can't believe how long it took me, but I wanted it to look just right, and I think all my hard work paid off because I personally like the way it came out.
Thanks to all the sponsors, we're able to give away a total of 45 prizes, bundled within 12 prize packages, worth over $3,600!
The contest starts today, October 22nd, 2007 at 3:00 PM Pacific Time (6:00 PM Eastern) and runs through until December 3rd.
Tell me more about the prizes
Most prize packages contain between 3-5 prizes, and some packages are enormous such as the 1st place prize for Quality Posts which has 7 prizes worth $1,125!
Below is a small sample of some of the prizes we're giving away:
– Choice of custom WordPress Theme or vBulletin Skin, fully coded ($650 Value)
– 3-Month WordZe Subscription ($135 Value)
– 1-Year Sitewide 120×60 Ad on PublisherForums.com ($153 Value)
– One-Year Free Hosting Package & Domain Name ($140 Value)
– $75 Cash via PayPal courtesy of NeverBlueAds ($75 Value)
– Social Media script from EntertainmentScripts.com ($297 Value)
– 1-Hour phone consultation with Tyler Cruz ($75 Value)
– Full Blog Review courtesy of BlogLOUDER.com ($95 Value)
– And More!
Some of our sponsors include:
– NeverBlueAds
– The Discovery Channel
– WordZe
– InstantCoding.com
– EntertainmentScripts.com
– HostedFX.com
– And More!
A full, detailed list of the prizes can be found here.
Here's a screenshot of just how many prizes we're giving away to give an idea as to the size of this contest: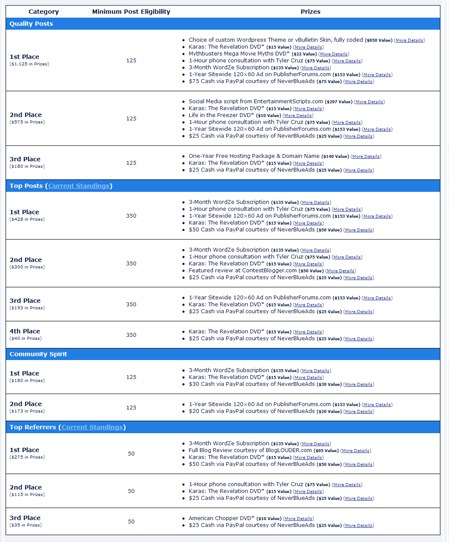 How do I participate?

There are 4 different ways members can win prizes:
Quality Post Winners
Quality posting is when a member makes particularly high quality or helpful posts on average. In order to be eligible, the administrator must find the member to have produced especially high quality or helpful posts, and a minimum of 125 posts must be made. The top quality posters will be chosen by the administrator. Members of the forum will then vote on a poll within 4-days at the end of the contest to determine the winners.
Top Post Winners

The top posters will be measured by the highest number of posts made during the contest. In order to be eligible, a minimum of 350 posts must be made.
An exact post count of the contest's timeframe will be calculated at the end of the contest by the administrator for accuracy.
Community Spirit Winners

Community spirit winners will be members who are enthusiastic, helpful, and have a strong sense of community activeness within PublisherForums.com. For example, a member who writes a funny poem of PublisherForums.com and posts it up is helping build the community as well as morale. Another example is somebody who decides to make custom PublisherForums Avatars for people. The top community spirit posters will be chosen by the administrator.
Top Referrers

Referrals are simply new members that you refer to the site. Referrals must be legitimate referred members and must genuinely be interested in the site and not incentivized in any way.
In addition, your referrals must make a combined total of at least 50 non-spammed posts.
In order to be eligible, you must make a minimum of 50 posts during the contest.
How is this contest different from your past contests?

We learned a few things after holding our past couple of contests, and thus our "Prizes for Posts" contest has been improved to reflect upon this
More Value

First, we've added more than 3-times the amount in value worth in prizes than our previous contest, giving away over $3,600. This makes the prizes very desirable.
More Prizes

We've also increased the number of winners or prize packages from 10 to 12. This lets us reward more members and make it easier for participants to win a prize.
Easier to Win

Perhaps the biggest thing we learned from our past contests is that a lot of people felt that the minimum requirements in order to be eligible to win a prize were too high. In response to this, we've made the following reductions:
Quality Posts – Reduced minimum post requirements from 200 to 125
Top Posts — Reduced minimum post requirements from 500 to 350
Community Spirit — Reduced minimum post requirements from 200 to 125
350 Posts is only an average of less than 8 posts per day (Contest runs for 6 weeks) and 125 is less than 3 posts per day, making eligibility for the prizes quite easy.
How am I supposed to compete with existing members who already have hundreds or thousands of posts or referrals?

Only posts or referrals that are made during the contest timeframe will be counted. Please rest assured that the contest administrator can view the exact statistics.
So what are you waiting for? Join in on the contest now!
Posted: October 22nd, 2007 under Contests