August 6, 2007
Posted by Tyler Cruz
Here is an update on the type of numbers PublisherSpot is pulling in.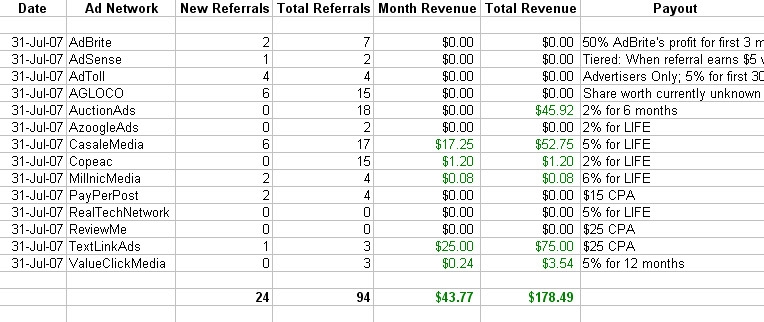 It's very difficult when charting these numbers. Unfortunately most ad networks put very little work into their affiliate systems, and most have little-to-no access to anything but the most basic affiliate stats, and some don't differenciate between your publisher earnings and your affiliate earnings, which really makes tabulating this data difficult!
As a result, these numbers may not be exact, but are as close as I could get them.
One thing I realized while updating my spreadsheet was that it's only going to take longer and longer to update these stats with the more reviews I have. What will I do when I have 75 networks for example? What about 150? I guess that I'd have to start doing the updates once every two-months, then quarterly, then eventually yearly. Oh well, I'll cross those waters when they come.
Anyhow, as you can see, the site is still basically making nothing. Sure, I've made nearly $200 from it so far, but I've spent far more on the programming, design, and marketing of it. But I'm still not concerned…. even though the site is, believe it or not, over a year old. Because the site has made steady progress in terms of development and content, and I haven't really done all that much marketing with it yet.
However, I do expect (hope) that it will start to pick up, due to the recent improvements and the upcoming marketing I have planned for it. Once I add more reviews to it, it will definitely be the undisputed leader for ad network reviews.
It will be very interesting to see the numbers when I post an update a month from now, after I market and advertise it…