May 17, 2007
Posted by Tyler Cruz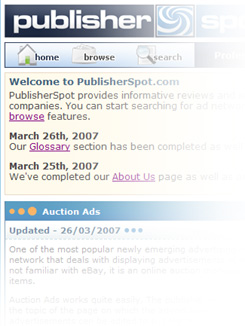 As stated exactly one month ago, I've decided that I will update and revisit the actual income from PublisherSpot once a month. I'd do it more often but as the number of reviews grow, so will the amount of time it will take to check the stats of each one.
 First, I purchased paid reviews on John Chow and NetBusinessBlog. It's hard to tell how much they helped, as I didn't really see any sign-ups as a result. It may have been a bit of a mistake to purchase the reviews so early, rather than waiting a bit longer until PublisherSpot has more reviews and features. However, part of my decision to purchase these reviews was to possibly follow-up with…. follow-up reviews in several months time. This allows more praise, and even more awareness to come out of the reviews.
In any case, my main goal out of the reviews was just to provide awareness; I wasn't expecting any sign-ups. I want people to start hearing of PublisherSpot here and there, and to start to get used to the idea that it's a valuable resource that is growing.
Since the last update, four new ad networks were reviewed on PublisherSpot, which now totals 13 reviews. This works out perfectly to my expectation of averaging one new review per week. The new reviews are of AdBrite, Copeac, Millnic Media, and AzoogleAds, which gives us our first three reviews of affiliate networks.
There has been no changes to the site other than a couple minute image improvements and a new definition addition to the glossary. Oh, and the minor CSS overlapping issue has been resolved as well.
I have several small new improvements and features in mind, and hopefully they will be implemented by my next update.
I'm still kicking major ass in the SERPS. Here are just a few NEW results for new reviews we added:
#1 on Google for "copeac review" and "review of copeac"
#1 on Google for "millnicmedia review" and "millnic media review"
#9 on Google for "azoogleads review"
Sign-ups and income has unfortunately seen little-to-no growth. I believe a major factor is simply because most people have already signed up to the major ad networks. I think large opportunity lies when a new network launches; we can review the site and sign-up many network virgins at the same time.
Here then, is the site income and traffic for May thus far (Yes, I realize that it's extremely stupid for me to be doing this on the 17th of each month; I'll have to slate an update for the 1st to make this more logical). I also decided to start keeping track in spreadsheet format: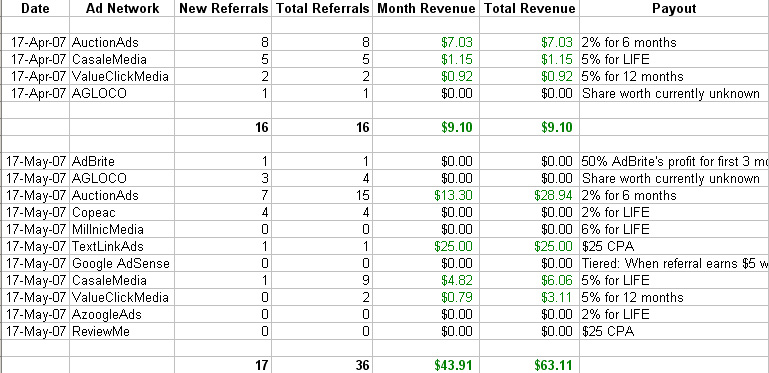 Take a look at it, should be pretty interesting. I wish most of the referral programs gave better stats. I basically HAVE to keep such logs now if I want to keep track of data, since their systems don't offer this information.
As you can see, I'm still making peanuts from the site. And while I haven't made all that much more from my original $0.17 yet, I am definitely pleased with the growth thus far. Remember, too, that the $43.91 I've made so far this month is only 17-days calculation, not a full month.
And with my incredible SERPS, slow-but-increasing awareness, and growing number of reviews and features on the site, it's easy to stay optimistic.
Next month's calculation will be interesting… so I'll see you again on June the 17th.