March 28, 2007
Posted by Tyler Cruz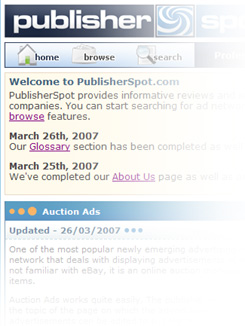 It's been a while since I gave a good update on some of the progress of my sites. Well, there's a good reason for that. As I alluded to in my previous post, I spend most of my time working just on my blog and e-mail alone. Lately though I've been trying to put the extra effort in and have been working more around an average of 4 hours a day lately, so I've finally had some time to put toward my sites.
Lately I've been focusing on PublisherSpot. The site now has a total of 5 ad networks, with Clicksor to be added sometime tomorrow.
I'm happy with the progress that's been made lately. I'm paying for the reviews, and paying an editor separately to then go over them and clean up the grammar and structure. We're averaging around 1 review every 2 days… there'd be more but my other reviewer's Internet connection has been down for a couple weeks.
I may look to hire a third writer.. if anyone is interested, you can e-mail me. I'm paying $40 if the review doesn't need any editing, and $30 if it does. Write me 10 reviews, and that's already $400. Adds up quick, doesn't it? However, I'm only looking for top quality reviews; read some of the current ones on the site to see what I'm looking for.
Anyhow, I've finished adding the introduction text on the front page, finished the About Us page, and wrote the Glossary. I hand-wrote all those descriptions, so it took me 4-hours to do that one page, believe it or not. I'm a slow labourer.
The Contact page should be completed tomorrow, and will have a human logic question to prevent spam of course 🙂 A bug was fixed on the Search page that overlapped the checkboxes, but that has been fixed.
What do you guys think of the site? Any comments or suggestions?
You may notice a review of Auction Ads. I had that commissioned ASAP as a kind gesture since Shoemoney was kind enough to link to me on his blog. I'm now link partners with John Chow, Shoemoney, Andrew Johnson, and AOJon!
My focus on the site for now is to populate it with many more reviews, then I will start a marketing/advertising campaign on it.
Below I've attached two screenshots of the administration area for those who may be curious to what the backend looks like.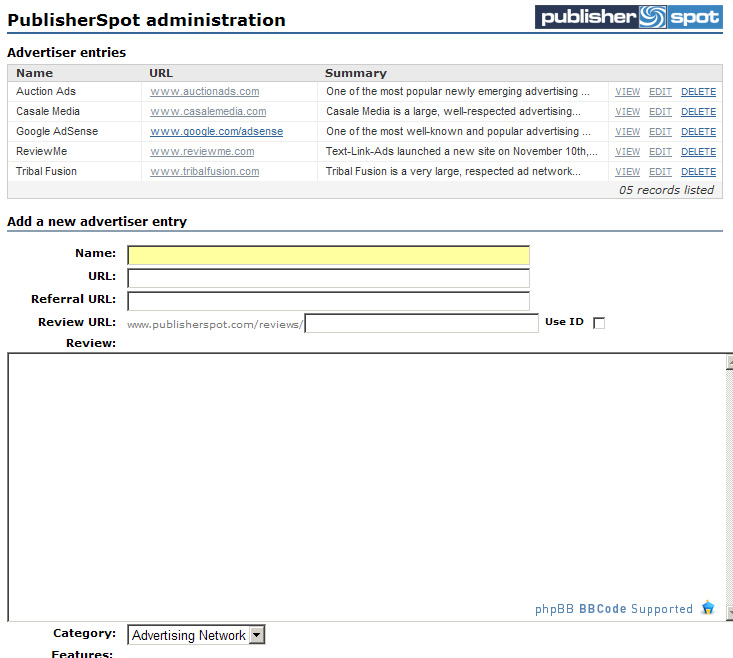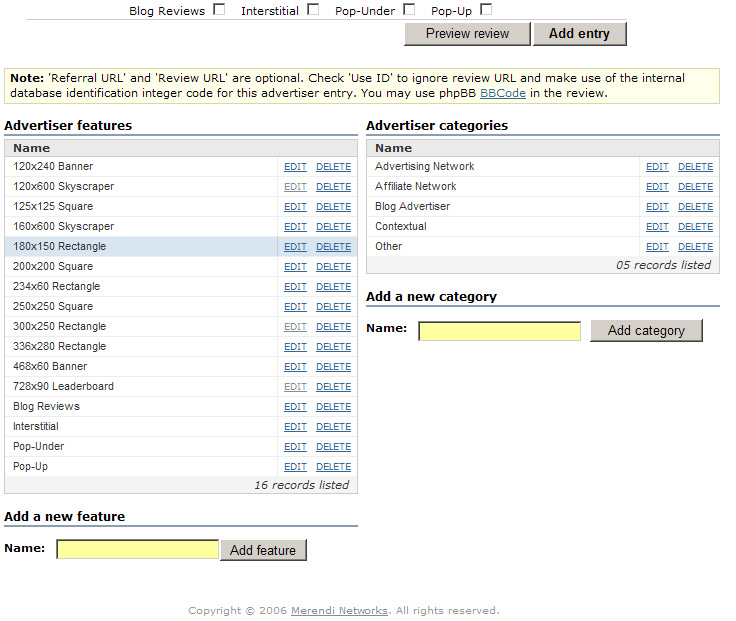 I'm still very optimistic with PublisherSpot's potential. You'll notice there are no ads and no room for ads there. While I may possibly sell a "Featured Network" advertisement area somewhere on the site in the future, I don't plan on ever putting any ads on the site. The business model is simple. We produce reviews and a search engine of ad networks, and link using our referral URL.
Some sites don't pay at all, but we still review them so we can have a complete database. Some sites will pay a small percentage for a fixed time such as 6-months. But some sites will pay a percentage for life. While the conversion rate of PublisherSpot will be extremely low compared to other sites that use the traditional CPC or CPM model, long-term gain can be dramatic, especially if there are tiers in payment.
All that is needed is to sign up one big publisher. Imagine signing somebody up such as Markus Frind and then having him use a new ad network on his site Plenty Of Fish. That's an instant retire, is what that is!