January 1, 2007
Posted by Tyler Cruz
Happy New Year!
Quarterly Earnings Recalculations
It's January 1st, and so as you should know by now, it's time for me to recalculate my earnings. As always, I calculate my daily/monthly earnings by taking the average of the past 6 months. I recalculate my earnings quarterly, so every 3 months, which sets my next recalculation date to April 1st, 2007.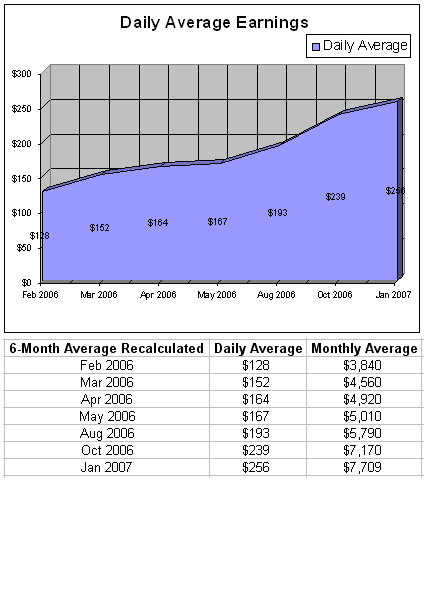 As you can see, nearly a year ago I was averaging only $128 a day, and have been fortunate enough to have it increase each time I recalculate. Now, this makes me worried as always: How on earth am I going to beat this average the next time I recalculate?
In fact, I can almost guarantee you that when I recalculate again in April, that my average will go down for the first time since I've been recording my averages. This will be because I had two very good months in the summer, which won't be calculated into the average next time. Also, the US poker 'ban' hurts as well. The only way I can keep my average increasing is if I start to work hard and focus on my upcoming sites. Realistically though, I doubt I'll increase my average next time. We'll see though… anything's possible.
Anyhow, getting back to the graph, I must admit that I was pretty surprised to beat my previous average. I thought that things had slowed down (in part due to my shameful lack of actual work…) a fair bit and that I'd fall short. I'm now averaging $256 a day or $7,709 a month. That's a $17 daily increase from last time.
That's all for now, good luck and good earnings!