November 9, 2008
Posted by Tyler Cruz
The following is a paid review which was recently written by Michael Kwan for PublisherSpot.com. If you're interested in having your site or product reviewed, please view my advertising page.
[Note from Tyler] I have had several opportunities to speak with the owner of Amped Media, and from my discussions with him I was left with the impression that he is really trying to create a quality affiliate network from the ground up.
There is no shortage of affiliate networks out there. If anything, it's a saturated marketed. New affiliate networks pop up all the time, and some only last a few months. But on occasion, new networks pop up that really try to create something special. Networks such as MarketLeverage, AzoogleAds, and NeverBlue are 3 examples of established networks that are known to go above and beyond. And after my discussions with the owner of Amped Media, I think that they are on the right track to follow suit so long as they don't lose focus or become complacent in future success.
Taking advantage of the increasing interest in affiliate marketing, Amped Media is aiming to be one of the premier advertising solutions on the Internet. Although the focus is clearly on cost-per-action (CPA) based advertising, Amped Media says that it also offers conventional cost-per-click (CPC) based advertising as well. Navigating through the various offers on the network, however, reveals that the vast majority are based on a cost-per-sale or cost-per-acquisition model.
Features
Amped Media appears to have all the makings of a successful affiliate network. Every publisher is assigned a personal affiliate manager. This affiliate manager acts as a personal point of contact, assisting the publisher with finding the most lucrative and appropriate advertising campaigns. Amped Media also offers several other benefits, like a searchable database of campaigns, a low minimum payment threshold ($25), and a series of useful tools like a banner rotator.
Boasting 250+ "quality programs at industry leading payouts," Amped Media has a good variety of different advertising opportunities for publishers to consider. The net-15 payment schedule also appears to ensure that publishers get paid sooner and more efficiently, but appearances can sometimes be deceiving. Refer to the payment section of this review for more information on that.
Among the affiliate programs offered by Amped Media are campaigns for Ban Deodorant, Dani Johnson Work from Home, Acai Berry Supreme, Degree Harmony, and Gatorade Tiger. Payouts range accordingly, with some campaigns offering a payout as high as $27 CPA (or more).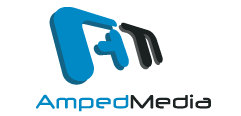 Control Panel
The publisher control panel for Amped Media is very aesthetically pleasing with a relatively simple, but effective design. Navigation to the various sections is done through the series of simple icons near the top of the page, granting quick access to reports, statistics, and account information.
The main homepage is comprised of two columns. In the left column, publishers will find information regarding their affiliate managers, an area for the latest news & updates, quick links to popular sections (like offers by category and a link to download the W9 tax form), and buttons for the super affiliate program and Amped Media News RSS feed.
At the top of the right column are quick statistics for today's commissions, yesterday's commissions, and commissions earned in the month to date. Below this are animated sections for some of the affiliate campaigns offered by Amped Media, organized as the following: New Campaigns, Top Freebie / Rewards Campaigns, Top Trials and Sales Campaigns, Top Short Form / Registration Campaigns, and Featured Campaigns. Each campaign is represented by a 160×120 icon, the campaign name, and the campaign payout.
Beyond the main page of the Amped Media control panel are eight additional sections, each of which can be accessed using the icons near the top of the dashboard.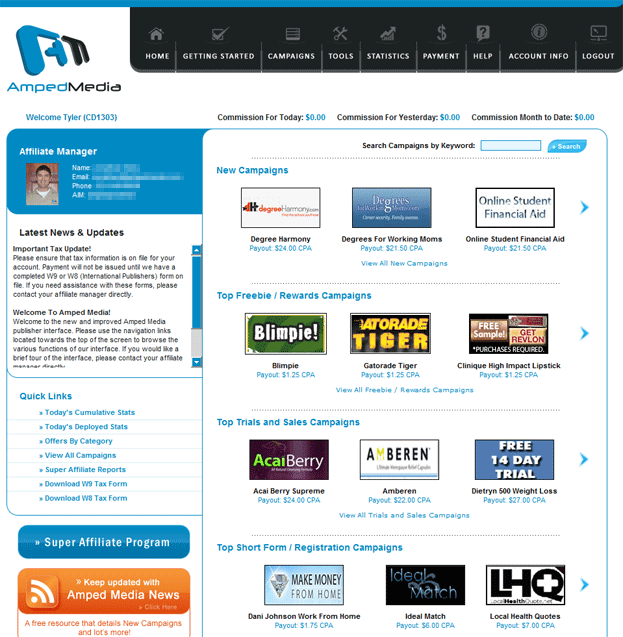 Getting Started: A quick guide for selecting advertising campaigns, viewing campaign statistics, tracking earnings, and managing the publisher account.
Campaigns: Publishers can search for advertising campaigns through a number of different criteria, including by category, by ad type, and by country. The results page will then display a list of appropriate campaigns, including the campaign type, name, start date, description, expiration date, and payout.
Tools: Publishers are offered a number of different tools to increase their earnings, like optimized rotators, popup codes, and data feeds.
Statistics: Reports can be generated for any given date period, providing information regarding number of impressions, number of clicks, number of leads, number of sales, EPC, and total money earned. The data can be shown cumulatively for each campaign over a certain time period or with a daily breakdown, amalgamating the data from all campaigns.
Payment: Five key figures are shown on this page. Publishers can view the amount due, amount pending (from previous months), amount pending (for the current period), commissions earned to date, and total paid to date.
Help: Fundamental tips and information are displayed on this page, but it is far from comprehensive. There is also no contact page or FAQ, both of which would be incredibly useful to both novice and experienced publishers. For example, no explicit information is provided here about how payment is handled.
Account Info: Publishers can come here to edit contact information, change the password, retrieve the W-BBEN tax form, and review the terms of agreement.
Logout: Publishers click here to log out of the Amped Media system.
The overall layout and navigation of the Amped Media publisher control panel is standard for most affiliate-based networks of this kind. There is nothing out of the ordinary, though it would be useful if the EPC for all the campaigns was shown from the main campaign listing results page.
Registration
The single-page application form for Amped Media consists of three main sections. In the first section, an applicant is required to provide his/her full name, email address, phone number, full mailing address, and a tentative password. In the second section, an applicant provides basic payment information, including the preferred payment threshold ($25, $50, or $100) and a tax identification number (SSN, Corp ID#, or ABN). The publisher also selects whether payment should be made to the company name or personal name. In the third section, the applicant provides information regarding his/her website(s), including the site type, site description, site views/month, site categories, and any additional comments.
An email confirmation of receipt is automatically generated and an Amped Media representative typically calls the applicant within one or two business days to verify the account. During this phone call, the representative may ask about the nature of the applicant's website, how he/she intends on promoting Amped affiliate programs, and how he/she heard about Amped. The approval process is nearly immediate after this, at which point the publisher is assigned a personal affiliate manager.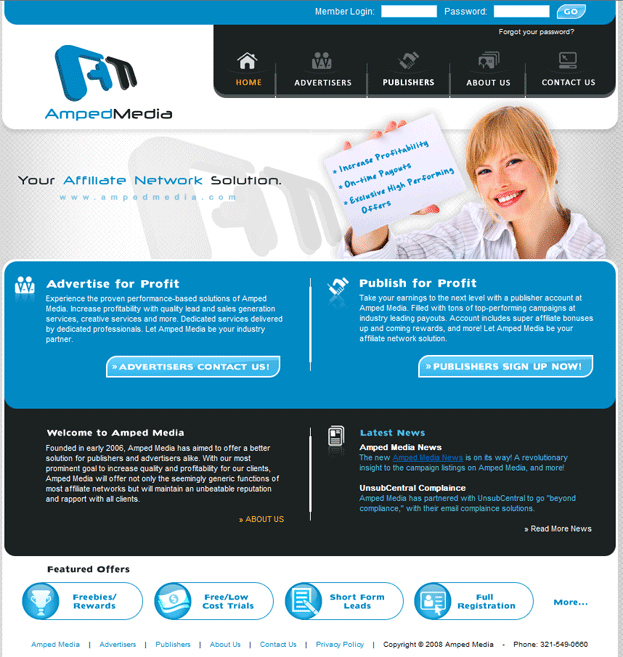 Publisher Support
Each publisher is assigned an affiliate manager. This affiliate manager will make contact with the new publisher within a day or two of account approval. Initial contact is usually made via email, but a telephone oftentimes follows so that the affiliate manager can get a better sense of what the publisher expects and would like to see from Amped Media.
Contact information for the affiliate manager is provided in the email message, as well as on the main page of the Amped Media control panel. The affiliate manager can be contacted via email, telephone, or AIM. In the case of email, most responses can be expected within one business day.
Payment Details
Amped Media pays on a net-15 payment schedule, which means that a publisher would be sent his affiliate commissions for the month of March on April 15th.
By default, Amped Media issues payments via a check in the mail, assuming that publishers reach the minimum payment threshold of $25. This minimum payment threshold may be increased by request. Upon receipt of the first check, publishers can request to have future payments sent via PayPal instead.
Referral Program
The Amped Media referral program is known as the Super Affiliate Program and rewards publishers for referring additional publishers to the Amped Media network.
The program pays out 5% commission for life on every approved affiliate that a publisher refers to Amped Media. Publishers can continue to earn these referral commissions as long as the referral continues to generate income through Amped Media.
While a number of other affiliate networks offer a 5% referral program, most have stipulations which deactivate referred publishers who have been inactive for a set period of time. Since Amped Media does not appear to have any such stipulations, it makes their referral program one of the best in the industry.
Summary
Since so many affiliate networks offer similar or identical advertising campaigns, affiliate networks like Amped Media must do something above and beyond the call of duty to lure publishers away from the competition. Some networks, for example, offer to match (and beat) the payouts offered by other networks for the same campaigns. Another way to attract the attention of publishers is to offer a large number of exclusive programs. Amped Media does not appear to use either of these techniques.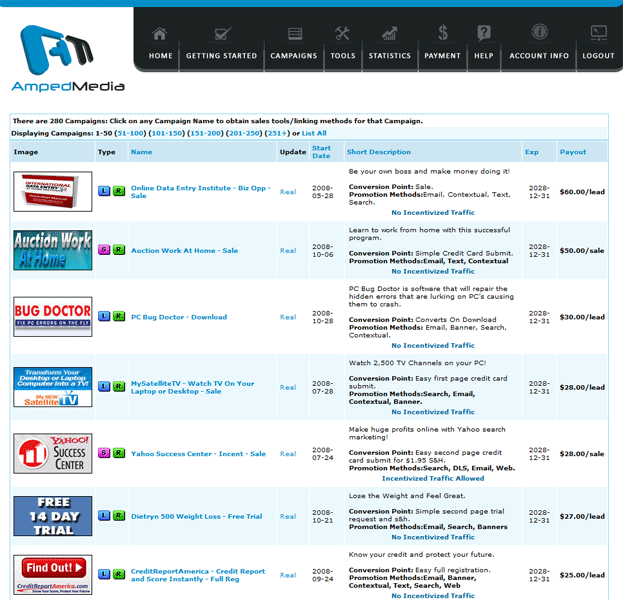 On the plus side, Amped Media does have several valuable qualities that could make it a worthwhile addition to a publisher's advertising portfolio. The inclusion of a personal affiliate manager goes a long way in ensuring that a publisher is earning the maximum amount of income possible. In addition, the 5% lifetime referral program is also a definite positive, as is the low $25 payment threshold.
With a wide variety of campaigns, strong publisher support, and many lucrative opportunities, Amped Media may be a viable option, but at the same time does not have any truly innovative features that set it apart from the leading affiliate networks.