August 18, 2008
Posted by Tyler Cruz
The following is a paid review which was recently written by Michael Kwan for PublisherSpot.com. If you're interested in having your site or product reviewed, please view my advertising page.
When it comes to most affiliate marketing networks, publishers are exposed to a good number of different advertisers. Going through this catalogue, publishers can see exactly what is required of a site visitor to "convert", whether it be providing an email or completing a sale. When such an action occurs, publishers are paid by the advertiser according to the associate information sheet.
While T3leads.com operates on a very similar model, there is one very notable difference. There are no set payouts, because nothing is set in stone. When a site visitor fills out an application form, the referring publisher has no idea whether he will receive $2 for that lead or $20 for that lead. This is because T3leads.com operates on an auction basis, so to speak, with advertisers bidding for the leads. The arrangements with each of the advertisers is quite fluid.

Features
T3leads.com largely focuses on the finance industry, which happens to be one of the most lucrative industries on the Internet. Instead of trying to sell free business cards or online DVD rental trials, the core focus on T3leads.com is money. The advertisers featured on the PPL (pay-per-lead) affiliate network relate to the areas of auto insurance, home improvement, mortgage loans, student loans, payday loans, renters insurance, and other similar areas.
Whereas the other CPA-based networks out there typically have an individual page for each advertiser, possibly providing the publisher with more specific information about that company's particular offer, T3leads.com instead simply breaks down the advertisers based on category. These would be the aforementioned areas of payday loans, debt consolidation loans similar to ones at debtconsolidation.com, and so on.
In terms of different campaigns, T3leads.com is populated by a series of "public" websites. These would be the sites to which all publishers would have access and these are the sites where publishers would aim to send their leads. Alternatively, it is also possible to construct private websites. A guide to T3Feed v2.0 is provided through the user control panel.
Regardless of the target website, a "conversion" occurs when a site visitor completely fills out what is known as a quick or an "express" application. Typically, this asks for a full name, state, zip code, and email address. Publishers will notice that the "public" websites all look generic. This is because the leads that they generate are then sold to third-party advertisers. It should also be noted that T3leads.com only works with US traffic. International traffic does not qualify.
Control Panel
The control panel on T3leads.com is comprised of six distinct sections. For the majority of these sections, the top of the page remains the same. This top section will display the date of the next payment, the publisher's affiliate ID, status, current time, today's earnings, weekly earnings, number of referrals, current total earnings, and earnings based on leads and approvals.
The six sections in the control panel are as follows:
Info: The main homepage displays current news from the T3leads.com management. Aside from the "News" section, the Info tab can also direct publishers to the T3Forum (which is almost a separate site altogether) and the Tickets section, the latter of which is used to communicate with the T3leads.com support team.
Websites: Publishers can preview the various public websites available on the T3leads.com network. These can be organized based on category. It is also in the Websites section that publishers can add and view private websites, as well as access XML posting. This last segment is not described very well.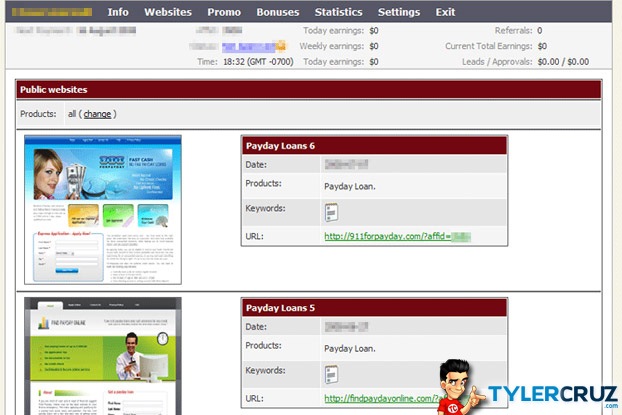 Promo: It is here that publishers can find the appropriate HTML code for ad banners of different sizes. The vast majority of ad creatives are 468×60 banners, 120×600 skyscrapers, and 728×90 leaderboards. There is code available for constructing a JavaScript or IFrame form too, as well as a popup payday banner. This is also the section where publishers can find the referral banners for referring new publishers and companies to T3leads.com (one partner link, two GIF banners, and one flash banner).
Bonuses: T3leads.com wants to reward its best publishers. At the time this review was written, a single bonus was made available. Upon earning at least $300 through the T3leads.com affiliate program, publishers can fill out a special form found on the Bonuses page to receive a free ePassporte card. The card will be sent to the publisher's mailing address within one month.
Statistics: A total of seven different reports are available through this section, including two variations of the leads report (v2.0 beta and v1.1). Aside from those two, the other reports are for Lead Details, Referrals, Keys Report, Payments History, and Light Stat. For the Leads Report v2.0, publishers can see the data displayed for any data range, any and all feeds, any and all subaccounts, number of unique visitors, clicks, filled forms, accepted leads, ratio, and earnings.
Settings: In this final section, publishers can edit their user information and payment preferences, as well as add new subaccounts and setup the tracking system.
All in all, the T3leads.com control panel is far from being the most powerful among the affiliate marketing networks, but it does an adequate job in providing the basics. Due to the nature of how T3leads.com operates, it is not possible to preview the exact payout levels and effectiveness of the various ad creatives.
Registration
Signing up for an account with T3leads.com is comprised of a single registration form. This form asks for a login ID, email address, full name, city, country, website URL, and phone number. There also optional fields for ICQ and Tax ID. Finally, a verification code must be provided.
Application approval is instantaneous with a password and PIN being sent to the email address provided. However, an account does not receive "approved" status until the publisher has generated 2-3 approved leads and sends the T3leads.com team a notifying ticket. It is only after this that a publisher becomes an active affiliate member.
Publisher Support
Support for publishers comes in a variety of forms. First, a publisher can visit the "contacts" page on T3leads.com to get the contact information for business development, technical support, and general support in both Russian and English. Contact information is available in the form of an email address, ICQ number, Yahoo! Messenger, AIM, telephone, and fax.
Beyond this, publishers can seek assistance through the T3Forums or by submitting a support ticket. Email response from the English-language general support staff was received within a few hours.
Payment Details
Payment from T3leads.com is sent out twice a month, assuming that the publisher was able to reach the required payout threshold. Payment can be received via six different methods, each of which comes with different fee levels and threshold minimums. These payment avenues are:
ePassporte ($2 fee, $100 minimum)
Company Check ($0 fee, $300 minimum)
Bank Wire Transfer ($35 fee, $300 minimum)
WebMoney (1% fee, $100 minimum)
PayPal (3% fee, $100 minimum)
Fethard ($0 fee, $100 minimum)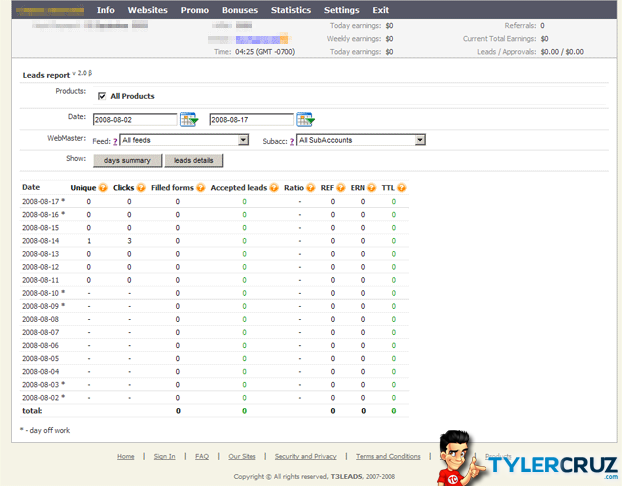 Referral Program
The T3leads.com referral program rewards publishers for referring new publishers, as well as new companies interested in purchasing the leads generated by the network. In both instances, the publisher earns 5% on every lead generated from their referrals for life.
Summary
T3leads.com operates on quite a different model than many CPA-based networks. Instead of sending qualified leads to specific advertisers directly, waiting for the site visitors to convert as the advertiser sees fit, T3leads.com uses its own network of public websites to generate leads related to the finance industry. These leads are then sold to companies who bid for this information. For this reason, there is no set payout level for each individual lead generated by a publisher.
As it result, it may be slightly more difficult for a publisher to design an appropriate campaign to maximize his or her profits from the T3leads.com network. This is why the most successful publishers in the network likely make use of custom private websites instead, catering a little better to the areas of payday loans and home insurance.
In order to attract more and higher quality publishers to its program, T3leads.com should invest in better website copy that will better describe exactly how the program works. It is not perfectly clear and it may be useful to have a tutorial section for guiding novice publishers through the process. As it stands, the maximum bid on payday loan leads (at the time this review was written) was $45.45, making T3leads.com possibly one of the most lucrative PPL (pay-per-lead) networks on the Internet.