April 21, 2009
Posted by Tyler Cruz
The following is a paid review and is completely of my own opinion and is not influenced by being paid. If you're interested in having me review your site or product, please view my advertising page.
Over the past year-and-a-half it seems that affiliate networks have been popping up left and right. With so many affiliate networks out there, new affiliate network start-up's need to separate themselves out from the crowd by either offering better perks than the competition or by offering something new.
This is exactly what RunByAffiliates.com, a brand new affiliate network, has done.
RunByAffiliates sets itself out from its competition by being the first (and only) network that is actually run by the site members and affiliates themselves. The majority of control is handed over to members in the form of elected staff positions, budget spending, proposed network changes, and policy voting.
This democratic co-op business model effectively molds the network into what its members want and dictate. Particular offers in high demand are brought in, sites features are voted upon, and members are paid based on participation and roles in addition to their affiliate commissions.

Overview
Dave Bird, the creator and network manager behind RunByAffiliates, describes the idea behind the site:
"The mission of RunByAffiliates is to hand the control to its affiliates and allow the community to decide on the key activities of the network. We have combined this with a strict 'affiliate charter' which will go much further in protecting the way in which affiliates are serviced by the network."
RunByAffiliates is essentially a community and affiliate network rolled into one where members help dictate how the site and network is managed.
While members have a certain degree of network control such as budget spending, proposing network changes, and policy voting, the site and network is still owned and operated by its parent company, Webtistic LTD, which receives a 10% gross revenue 'management' fee.
It can therefore be expected and assumed that any major decisions and operations will be conducted by Webtistic. Although the network is still managed by Webtistic, 100% of the network's Net Profit is allocated to the member's budget on a monthly basis.
The breakdown of the net spending budget is distributed as follows:
30% – Affiliate Community (Activity Points, Awards, etc.)
30% – Affiliate Staff Positions (appointed by Webtistic as far as I can tell…)
30% – Marketing (controlled by affiliates)
10% – Other Spending (as decided by affiliates)
Since RunByAffiliates is run by its members, it provides a completely transparent platform offering full disclosure. Anyone can see how much staff is paid, where the budget is allocated, traffic details, if any and which affiliates have been suspended, and even all of the site's finances. This would make it the first time the public would be able to see just how much an affiliate network brings in.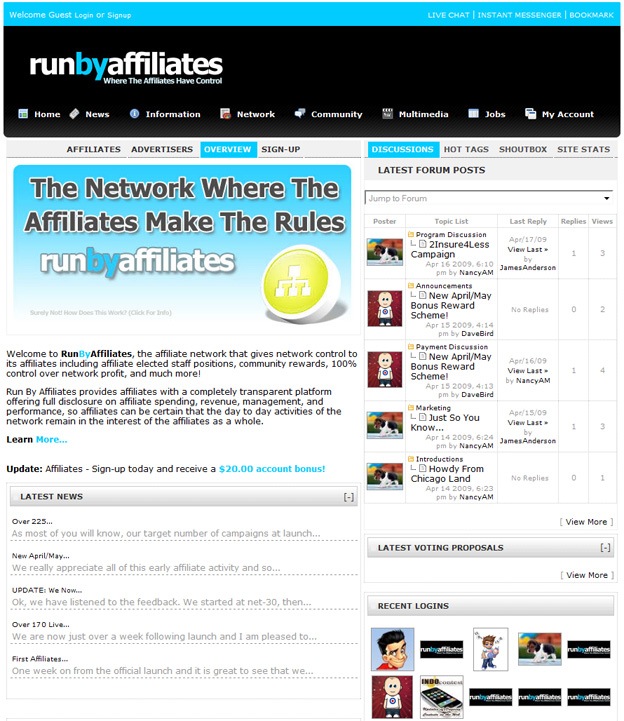 Activity Points
In order to help build content, RunByAffiliates promotes and rewards active community participation in the form of activity points that are earned through various methods such as posting articles, writing forum posts, and uploading videos.
Members are then able to 'cash in' these points for actual cash. Activity Points are currently worth $0.10 per point, although this can change depending on what RunByAffiliates members decide as a whole it should be.
I'm not sure I like the idea of taking profit and income from the site and giving it to various members who are posting on the forum, and writing articles, etc. I feel that the money could be better spent and allocated better by being put towards higher payouts, for example.
First of all, its difficult to keep a certain standard of quality for forum posting and article writing – especially as the majority of members who would be willing to do such work are typically from foreign countries without a strong command of the English language.
Secondly, growing any content and community on the site effectively only helps to grow the site and bring in new affiliates. Since only Webtistic sees any profit from the actual network (10%), this doesn't help the members other than paying those for contributing content.
What I'm getting to is that this is money being spent out of the budget that could be put towards paying out higher offers. After all, this is an affiliate network first and foremost.
The Network
The actual network itself is actually pretty decent.
First off, affiliates who sign up before May 1st, 2009 get a free $20 for signing up. While you'll of course need to generate some commissions before you have enough to request a payment, $20 is $20.
Secondly, RunByAffiliates pays Net-7 for everyone, which is extremely rare. Going further, bigger affiliates can be paid even faster. This is a huge perk for anyone working with narrow margins.
But perhaps the best thing RunByAffiliates offers is their extraordinary 8% lifetime referral program. This is hands down the highest referral rate you'll find on any affiliate network. The majority offer 2-5%, and many have stipulations which dilutes their value. 8% is huge, and I might be shooting myself in the foot by doing this paid review and not being able to insert my own referral link.
However, with the 8% referral rate being so high, you need to understand that their offers will naturally be lower in order to compensate, unless RunByAffiliates is taking the cut on their end and taking a very tight margin. This is why you rarely see referral rates above 5%.
RunByAffiliates runs on DirectTrack so there isn't too much to say in regards to features and reporting. As I write this, they currently have 221 offers with many popular ones including Acai Berry Rocks, eHarmony, Google Money System, etc.
They payouts seem decent, but then again street payouts don't really tell you much – what matters is how much of a bump your affiliate manager can give you.
Speaking of affiliate managers, there are two issues I can foresee RunByAffiliates having, assuming that affiliate managers will be hired and appointed from the member base.
First, if this indeed the case, this can create enormous trust and conflict of interest issues. Affiliate managers obviously have complete control over affiliates and can see what offers they're running, how much they're making, etc. If certain site members are given the role of affiliate managers it can easily lead to malicious scenarios such as the stealing of campaigns and even leads if the screening process of the affiliate managers isn't extremely strict.
Most networks of course hire in-house affiliate managers which work in their building and are paid a pretty decent full-time salary with perks and bonuses. While RunByAffiliates states that each affiliate gets their own affiliate manager designated to them, if the affiliate manager is only being paid $120-$150 a month (like many of the other job titles available), it is safe to say that they won't compare to the affiliate managers of other networks.
Again, this is assuming that affiliate managers will be hired from site members. Hopefully this won't be the case as it is too onerous in my opinion.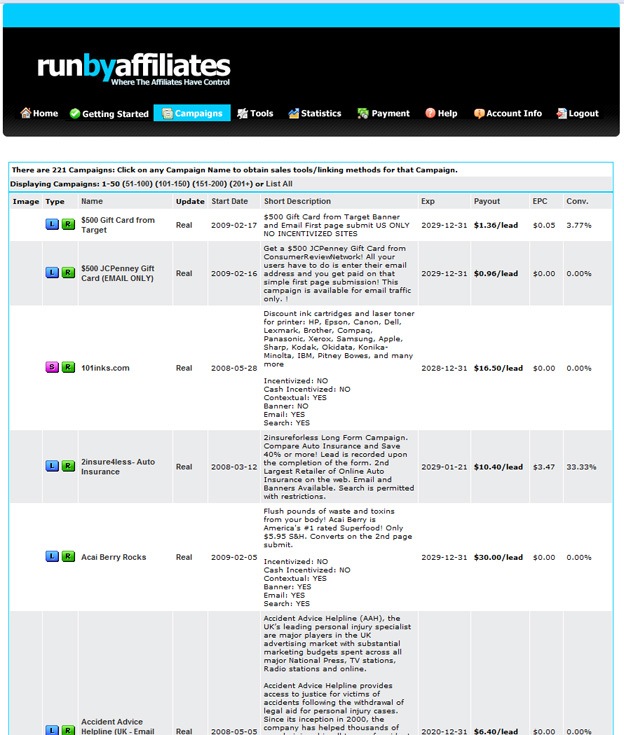 Need a Job?
Since RunByAffiliates is largely run and managed by its own members, there are naturally several jobs positions available that pay real cash.
Their Jobs page currently shows the following positions available:
Title: Marketing Manager
Estimated Monthly Hours Required: 20
Current Pay Level: $240 per month
Title: Advertising Executive
Estimated Monthly Hours Required: 40-160 (Flexible)
Current Pay Level: $40 per new advertiser (Commission-only Basis)
Title: Campaign Performance Reporter
Estimated Monthly Hours Required: 15
Current Pay Level: $180 Per Month
This is actually a great opportunity for those out there who are looking to make some extra cash. While the pay isn't much, I know that there are many young entrepreneurs online out there who could certainly use an extra $180-$240 a month to put towards developing their online endeavours.
There is one obvious downside to these positions which I mentioned earlier in regards to the affiliate managers. Relatively low pay will inevitable attract relatively inexperienced and unqualified applicants which in turn will only hurt the site. Even with careful hiring, I cannot see highly skilled and qualified individuals working for $180-$240 a month, even if the hours are pretty easy to handle.
The only way to address this as far as I can think of would be to simply raise the pay level and be very strict about who is hired. It might also help to give more hours (Ex. 40 hours for the Marketing Manager instead of 20).
Things to Work On
RunByAffiliates is brand new so it is understandable that there are a number of bugs and things that could be improved. Below are some of the things I found that I recommend be addressed:
Too Community Focused
I understand that what makes RunByAffiliates different from other networks is that the decisions and direction of the site is determined by its members, but that doesn't mean that it needs to be like Facebook.
I personally find the site too community and social networking oriented. For example, members can create and join groups, add photos, videos, and music to their profile, and even add a guestbook. I see no need for any of this and all it does is detract from what the site should be focused on: the affiliate network itself.
Slow Loading Time
For some reason, it always takes around 7 seconds to load RunByAffiliates.com. Sometimes I had to wait around 10-12 seconds. I'm not talking about waiting for all the images and content to load, but simply for the browser to connect to the site and load.
Once you're at the site it seems to work fine, but whenever you go to RunByAffiliates from another site or open it for the first time it takes a while to load. This is very annoying and needs to be fixed.
Front Page Overload
The front page is very confusing and presents users with an information overload. The AJAX navigation and on-the-fly content changes are actually more of a hindrance than a useful feature, and there are pointless sections that seem to be added just for flair such as the Shoutbox (which I've always been against on sites).
I would recommend for RunByAffiliates to simplify the front page and clearly illustrate what the site is all about and how it's different from other affiliate networks. Removing and cleaning up (or completely revamping) all that dynamic navigation would help a lot as well.
Needs a Clearly Visible Sitewide Login Panel
After reading every single page on the site carefully, I literally had to search for 10-minutes for where I could log into the affiliate network before realizing that I had to actually log out and then back in, in order to see the only login page for the affiliate network.
Since I was already logged in as a member of the site (different from the affiliate account), I was not able to see the log-in until I logged out! That definitely needs to be fixed. I suggest adding a traditional sitewide login panel at the top of the site.
JS Errors in Internet Explorer
The site has quite a few JS errors in MSIE (I was using 7.0), so I had to use Firefox when reviewing the site. The errors are most likely due to the numerous (and unnecessary) AJAX and dynamic JavaScript used for the site's navigation.
Conclusion
RunByAffiliates came up with a great idea by thinking outside of the box and letting its members actually dictate and control the direction of the network. In addition, the affiliate network itself is quite lucrative with an enormous 8% referral rate (the highest out there) and net-7 payments.
However, since the site is still brand new it will need to prove that their community co-op business model works.
While there are a number of issues that need to be addressed as mentioned in this review, RunByAffiliates.com's transparency and innovative business model, coupled with an optimistic affiliate network could make it the next big affiliate network if handled correctly.
$40 Free for Tyler Cruz Readers
I want to remind readers that I am not using my referral link in this review, but if you sign up to RunByAffiliates and then e-mail info@runbyaffiliates.com with your account number or account details such as your e-mail and/or first and last name and mention that you came from TylerCruz.com, your account will be credited with $40!