November 28, 2008
Posted by Tyler Cruz
If you're anything like me, your time is extremely precious. I'm not one of those constant on-the-go people, in fact if anything I'm quite the opposite. I have a lot of time on my hands (more than you could ever imagine) and often move like a sloth. But even so, I still value my free time.
Therefore, whenever I get the chance to save time by being more efficient, I pounce on it. That's partly why I have so much free time in the first place. I make money efficiently, therefore I do not work many hours.
Many of you may already be familiar with Google Labs, but did you know that Google's Gmail has its own set of labs as well? If you haven't checked them out, I highly recommend you do. If you're an avid Gmail user like I am, chances are that there is at least one feature that you'll want to implement from the Gmail Labs.
To access the Labs section with Gmail, simply go to Settings, then Labs as seen in the screenshot below:

Getting back to saving time, there is a particular feature within the Labs section that I've recently discovered and implemented. It's called Canned Responses, created by Chad P. Here is it's description:
"Email for the truly lazy. Save and then send your common messages using a button next to the compose form. Also automatically send emails using filters."
Essentially it's a built-in macro program: you can save messages and e-mail templates that you commonly send and easily retrieve them within Gmail.
For example, I sell most of my advertising spots privately and therefore deal with a lot of advertisers. As such, I use the same e-mail format each time. Previously (actually I'm still transitioning over), I had these e-mail templates saved as text files. I would then locate the appropriate file when needed, and copy and paste it into my message. The Canned Responses feature makes this much faster and easier, and even speeds up the process as it will save other information such as your subject line.
To enable Canned Responses, locate it (it's just over halfway through the list) and click on the Enable radio button on the right side and you're done!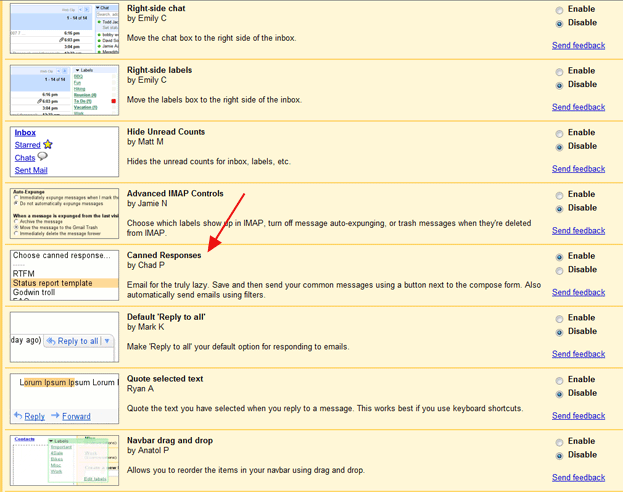 You will then have a new link next to your Attach a File link within Gmail. The following screenshot illustrates how it works: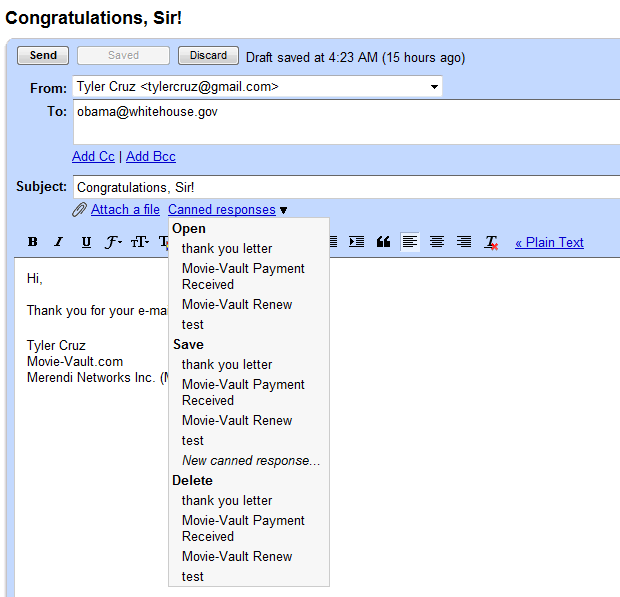 I made the following screencast (which is nice and short) to give you a more detailed look at how it works:
It's nothing ground-breaking, in fact it's about time such a solution was made available. My point for this post, apart from sharing this useful feature of Gmail with you, is to remind you how beneficial it is to be as efficient as possible.
As stated in the screencast above, if this Canned Responses feature saves you just 5-minutes a day, that equates to 2.5 hours a month or 30 hours a year. It's really amazing when you think of it.
In addition to Canned Responses, the other two Gmail Lab features I have implemented (and recommend) are:
Forgotten Attachment Detector
by Jonathan K
Prevents you from accidentally sending messages without the relevant attachments. Prompts you if you mention attaching a file, but forgot to do so.
Signature tweaks
by Keith C and Dave C
Places your signature before the quoted text in a reply, and removes the "–" line that appears before signatures.